Winners of the 2017 HAWAII Magazine Photo Contest
HAWAII Magazine announces the winners of its annual photo contest, with the grand prize winner awarded a Maui vacation.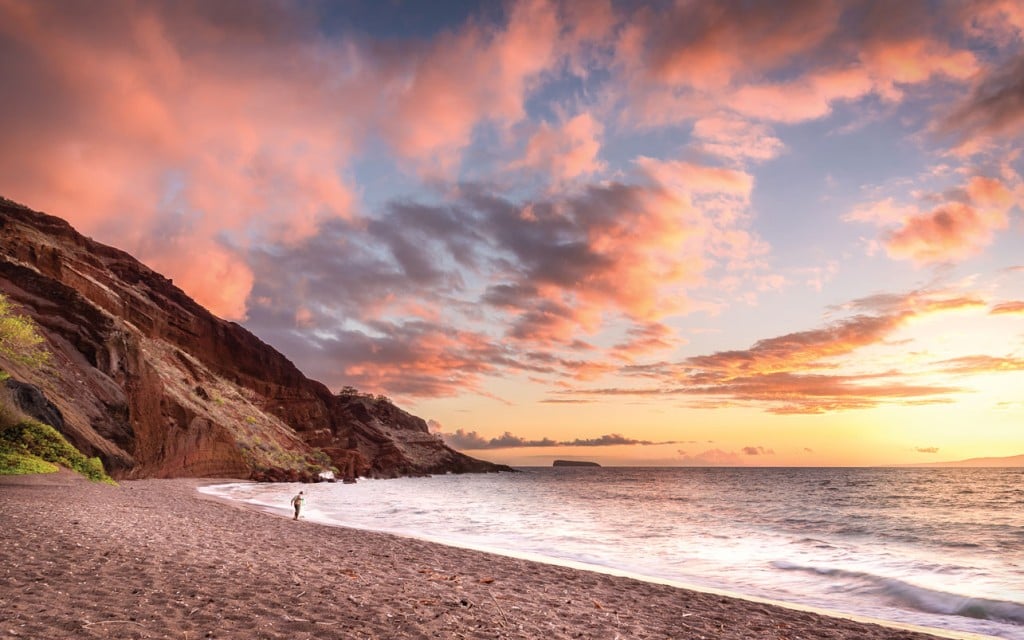 As shown in the diverse subjects captured on camera by those who submitted, there's no short supply of beauty to marvel at in the Hawaiian Islands. The 2017 HAWAI'I Magazine Photo Contest received more entries this year than any in its history. Here, we feature the First and Second Place winners in four categories: Outdoor, Culture, Abstract, People — and a Grand Prize winner that transcended all categorization.
The Grand Prize winning image (pictured above!) by Jonathan Schoeller captured a stunning beach scene at Oneuli Beach on Maui with a heartwarming story of aloha. From Jonathan, of Palmyra, Virgina: This fisherman lost one of his fish in the sand. My wife was happy to help him find it. He thanked her with a big smile. Then we were rewarded with this beautiful sunset at Oneuli Beach.
Hoomaikai (congratulations), Jonathan!
The first place winners in the following categories:
First Place – Outdoors • Waimea Canyon, Kauai by Mallory Roe • I found this location by accident one afternoon after seeing a small opening off the side of the main road and following the footpath it leads to. It's a quiet spot that I've since gone back to several times because I can count on having the view all to myself. Kauai is great for finding these types of spots. I have found that stormy early morning skies in the canyon can bear some amazing light.
First Place – Culture • Kapiolani Park, Oahu by Rosemary Peh • A bird's-eye view of the bon dance at Kapiolani Park during Obon season. This celebration of ancestors is a transplanted Japanese tradition that is now a key component of the local culture in Hawaii. Many of the Japanese who now call Hawaii home are descendants of those who came to Hawai'i to work. With them, Japanese traditions like Obon are still practiced here today.
First Place – Abstract • Shark's Cove, Oahu by Jimmy Wilkinson • I was flying along the reef edge when I passed over this hole in the reef that is a very popular photography location during sunset. Looking down, it was amazing to see how the reef and water provided such incredibly beautiful contrast, with the hole into the reef making it look like another planet. At first glance, it's hard to tell what you are looking at which is what I love so much about this photo. It is two worlds colliding, yet also coinciding.
First Place – People • Kaaawa, Oahu by Mallory Roe • Finding good ridge hikes with good friends in good light is always a special occasion. This one in particular has been one of my favorites.