Your Complete Guide to Waikīkī Eats
Even the pickiest foodie can find something delicious in this beachy neighborhood.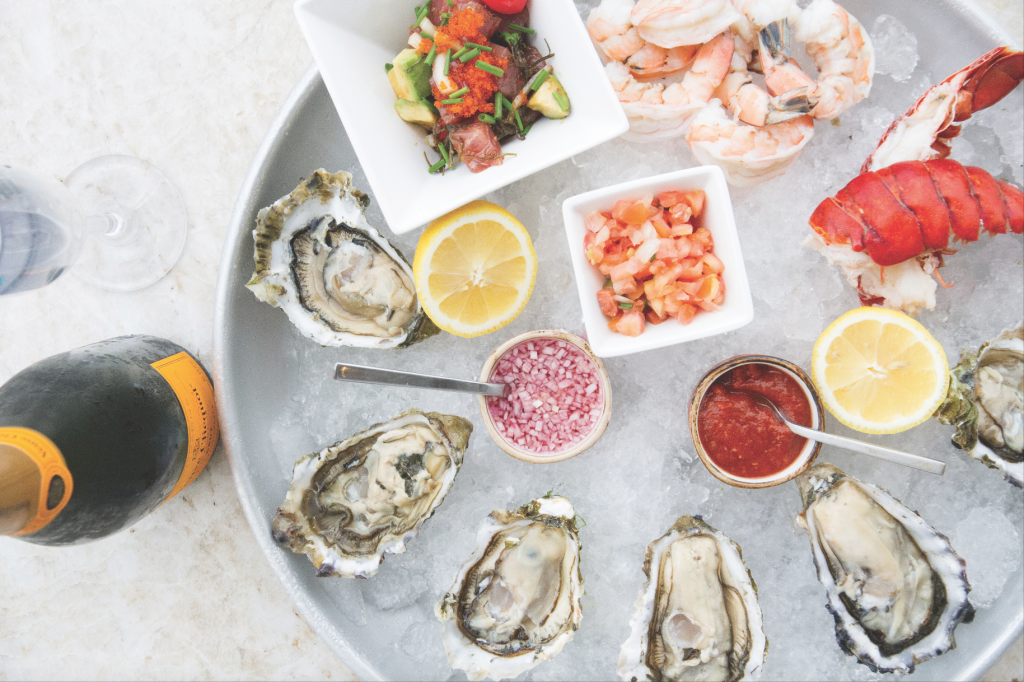 Editors's Note: While COVID-19 temporarily shuttered many restaurants on O'ahu—and some for good—summertime brought record numbers of visitors to the Islands and many eateries have reopened with both takeout and dine-in service. At press date, O'ahu restaurants require proof of vaccination or a negative COVID-19 test taken in the last 48 hours as part of the island's Safe Access program. (It runs for 60 days starting Sept. 13.) Changes in COVID-19 counts will continue to affect which restaurants remain open and their hours of operation. For updated information on coronavirus cases on O'ahu, visit OneOahu.org.
You might not think of Waikīkī, bustling with visitors and chain restaurants, as a foodie destination. And you'd be sorely mistaken. The beachy miles-long stretch from Ala Moana to Kapi'olani Park boasts enough restaurants, hole-in-the-walls and cafés to satisfy picky eaters for the length of their stay. And if you're staying in or near Waikīkī—we know about the crazy rental car situation!—better yet. These foodie finds are all within walking distance of major hotels in the neighborhood.
For Celebrating Couples: Mugen
Located in the ultra-posh Espacio Waikīkī—where rooms start at $5,000 a night—Mugen offers an elevated culinary experience upstairs from bustling Kalākaua Avenue. Chef Jason Yamaguchi uses exceptional local and imported seasonal ingredients for his reasonably priced eight-course tasting menu ($125 per person), like fresh seafood flown in from Japan daily and white asparagus im- ported from Denmark. The French-Japanese restaurant reopened on June 1 with a new private dining room, courtyard dining area and dessert menu. The beverage selection is stellar and includes rare Japanese whiskies, premium spirits and a 500-bottle wine collection. Great spot for couples—even Nick and Vanessa Lachey celebrated their 10th wedding anniversary here this summer.
2452 Kalākaua Ave., (808) 377-2247, espaciowaikiki.com, free valet parking
For Poke Lovers: Ono Seafood
This hole-in-the-wall spot serves ultra-fresh made-to-order poke that's arguably some of the best on the island. Poke bowls are the mainstay here, and the shop serves eight different flavors with three seafood options: 'ahi, tako (octopus) and salmon. The shoyu 'ahi poke—one of the most popular—comes with a shoyu-ginger sauce, crunchy limu (seaweed) and 'inamona (a paste made from roasted kukui nuts). Don't skip the refrigerated section, where you can find kimchi cucumber, pickled mango, lomi salmon, edamame and more.
717 Kapahulu Ave., (808) 732-4806
For the Morning People: Bogart's Cafe
For more than 20 years, Bogart's Café on Monsarrat Avenue, just a couple of minutes walk from Kapi'olani Park, has been a beloved spot known for its breakfast fare, including fried rice, omelets, Benedicts, açaí bowls and its super-popular breakfast bagel. Open at 7 a.m., it's a great spot for a relaxing breakfast after a nice morning walk or dip in the ocean.
3045 Monsarrat Ave., ( 808 ) 739-0999, bogartscafe.com
For Romantics: Hau Tree Lānai
The view of sunny Kaimana Beach from Hau Tree Lānai is both beautiful and relaxing—perfect for a lazy brunch with friends or date night at sunset. When the 122-room Kaimana Beach Hotel was refreshed this year, so was the oceanfront restaurant. Brunch is incredibly popular, with such dishes as poached lobster Benedict, avocado toast, 'ahi burger with Asian slaw and fluffy lemon ricotta pancakes. Dinner features a range of dishes, from Spanish-grilled octopus to baked oysters with a house-made herb butter to crispy pork belly paired with a charred coconut crema and roasted cherry tomatoes. Cocktails—like the Hau Tree high- ball with hibiscus-infused local vodka and the Waikīkī mai tai with local rum and guava, liliko'i (passion fruit) and pineapple juices—get you in vacation mode.
Kaimana Beach Hotel, 2863 Kalākaua Ave., ( 808 ) 921-7066, kaimana.com/dining
For Sushi Lovers: Sushi Sho
Waikīkī is home to one of the best real-deal authentic sushi spots in the state, run by one of Japan's most acclaimed sushi chefs. Keiji Nakazawa helms the 16- seat sushi-ya at Sushi Sho in the dining room of the Ritz-Carlton, Waikīkī Beach, serving the Edomae-style of sushi—where the fish is aged—using local and imported seafood. It's omakase, meaning you eat whatever you're served, and be prepared to be wowed by Nakazawa's skills and creativity. Cost is $300 per person and reservations need to be booked far in advance.
383 Kalaimoku St., (808) 729-9717, ritzcarlton.com/en/hotels/hawaii/waikiki/dining/sushi-sho
For Big Breakfast Eaters: Sweet E's Café
Breakfast is served all day at this family-run eatery. That means you can get fluffy pancakes, crispy waffles, huge omelets and stuffed French toast until 2 p.m., when the restaurant closes. (It also offers lunch options, starting at 10 a.m.) Big eaters will love the Extreme Mess—three eggs, hash browns, bacon, sausage, ham, peppers, scallions, onions and cheddar cheese all scrambled together.
1006 Kapahulu Ave., (808) 737-7771, sweetescafe.com
For Coffee Lovers: Kona Coffee Purveyors | b. Patisserie
Find single-estate Kona beans and other Hawai'i-grown coffee at this popular bistro on the ground floor of the International Market Place. Coffee styles range from Americano to flat white to nitro. Or get one of the café's hot or iced teas. But don't leave without trying one (or two) of the baked goods from San Francisco's b. Patisserie. While the chocolate-almond-banana croissant and liliko'i-strawberry-coconut savarin are excellent, the bestseller is its flaky and buttery kouign amann, which come in seasonal flavors.
International Market Place, 2330 Kalākaua Ave., #160, (808) 450-2364, konacoffeepurveyors.com
For Happy Hour with a View: Sky Waikiki Raw & Bar
During COVID-19, Sky Waikīkī reinvented itself, expanding its menu to include a raw bar and poke. But the stunning views from its perch on the 19th floor of the Waikīkī Business Plaza—oh, imagine sunset here!—hasn't changed. Offerings include poke nachos, fried calamari, oyster shooters, chicken liver pâté, wagyu steak, garlic shrimp and bouillabaisse. Happy hour runs from 4 to 5 p.m. daily— right before sunset—with $2 oysters and $9 slushy cocktails like the Icy Mai Tai.
2270 Kalākaua Ave., (808) 979-7590, skywaikiki.com