Your Family-Friendly Guide to West Oahu
Here are six ways you and your ohana can enjoy Oahu's wonderful West Side.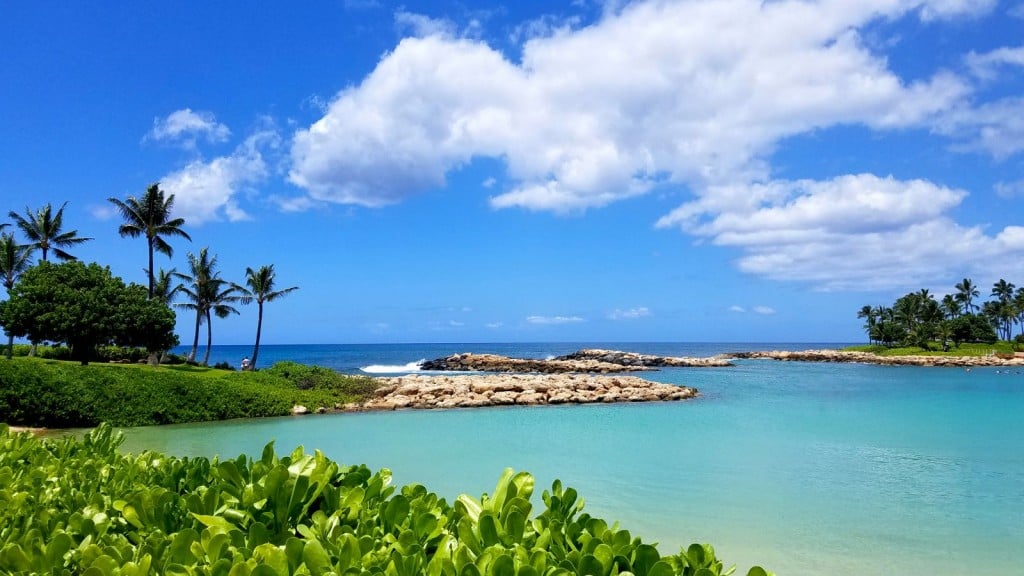 When traveling to Oahu with the family, it can be all too easy to make your nest in Waikiki and never leave. And it makes sense. Vacationing with keiki (kids) or teens is a unique challenge for parents, and planning an itinerary with the young ones in mind can be difficult. But if you're looking to broaden your horizons, we recommend venturing to West Oahu, where you'll find gentle lagoons, family-friendly farm tours and far fewer crowds. Here are a few reasons why the West Side is perfect for traveling families.
1. Slip and Slide at Wet 'n' Wild Hawaii
What kid doesn't love a waterpark? Sure, Hawaii has some of the best beaches in the world, but do those beaches have water slides like the Waianae Coasters, which has over 320 feet of drops, dips and twists? Probably not. Wet 'n' Wild sprawls over 29 acres in Kapolei, with more than 25 different attractions and even a luau. Younger keiki will enjoy the Water World Kids Playground, which features kid-friendly slides, a lily pad walk and water cannons. 400 Farrington Highway, Kapolei, (808) 674-9283, wetnwildhawaii.com.
2. Wade Without Worry at the Ko Olina Lagoons
If you're looking for a real aquatic experience, the four lagoons fronting the Ko Olina Resort provide families with a relaxing beach experience. The man-made breakwaters surrounding the lagoons keep the water tranquil and safe—you won't find any rip currents or breaking waves here. We recommend the Ulua Lagoon, aka Lagoon 4, which has the biggest parking lot. 92-100 Waipahe Place, Kapolei.
3. Treat Yourself at Ka Makana Alii
Constructed over three years ago, Ka Makana Alii is the newest shopping center in Kapolei, with more than 100 stores and restaurants. You can even catch a movie at Olino by Consolidated Theatres, which shows the latest blockbusters and has state-of-the-art movie screening technology and reclining leather seats. You may end up loving this mall so much you'll want to stay here—and you can. The Hampton Inn & Suites by Hilton is located conveniently within Ka Makana Alii, with free hot breakfast and Wi-Fi. 91-5431 Kapolei Parkway, Kapolei, (808) 628-4800, kamakanaalii.com
4. Get Your Hands Dirty at Kahumana Organic Farms & Café
Kahumana Organic Farms & Café does a little bit of everything. The nonprofit provides yoga classes and vocational training and even runs farm tours of its expansive 25-acre property. On the guided walking tour, you'll learn about indigenous crops and meet the adorable chickens, pigs and sheep that are raised on the farm. The farm-to-table tour includes a three-course meal made with produce sourced directly from the farm at the on-site café. 86-660 Lualualei Homestead Road, Waianae, (808) 696-2655, kahumana.org.
5. Experience Nature on a Hike to Kaena Point
At the end of Farrington Highway is the trailhead of the hike to Kaena Point. The trek to Oahu's westernmost point is roughly 4 miles round trip on mostly flat terrain. . The wildlife along this remote coastline is the big draw here: Hawaiian monk seals make regular appearances, and humpback whales too, in the winter. Although Hawaiian folklore says this site was the jumping-off point for souls to enter the underworld, resist the urge to jump into the sea as undertows and rip currents make any ocean-related activities hazardous. Remember to bring plenty of water, sunscreen and a hat, as Kaena Point tends to be one of the hottest spots on the island.
6. Live the Suite Life at The Embassy Suites Hotel by Hilton in Kapolei
The Embassy Suites Hotel by Hilton in Kapolei exudes a sort of youthful exuberance that both kids and parents will enjoy. The lobby of this new addition to Kapolei's budding hotel scene features a vibrant moss wall and framed photos of shore breaks by local artist Clark Little hanging on the walls. Parents will definitely enjoy the complimentary breakfast provided every morning. And if your ohana doesn't want to spend time in the hotel's pool and hot tub, Hilton also provides a shuttle service to nearby White Plains Beach, which has gentle waves perfect for beginners and children who want to learn how to surf. 725 Manawai St., Kapolei, (808) 674-8222, embassysuites.com.