Your Favorite Chocolate Macadamia Nut Candy Turns 95
Open a box of Hawaiian Host and cherish sweet memories.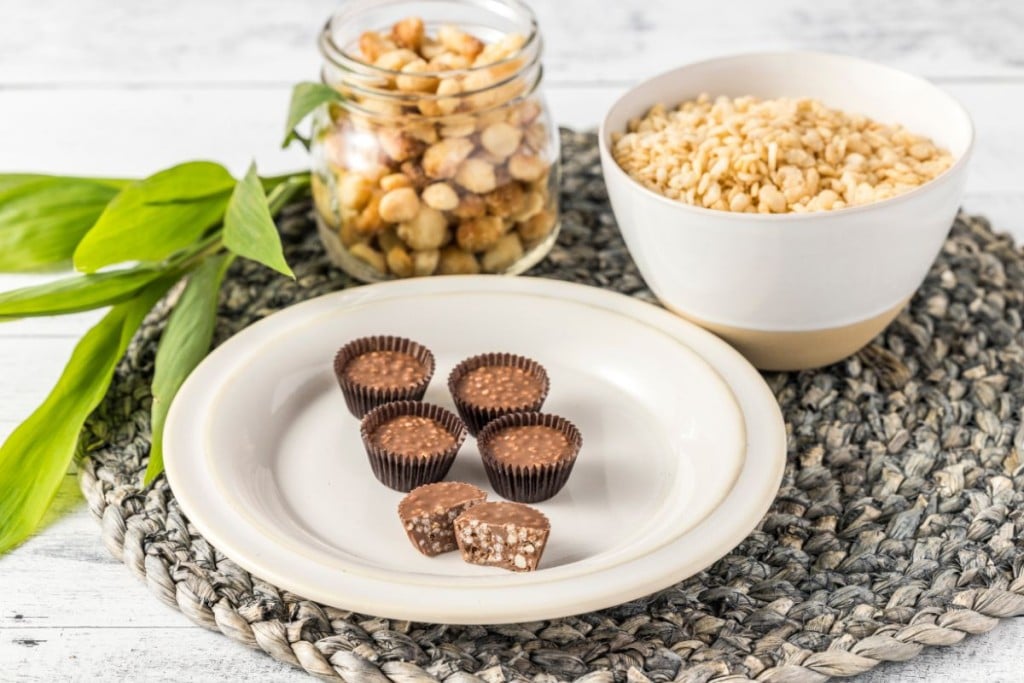 For the Hawaiian Islands, 1927 was a momentous year. The grand Royal Hawaiian Hotel opened its doors in Waikīkī, the Islands' first drive-in restaurant welcomed hungry diners and the first art museum launched its inaugural exhibit. At Ellen Dye Candies, an unassuming shop in Downtown Honolulu, John Dye was experimenting with an ingenious candy idea, combining chocolate with Island-grown macadamia nuts.
Over on the Valley Isle, an enthusiastic young man named Mamoru Takitani started to create his own chocolate-covered macadamia nut snacks. Takitani was hard at work perfecting a delectable milk chocolate recipe in the hopes of creating a world-class candy company.
Years later and still crafting his confections, Takitani moved from Maui to Honolulu, with his wife Aiko. Unsurprisingly, Ellen Dye Candies, which by then had moved to a larger facility in Kaimukī, caught Takitani's attention. He made an offer to purchase it from the Dye family and by 1960, he owned the store. Marking the change of ownership, Takitani replaced the storefront sign with a new one that read "Hawaiian Host."
This October, Hawaiian Host celebrates 95 years of crafting its iconic chocolate here in the Islands. The small business that began in 1927 in Takitani's parents' attic grew to become the largest manufacturer of chocolate-covered macadamia nuts in the world. Every year, Hawaiian Host produces more than 15 million boxes of chocolate confections, which are sold in more than 20 countries. This past year, Hawaiian Host incorporated 4.3 million pounds of macadamia nuts into its products. And keeping with Takitani's mission, the company sources as much as possible from local farmers.
To commemorate this year's milestone, Hawaiian Host created a limited-edition 95th anniversary box. The box, which is available at select retailers and online, is beautifully adorned and filled with candies, each made with two whole macadamia nuts and coated in the original, decadent milk chocolate.
The longevity of Hawaiian Host "goes back to Takitani's spirit for innovation and the creation of his signature milk chocolate recipe," says Theresa Tuxhorn, the former director of global marketing at Hawaiian Host and present managing director at KOHO, the company's premium chocolate brand. She says the brand strives to deliver only the best quality chocolate—with standards set by Takitani.
"We've stayed true to the roots of what Mamoru Takitani started and stayed true to his recipe," Tuxhorn says. "With our taste, experience and sourcing, customers continue to come back to our genuine, classic chocolate-covered macadamia nuts."
And in the Islands, who hasn't indulged in a box (or two) of Aloha Macs, savoring the smooth, silky layer of chocolate that coats the crunchy nuts? And just as beloved and tempting are the Mac Nut Crunch and Maui Caramacs. Introduced back in the 1970s, the Mac Nut Crunch remains popular for its flakes of crispy rice and chunks of macadamia nuts in bite-size chocolate cups. Maui Caramacs, unveiled in the 1980s, are filled with a buttery, nutty caramel that seeps out of the milk chocolate after one bite.
And each of these classic treats is filled with plenty of what money can't buy: sweet memories. For me, biting into an Aloha Mac is like riding a wave of nostalgia. The taste is so familiar and unlike any other chocolate candy. As a child, I would quietly lift the top of the box, hoping to go undetected by my always ravenous brothers. I'd carefully select a chocolate to pop in my mouth, sure to grab a second one for later before quickly stashing the box where I found it.
"People have grown up with it through gifting, whether it's omiyage, the holidays or graduation. It's turned into an iconic brand from Hawaiʻi," Tuxhorn says. "For travelers, it's a piece of Hawaiʻi they can take back with them."
Today, Hawaiian Host is cherished in the Islands, not just for its classic chocolates, but for its charitable works, too. Back in 1993, five years after the founder's death, the Takitani family established the Mamoru and Aiko Takitani Foundation to thank the local community for supporting their business. The chair of the foundation's board of directors, Michael W. Perry says, they "wanted to return some of that success to the island community that made it possible. Because they had no children, they created the Takitani Foundation and basically made it their sole heir." For nearly 30 years, the nonprofit has been awarding scholarships and supporting educational programs for students in Hawai'i. "Aiko was a teacher who supported the public schools. She and Mamoru were both supporters of various Buddhist organizations in Hawaiʻi, but reached beyond their own circle to begin a program to provide college scholarships and financial assistance for outstanding high schools all over the state. The initiative was the spark for one of the most successful scholarship programs in Hawaiʻi."
Along with its classic candies and compassion, Hawaiian Host perpetuates Takitani's drive for innovation. Over the years, newer Hawaiian Host collections have been released, like the pan-coated Paradise Collection. From toasted coconut and honey to Kona coffee, the bite-sized pieces are decadent tastes of the Islands. Matcha lovers will obsess over the Founder's Collection, which features candy made with smooth white chocolate infused with matcha. The Flavors of Aloha Collection is the latest new thing, a selection of artisan chocolate bars made with Island ingredients like lilikoʻi (passion fruit), mango, toasted coconut, and of course, macadamia nuts.
Chocolate macadamia nuts' place on any list of iconic Hawaiʻi foods is secure, thanks in large part to Hawaiian Host. Now, the company is expanding beyond its famous chocolate nuts with KOHO, its luxury chocolate brand. Tuxhorn, who oversees production and sales at KOHO, says the collection elevates the entire chocolate experience, with new flavors, creative ingredients and exquisite packaging. "It's great to focus on other ingredients from here in Hawaiʻi," Tuxhorn says. "There's so much untapped flavor and innovation we can introduce." In addition to ingredients such as Kona coffee and Hawaiian sea salt, the luxury brand includes locally grown cacao.
For more information on Hawaiian Host and its products, visit hawaiianhost.com. KOHO also has a pop-up shop at Ala Moana Center on Oʻahu, open until the end of the year.