Your Guide to Celebrating the Fourth of July in Hawaiʻi
As Independence Day events make their exciting return, here's how to partake in the fun festivities and catch spectacular firework shows across the Islands.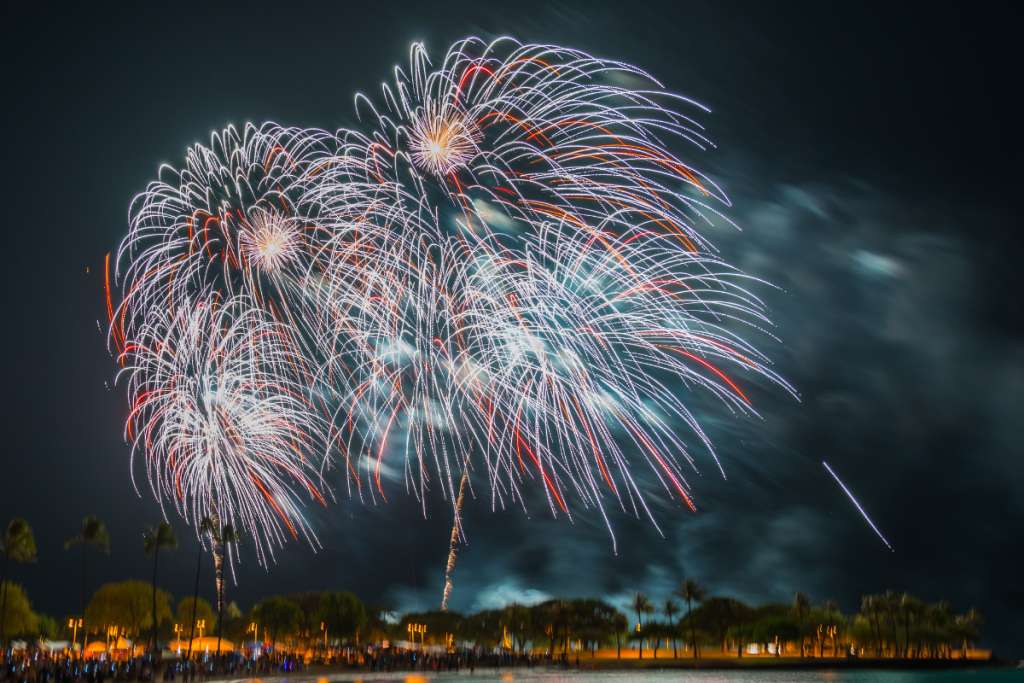 Across Oʻahu, Maui and Hawaiʻi Island, firework shows will be lighting up the sky during Independence Day weekend. On Oʻahu, the celebration begins as early as Friday, marking four days of firework fun. Along with firework displays, community traditions are also making their grand return, some after a two-year hiatus. On Maui and the Big Island, paniolo (cowboys) are gearing up for long-standing rodeos. So, check out all the excitement at a rodeo before catching a thrilling firework show.  
Oʻahu
Ala Moana Center 4th of July Concert Series  
June 30 – July 4 
To celebrate the 4th of July, Ala Moana Center is hosting a five-day concert series. While the galleria's highly anticipated firework show is canceled for the third consecutive year, Ala Moana Center is still presenting an exciting 4th of July celebration. Nā Hōkū Hanohano Award-winning artists and up-and-coming musicians will perform on the Ewa Wing Stage and Centerstage. Along with these exciting performances, shoppers can also find holiday discounts at more than 40 retailers and enter a summer sweepstakes. alamoanacenter.com.  
Hilton Hawaiian Waikīkī Beach Resort's Friday Fireworks 
July 1 
The Hilton Hawaiian Waikīkī Beach Resort's firework show is indeed a weekly event, but this year it just so happens to kick off Independence Day weekend. And the Friday night firework show only recently relaunched after a two-year hiatus due to COVID-19 pandemic restrictions. So, find a spot along Waikīkī Beach and enjoy the spectacular show, which is scheduled to begin at 8 p.m. 
Independence Day Firework Show and Concert at Schofield Barracks
July 2  
Typically, the firework show at Schofield Barracks is reserved for Department of Defense card holders and their guests, but this year, the event is free and open to the public. The event takes place at Weyand Field from 2 p.m. to 9 p.m. 
Turtle Bay Independence Day Celebration 
July 3  
'Ohana Day returns to Turtle Bay Resort on Oʻahu's North Shore. Held at the resort's scenic stables, guests can find local food vendors, bubbly libations and of course enjoy an exciting firework display. Guests can also listen to performances by musicians including Paula Fuga, Eli-Mac and DJ Keala Kennelly. The event begins at 3 p.m. with concerts starting at 3:30 p.m. and fireworks are scheduled for 8 p.m. turtlebayresort.com/things-to-do/events/ohana-day-paula-fuga-eli-mac-and-kimie-miner.  
Fourth of July Freedom Fest at Pearl Harbor
July 4  
This is the biggest party of the year at Pearl Harbor base. Starting at 3 p.m., families can visit a petting zoo, partake in keiki games and munch on tasty food from local food trucks including Kona Ice and Kehau's Kitchen. Automobile enthusiasts can also check out the car show before the concerts and fireworks begin.  
Hukilau Marketplace 4th of July 
July 4  
Also situated on Oʻahu's North Shore in Laie, Hukilau Marketplace at the Polynesian Cultural Center presents an exciting 4th of July celebration. From carnival games and face painting to fireworks and bull riding for adults, guests can partake in an array of carnival festivities. Along with games and activities, guests can chow down on classic fair food and enjoy live music. hukilaumarketplace.com/events. 
Kailua Beach Fireworks 
July 4  
Throughout the last 65 years, residents and visitors alike have created long-lasting memories of sitting in the sand along Kailua Beach to witness the 4th of July firework display. The show once again returns after a short pandemic-related pause to light up Oʻahu's Windward Side. kailuafireworks.com/events. 
North Shore July 4th Festival and Vintage Car Show 
July 4  
The first 4th of July North Shore Festival takes place at Haleʻiwa Beach Park this year. The free, all-day event includes a vintage car show featuring classic automobiles, trucks and motorcycles. There will also be food vendors, live entertainment, hula performances, as well as face painting, food-eating contests and a robotics competition. Make sure to stick around after dark, as the fireworks start at 8 p.m. haleiwajuly4thfestival.com.  
Maui
Makawao Stampede 
July 1 – 3  
Attending the 4th of July stampede is a local tradition in the paniolo town of Makawao, Maui. The entire community comes together during the three-day rodeo at the Oskie Rice Arena. Since the inaugural competition in 1956, the rodeo has grown to be one of the largest paniolo events in Hawaiʻi. So, dust off a pair of cowboy boots for a glimpse of the unique paniolo culture in the Islands.  
Lahaina Fireworks 
July 4 
After a two-year hiatus due to the pandemic, the beloved Lahaina fireworks return in 2022. The spectacular firework show lights up Maui's west side and every year families and friends come together to enjoy the festivities. visitlahaina.com/event/4th-of-july-in-lahaina.  
Hawaiʻi Island 
A Salute to Our Hometown Heroes
July 4  
In Kailua-Kona, 4th of July celebrations begin with a parade at 6 p.m. Following the parade through town, fireworks will light up the sky at 8 p.m. paradesinkona.com.  
Hilo Bay Blast Fireworks and Celebrations 
July 4 
The Hilo Bay Blast firework show is back on the east side of the Big Island. Family can enjoy lawn games, cooking competitions and music. Fireworks are scheduled to launch at 8 p.m. 
Parker Ranch Rodeo and Horse Races
July 4 
To commemorate its 175th anniversary, Parker Ranch is hosting its 58th July 4th Rodeo and Horse Races. This long-standing tradition returns to the Waimea arena after a 2-year pause. The rodeo celebrates the paniolo lifestyle and culture in Waimea with events including horse races, ranch mugging and team roping. All are invited to enjoy local food, keiki activities and a petting zoo. Gates open at 7 a.m. and the rodeo action begins around 9 a.m. parkerranch.com/parker-ranch-july-4th-rodeo-and-horse-races-4.