Your Guide to Hawaii Kai on Oahu
There's a lot more to this East Honolulu neighborhood than Hanauma Bay and Makapuu Lighthouse.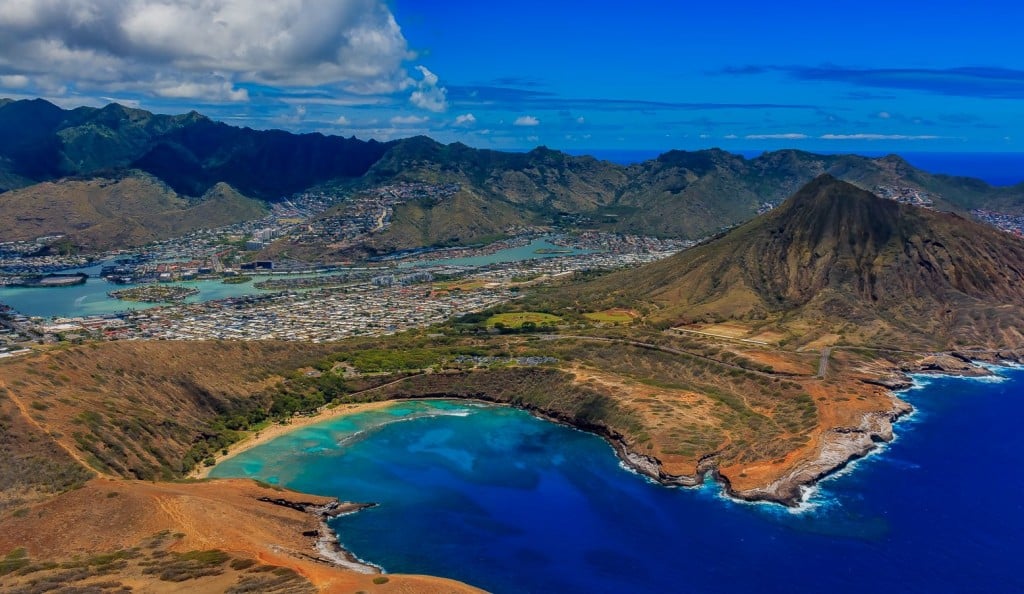 Snuggled in the southeastern corner of Oahu, Hawaii Kai is a hidden gem just 10 miles and a 25-minute car ride from Waikiki. Once a seaside wetland and ancient fishpond, Hawaii Kai was transformed into a residential community in 1959 by Henry J. Kaiser. While Hanauma Bay and Makapuu Lighthouse draw many to the neighborhood, it doesn't take long for visitors to realize how much more the area has to offer—stunning vistas overlooking textured tidepools, boutiques sporting flirty and flowy pieces, hidden marina-front coffee shops, challenging hikes and more.
Halona Blowhole Lookout
As you drive east along Kalanianaole Highway's twists and turns, pull over at this lookout where you can watch water spout from a "blowhole"—a seawater geyser in the lava rock—that mimics the misty spouts spotted in the area during kohola (humpback whale) breeding and birthing season, which stretches from November to May. There's great views of Sandy Beach (no surprise—halona means lookout in Hawaiian) and you can see the beach cove where scenes from "Pirates of the Caribbean: On Stranger Tides," "From Here to Eternity" and "Jurassic Park: Fallen Kingdom" were filmed. Don't step over the lookout's fencing—several people have died venturing beyond, climbing atop the rocks and being sucked into the blowhole or swept off the rock ledge. Kalanianaole Highway
Mikinola
View this post on Instagram
With several exclusive clothing lines, stacks of well-fitting jeans and pieces of all shapes and sizes, Mikinola offers something for every occasion—even if it's just a cute top for work. Owned by University of Hawaii-Manoa alum Dara Fujio, this boutique has everything from the tight and showy to the loose and casual. We especially love its soft swimsuits that fit like a second skin. There's also an online store for you to snag some finds even when you're off the Islands. 7192 Kalanianaole Highway, (808) 394-6666, shopmikinola.com
Island Brew Coffeehouse
Tucked alongside a Pizza Hut in the Hawaii Kai Shopping Center, this coffee shop serves only 100% Hawaii-grown coffee alongside inventive toasts, waffles and other breakfast foods. Enjoy your fresh coffee in a Mason jar or, if you're on the go, you can get it in a corn-based compostable cup. With couches and tables inside and out, this café is a great spot to kick your feet up, enjoy the sea breeze and chow down on your Insta-ready acai bowl. (We sure did!) 377 Keahole St., (808) 394-8770, islandbrewcoffeehouse.com
Koko Head Crater Hike
We're not going to lie to you: This isn't your average hike. It follows an World War-era railway up the side of Koko Crater (known as Kohelepelepe in Hawaiian), with 1,050 rail posts serving as steps to the top, where old pillboxes still stand. The panoramic views make the trip worth it, with vistas stretching from the residential landscape of Hawaii Kai to Sandy Beach and Makapuu Point. Don't worry about where to leave your car: It's easy to find parking at Koko Head District Park. Our recommendation? Hike at sunrise, as the trail isn't sheltered from the sun. And wear shoes with some traction. Park at 423 Kaumakani St.
SEE ALSO: 20 Thoughts Every Hiker Has Had on the Trail Up Koko Head Crater
Bubbies Homemade Ice Cream and Desserts
Located in Koko Marina Center (the same shopping center as Mikinola and pau hana spot Kona Brewing Co.), Bubbies is where you can satisfy your mochi ice cream craving. While it offers a variety of creamy premium ice creams in flavors ranging from macadamia nut to classic strawberry, the company specializes in ice cream-filled balls of mochi (Japanese rice cakes). Try classics like green tea or go outside the box with cherry-laden sakura. There are shakes, cones, sundaes and coffee drinks, too. 7192 Kalanianaole Highway, #D103, (808) 396-8722, bubbiesicecream.com