Your Guide to Honokaa on Hawaiʻi Island
A thrifter's paradise, Honokaa town on the Big Island is worth pulling over for.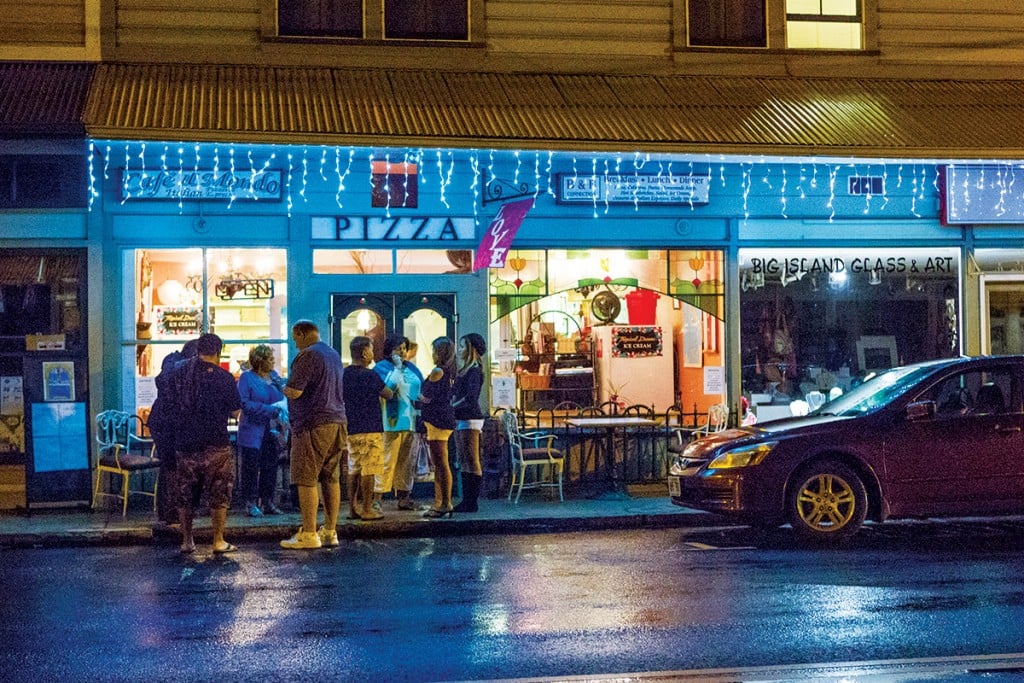 Don't think Honokaa falls into the category of one of the Big Island's many sleepy country communities. In fact, Honokaa's got a lot going on, and you can spend hours on its main drag, Mamane Street. Whether you love to thrift—and who doesn't—or just want to grab a filling vegan lunch, Honokaa's here for you. So be sure to stop by on your way to Waipio Valley, which is just a short drive away.
Honokaa People's Theatre
Close your eyes and travel back to the 1930s. Honokaa was one of the Big Island's most popping towns, outside of Hilo, and its streets were bustling with activity. The Honokaa People's Theatre was built in 1930 by the Tanimoto family and showed international films to its 525-seat audience. In the '80s and '90s, the theater struggled to stay afloat as the local plantation was shut down, forcing many residents to move away from the town to find work. Since then, the theater has become a venue for the community. And while it does still play films for the public, its space is also used by the local high school band as well as by hula halau (hula schools). 45-3574 Mamane St, Honokaa, honokaapeople.com
Sea DandeLion Café and Awa Bar
Possibly the cutest name on the block, Sea DandeLion Café and Awa Bar offers healthy, vegan dishes seven days a week. There are a lot of options to choose from, all made with locally sourced greens; however, the gourmet Waipio taro burger is a must. It comes with a taro-quinoa burger patty topped with sauerkraut, greens, cucumbers, pink guava, red onion tomato ketchup and a special "taronnaise" sauce. Speaking of greens, bring cash if you want to eat at Sea DandeLion Café and Awa Bar, since the establishment does not take credit cards. 45-3590 Mamane St., Honokaa, website
Honokaa Trading Co.
If you're really looking to make some impulse purchases that you may or may not regret later, Honokaa Trading Co. is where you want to be. The storied Honokaa storefront, which has been in business for over 33 years and has been passed down two generations, sells a variety of unique antiques. Don't be surprised if you leave the shop with a VHS collection of all three Star Wars prequel movies, a portrait of King Kamehameha III and a lightly dusted but beautifully built banjo. 45-3490 Mamane St., Honokaa
Fudge'n Coffee Café
Some things in this world need to be together. Sunsets and mai tais. Movies and popcorn. And at Fudge'n Coffee Café, the match made in heaven is right in the name. Delicately crafted lattes and coffee-based drinks go perfectly with the fudge sold behind the counter, all of which is made by the café's owner, Nini. The café's dining area has got a wild decor, think a country art fair mixed with avant-garde, and diners can play any of the store's board games, which are stacked head-high in a corner of the room. 45-3611 Mamane St. #105, Honokaa
Hotel Honokaa Club
You rarely see chimneys in Hawaii, so the Hotel Honokaa Club will probably catch you off guard with its towering smokestack and bright pink buggy, which sits in its parking lot. The two-star hotel also serves as an affordable place to stay in Honokaa, and friendly guest service staff are more than willing to help you fill out an itinerary and point you where to go. Its rooms are low-key and simple, but give guests a clear idea of what country living is all about, with its homey decor and no-frills attitude. 45-3480 Mamane St., Honokaa, hotelhonokaa.com