Your Guide To Viewing Hawaiʻi's Endangered Wildlife
It's a felony to touch or harass endangered animals, including Hawaiian monk seals.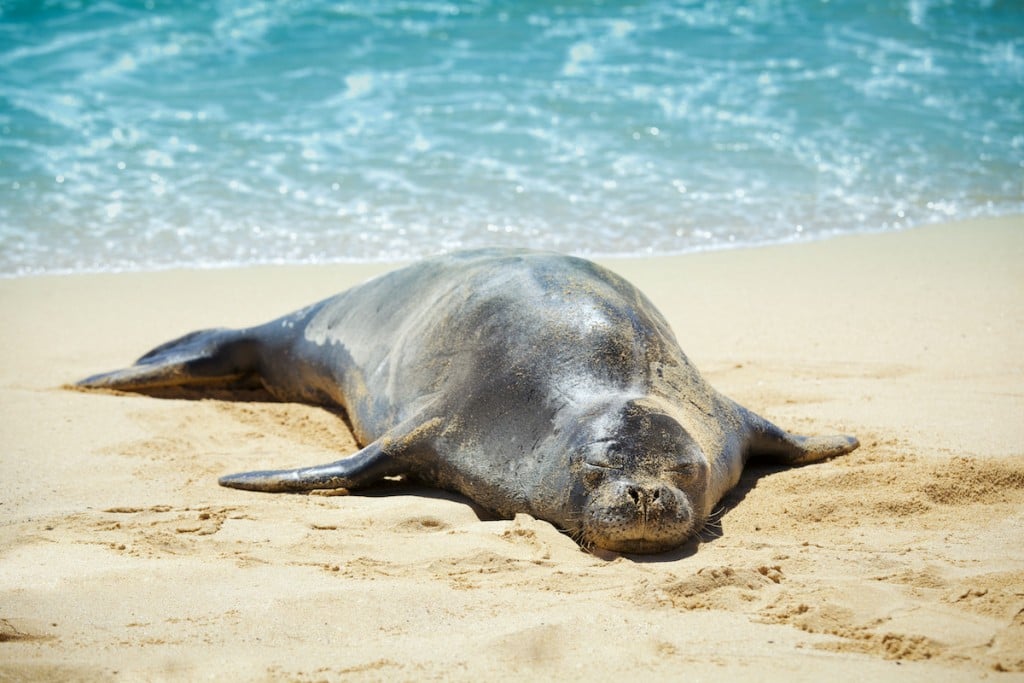 Hawaiian monk seals are getting a lot of attention this week—and not because they're critically endangered. (They are.)
Two video clips of visitors appearing to disturb Hawaiian monk seals in Hawaiʻi have gone viral recently, prompting an investigation into the incidents by the National Oceanic and Atmospheric Administration (NOAA) and community outrage over the illegal acts.
In one video, posted on TikTok, a woman visiting Kauaʻi is seen touching a monk seal on a beach, then running away after it barks at her. She was fined and the couple, from Louisiana and on Kauaʻi for their honeymoon, publicly apologized. In another video, a man appears to be trying to pet a Hawaiian monk seal.
Even Hawaiʻi Gov. David Ige jumped in, issuing a warning to visitors on Twitter to stay away from monk seals.
I've seen an increase in distressing videos recently of what appears to be visitors to our state touching and disturbing our endangered native Hawaiian monk seals. I want to be clear that this behavior is absolutely unacceptable.

— Governor David Ige (@GovHawaii) July 14, 2021
It's a felony under state law to touch, harass harm or kill any endangered or threatened species, including Hawaiian monk seals, with penalties of up to five years in prison and a $50,000 fine.
There are an estimated 1,100 Hawaiian monk seals in the Northwestern Hawaiian Islands and 300 in the main Hawaiian Islands, according to NOAA. The Hawaiian monk seal is considered one of the most endangered seal species in the world.
You can still enjoy monk seals while visiting the Islands—you just need to do it safely and respectfully.
Here are some tips from NOAA on how to view Hawaiʻi's unique and vulnerable wildlife:
View from a distance. Use binoculars or your camera's zoom for a close-up look.
Use the "rule of thumb" when observing monk seals: Stay behind any designated signs or barriers. Make a thumb's up gesture and extend your arm straight in front of you. Turn your thumb parallel to the ground in your line of sight of the seal. You are far enough away if your thumb covers the entire seal (this distance is about 50 feet).
Do not disturb sea turtles or monk seals resting on the beach. That means don't touch, chase or feed them, either. Animals are wild, unpredictable and protected by federal and state laws.
Limit viewing time to a few minutes.
Never swim with monk seals or spinner dolphins. View dolphins and whales from a boat or shore.
And just for reference, here are the mandated viewing distances:
For sea turtles: At least 10 feet (3 meters) on land and in water
For Hawaiian monk seals: Stay behind any signs or barriers. Stay back 50 feet (15 meters) if no barriers.
For dolphins: Stay back at least 50 yards (45 meters).
For humpback whales: Do not approach within 100 yards. That's a federal law.
NOAA Statewide Hotlines for marine animal emergencies (sea turtles/seals/dolphins/whales): 1-888-256-9840. If you see a sick, injured, stranded, or dead marine mammal or sea turtle, immediately contact your local stranding network. For illegal or suspicious activity, call 1-800-853-1964 or (808) 643-DLNR (3567). Email photos and videos to RespectWildlife@noaa.gov.