Your Guide to Waikiki Bar Hopping and Happy Hours
A nighttime tour of Honolulu's bustling tourism hub and its cocktails.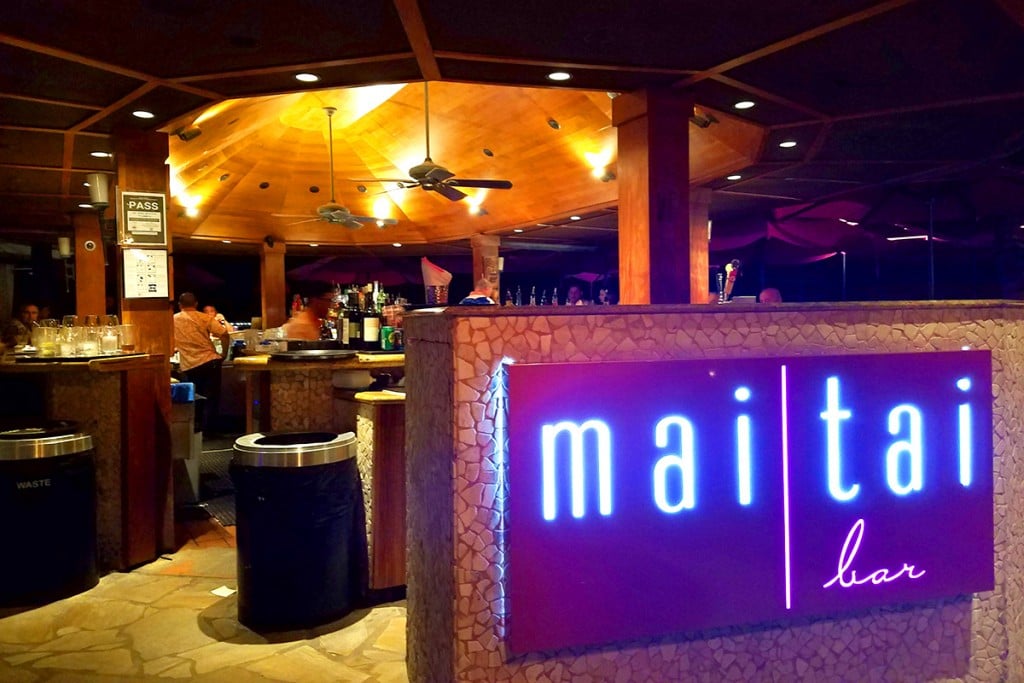 Ready for a night on the town in Honolulu's bustling tourist mecca? Just follow our handy step-by-step guide for some of Waikiki's best cocktails and views, or if you're looking for a deal, stop by one of the happy hour spots on our list earlier in the evening for cocktails and pupu (appetizers).
Waikiki Bar Hop
1. Take in the sunset at Sky Waikiki (2270 Kalakaua Ave., skywaikiki.com), sipping on a fruity Kula Shaker while enjoying the 21-story-high panoramic view of Waikiki from the rooftop.
2. Head down the street to the third-floor rooftop bar of Tommy Bahama (298 Beach Walk, tommybahama.com) and bury your toes in the white sand next to a fire pit to enjoy a snack and a drink.
3. Head down Kuhio Avenue, next, and look for the escalator that will take you up into the trendy The Laylow hotel to find the Hideout (2299 Kuhio Ave., hideoutwaikiki.com), a delightful outdoor bar with comfortable midcentury modern furniture.
4. Then, stop inside The Myna Bird (330 Kalakaua Ave.), a cheeky little bamboo-lined tiki bar inside Michael Mina's The Street at the International Market Place, and linger a bit with a traditional piña colada in a ceramic coconut mug.
5. Pick up the pace down to Kalakaua Avenue to RumFire at the Sheraton Waikiki (2255 Kalakaua Ave, rumfirewaikiki.com). Order a flaming Tiki Torch, a potent cocktail made with pineapple and RumFire's signature single-barrel Cruzan 151 rum that's lit on fire in front of you.
6. Steps away from the beach, The Royal Hawaiian's Mai Tai Bar (2259 Kalakaua Ave., royal-hawaiian.com) serves its classic Royal Mai Tai. Sip it at the casual outdoor bar while listening to the gentle surf.
7. If you're feeling toasty and significantly more musical than before, end the night at Wang Chung's (2424 Koa Ave., wangchungs.com), a gay-friendly karaoke gem just behind King's Village, full of good vibes and some of the friendliest bartenders and backup singers around.
Waikiki Happy Hours
Buho Cocina y Cantina
This Mexican joint with a view serves $3 tacos, $7 house margaritas, $6 ice cream burritos and other discounted food and drinks and from 2 to 6 p.m. and 10 p.m. to close, daily. 2250 Kalakaua Ave., fifth floor, buhocantina.com.
Maui Brewing Co.
From 3:30 to 5:30 p.m. and 10:30 p.m. to midnight daily, get $10 craft pizzas, $2 off beers, $3 off cocktails and half-off select appetizers at this favorite of locals and visitors alike. 2300 Kalakaua Ave., mbcrestaurants.com/waikiki
Stripsteak
From 4 to 10 p.m. Monday-Thursday and 4-6 p.m. Friday-Sunday, Michael Mina's celebrated restaurant at International Market Place serves up $7 truffle duck fat fries, $7 sake and $4 sushi and beers at the bar. 2330 Kalakaua Ave., michaelmina.net/restaurants/hawaii/stripsteak-waikiki.
Mahina & Sun's
Beloved local chef Ed Kenney's casual restaurant inside the Surfjack hotel offers a great deal during happy hour from 5:30 to 7:30 p.m. daily: $20 Naked Pig Pizza with two Maui Brewing Co. beers included. 412 Lewers St., mahinaandsuns.com.
Genius Lounge
This hip little hidden gem on Lewers Street, loved by its local regulars and visitors in the know, serves $3 Kirin beers, $5 bottles of Asahi and a discounted food and house sake menu from 6 to 8 p.m. daily. 346 Lewers St., geniusloungehawaii.com