10 Amazing Must-See Street Art Murals from Pow! Wow! Hawaii 2019
You can find them all in Oahu's Kakaako District, an up-and-coming urban hub.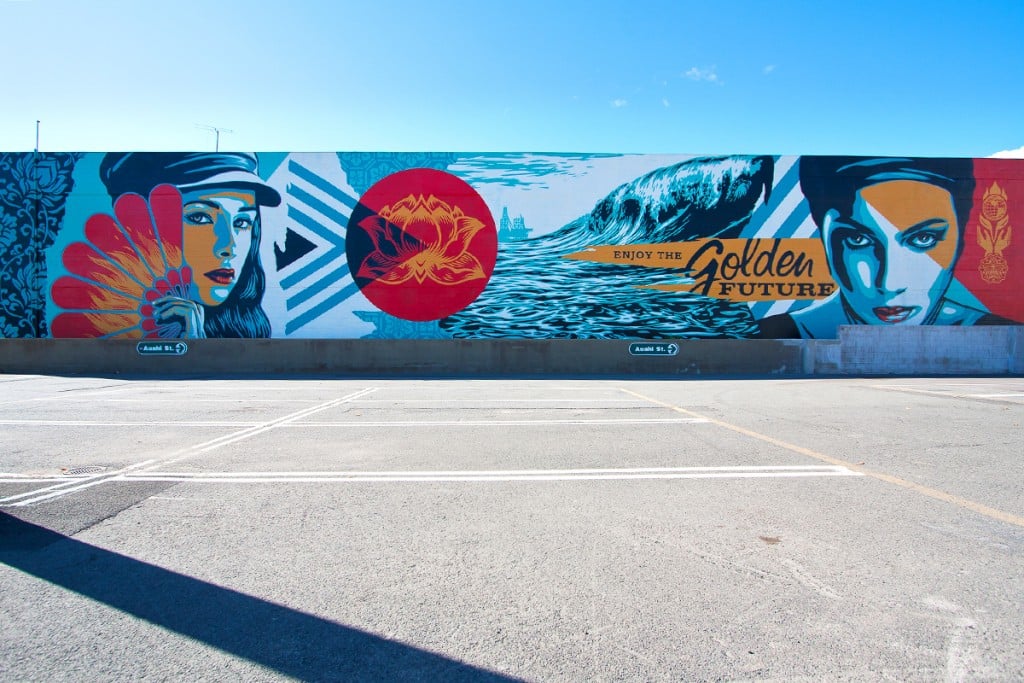 Each spring, artists from all over the world hit the streets of Honolulu's Kakaako district for the annual Pow! Wow! street art festival, painting dozens of murals that stay up until the next year's event. The colorful walk-through gallery, which spans several blocks, makes for some great photo ops throughout the year.
Here's where to find some of the best, most striking pieces from 2019.
1. "Golden Future?" by Shepard Fairey
Where it is: The corner of Ala Moana Boulevard and Ward Avenue, Honolulu
Legendary American street artist Shepard Fairey, aka @Obeygiant, put in an appearance at Pow! Wow! this year and produced this monster of a mural with his crew, which addresses the topic of global warming and preserving the earth for future generations.
2 "Ikura" by Lauren YS and Oneq
Where it is: The corner of Cooke and Auahi streets, Honolulu
These two eyepoppingly bizarre BFFs are some of our favorite faces of this year's event. The mural was a collaboration between Oneq (@negiyakisoba) and Lauren YS (@squid.licker).
3. This bizarre sideways mural by Michael Reeder
Where it is: Lana Lane, Honolulu
Like many of Los Angeles artist Michael Reeder's (@reederone) works, this one deals with self-identity, mortality and ego—and makes a great background for portraits.
4. A tribute to Giverny, France and Monet's garden by Logan Hicks
Where it is: The corner of Cooke Street and Ala Moana Boulevard, at the Bike Factory, Honolulu
"I like imagining what it must have been like back when Monet was walking around and painting," New York artist Logan Hicks (@loganhicksny) posted on Instagram. "I think about how the mediums that are used to paint may change, but good subject matter is timeless." He also shares that this mural was painted partly to mark a momentous event: "Four months ago, my love @thelorizimmer donated a kidney to our good friend @matzarob. We celebrated by painting my mural in Hawaii for @powwowworldwide. It's a selfless act that humbled and amazes me every time I see the scars from the operation."
5. Katch1's entire alley
Where it is: Behind Office Max on Ala Moana Boulevard, Honolulu
Walk down this alley and into a post-apocalyptic world with ratlike characters that might remind you of Ralph Bakshi's 1977 animated sci-fi/fantasy film "Wizards." Katch1 (@katch1), an introverted but prolific street artist and writer from Honolulu, owns this entire alley with his artwork from this year and last.
As an added bonus, the fantastical world he's painted is 3D, if you have the glasses to see it.
6. "Coral Jam" by Rumtum and Brandon LaPlante
Where it is: Ahui Street, Honolulu
A collaboration between RumTum (@rumtum_creations) and Brandon LaPlante (@brandon.laplante), this psychedelic mural was painted to raise awareness about coral reef bleaching and global warming, but it's also a fantastic spot for photos.
7. All the murals at Mother Waldren Park
Where it is: Cooke and Pohukaina streets, Honolulu
Covered on three sides by amazing Pow! Wow! murals, the structures to the side of Mother Waldron Park are a must-visit collection of art.
8. Calligraphy meets geometry
Where it is: Koula Street, Honolulu
A number of people contributed to this wall: Australian artist Mayonaize (@mayonaize), Vincent Zepha (@zepha1), and Kaplan (@kapache1), and the effect is a complex layering of different talents. According to Mayonaize, the wall took five to six days to complete.
9. "Bloom" by Jesse "Dak1ne" Velasquez
Where it is: Coral and Pohukaina streets, Honolulu
Turn the corner from Pohukaina Street and you'll find this piece by painter and tattoo artist Jesse Velasquez (@dakine_dak1ne), one of the resident artists at Lana Lane, the central hub of Pow! Wow! Hawaii.
10. Pohukaina Street
Where it is: The block between Coral and Cooke streets, Honolulu
Stroll this street and you'll find plenty of photo ops that change annually, painted by visiting and local artists.
For more information about this year's Pow! Wow! art festival, click here.
SEE ALSO: Your guide to Kakaako's Pow! Wow! Hawaii 2018 street art