7-Eleven in Hawaiʻi is Amazing—Here's Why
Visiting the Islands? Then you'll want to check out a local 7-Eleven as soon as possible!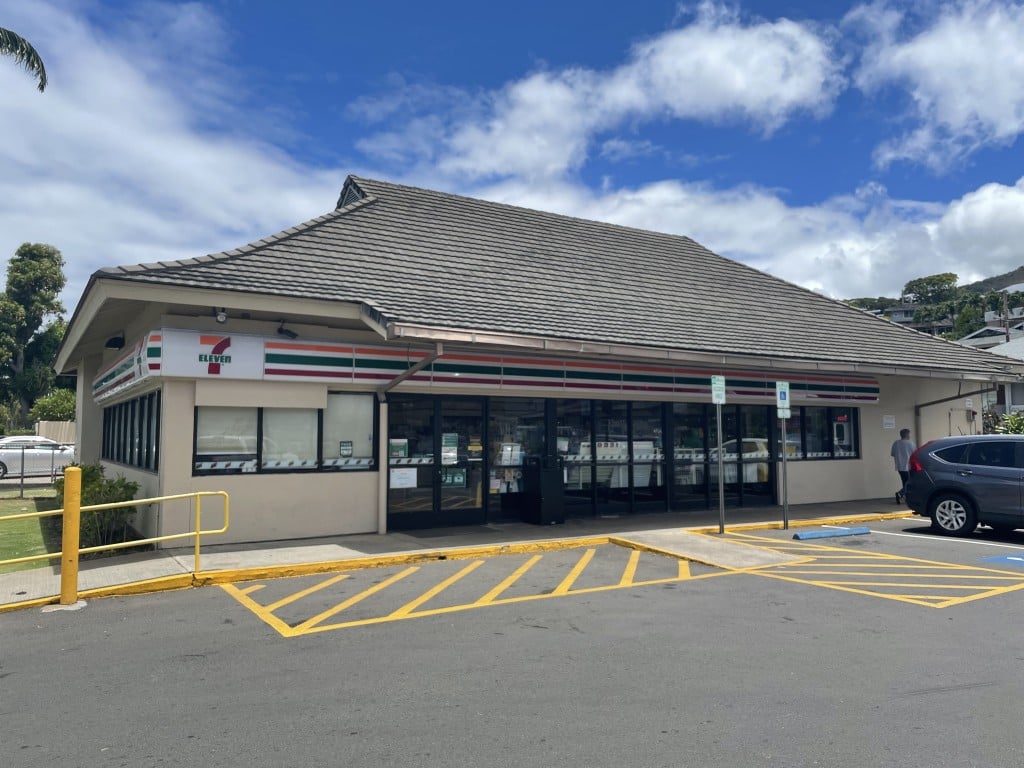 In Hawaiʻi, people talk a lot about who has got the best local grinds—slang for food. It is a contentious subject because, in the Islands, we love our food!
And while it may surprise Mainland visitors, 7-Eleven holds a very special place in the hearts—and tummies—of kamaʻāina (longtime residents). Yes, we know there are 7-Eleven's outside of Hawaiʻi. The chain is exceptionally popular in Japan, and stores are scattered across North America as well as having a presence on an international level. But—and this is a big but—nowhere does it like 7-Eleven Hawaiʻi.
What makes 7-Eleven in Hawaiʻi so special is that it has foods you won't find in any Mainland locations. From steaming pork hash—they're seriously hot!—to fluffy manapua—the one with char siu is a local favorite—all at dangerously low prices, 7-Eleven is the place to be for a quick, local snack. If you were a kid growing up in Hawaiʻi, especially on Oʻahu, you know what we're talking about. With only a few dollars in your pocket, you could hit up a 7-Eleven and leave with an entire meal.
"People may not know that Hawaiʻi operates independently of 7-Eleven Inc. stores found on the Mainland. We were acquired by 7-Eleven Japan in 1989. Japan's goal has always been to support 7-Eleven Hawaiʻi as an independent entity, to allow us to evolve with the people of Hawaiʻi,' says Annika Streng, marketing manager of Seven-Eleven Hawaiʻi, Inc. "I think the biggest difference is in the variety of items that we carry. Next to our traditional candy section where customers can find Hershey's and Reeses, we also have Li Hing Strawberry Belts and Lemon Strips. We also carry a wide array of ready-to-eat hot and cold foods."
And if you're a visitor to the Islands? Don't be intimidated. I've likely gone to 7-Eleven hundreds, if not thousands of times, I'm sharing a few of my favorite Hawaiʻi-only items.
Kūlolo Ice Cream Bar
Courtesy of Franny's Hawaiian Fresh Fruit Ice Pops, a local ice cream maker who—as its name suggests—uses locally sourced fresh fruits to make its delectable frozen treats, these bars are seriously good. If you've never had kulolo before, a Hawaiian dessert made with baked or steamed grated taro and coconut milk, this is a great introduction. That and it's low on the calorie and sugar count, so you can have it somewhat guilt-free!
Menehune Little Smokies & Egg Pack
This small breakfast box is made for children and adults who just want to eat meat, eggs and rice for breakfast. The sausage links go so well with the scrambled eggs, and the triangle musubi is a perfect filler for those in need of a quick bite.
Spam Musubi
Talk about the perfect creation. Its ingredients are simple—white rice, a thick slab of Spam and nori (seaweed) wrapping it all together in one convenient package. The Spam musubi has been a staple in Hawaiʻi cuisine since its invention, and 7-Eleven's are hard to beat. While the beauty of a Spam musubi really is in its simplicity, 7-Eleven also sells seven different varieties, from Spam katsu musubi to a deluxe Spam Musubi, which comes with egg and furikake (a mixture of dried fish, sesame seeds, chopped seaweed, sugar and salt).
Teriyaki Chicken Bento
Need a quick fix for lunch or dinner? Hit the heated foods section of any Hawaiʻi 7-Eleven and hope it's got a teriyaki chicken bento in stock. A bento is a Japanese take-out lunches. Perfectly glazed teriyaki chicken atop a bed of white rice and, as a cute local touch, half a hotdog on the side, this bento is both convenient and so ʻono (delicious).
Pork & Peas Bento
7-Eleven's take on pork guisantes, a classic Filipino dish, the Pork & Peas Bento has got the basics down. Featuring a tomato-based pork stew, with plenty of peas and a lot of white rice, the soft chunks of pork are really what make this bento go from good to great. And hey, who knows, maybe this will inspire you to try actual Filipino cuisine.
Ube and Haupia SLURPEE
Incorporating Hawaiʻi flavors into everybody's favorite frozen slushie, the SLURPEE comes in ube and haupia varieties here in Hawaiʻi, making it a delicious way to beat the heat. For those not in the know, ube is dessert from the Philipines made from boiled and mashed purple yam, and haupia is a traditional Hawaiian gelatin dessert made with coconut milk and cornstarch. And both go great as SLURPEE flavors!
Char Siu Manapua
Just one bite into the fluffy, breaded outer shell of 7-Eleven's char siu manapua will have your tastebuds singing with joy. And once you hit the piping hot char siu meat inside? You'll be hooked for life. There are other manapua varieties, such as curry chicken and teriyaki chicken, but they all come second to the char siu.
Steamed Pork Hash
The perfect add-on to any purchase at a local 7-Eleven, the steamed pork hash are as delicious as they are hot. And they come out of their warming rack seriously hot. Hawaiʻi's version of classic Chinese shumai, this steamed dumpling is filled with meaty goodness, and 7-Eleven Hawaiʻi sells different flavors throughout the year.
Additional reporting by editor Catherine Toth Fox.