10 Gifts for Anyone Who Loves Hawaiʻi Beaches
From cute towels and trendy bucket hats to page-turning beach reads, these gifts will be a hit with any self-proclaimed beach bum.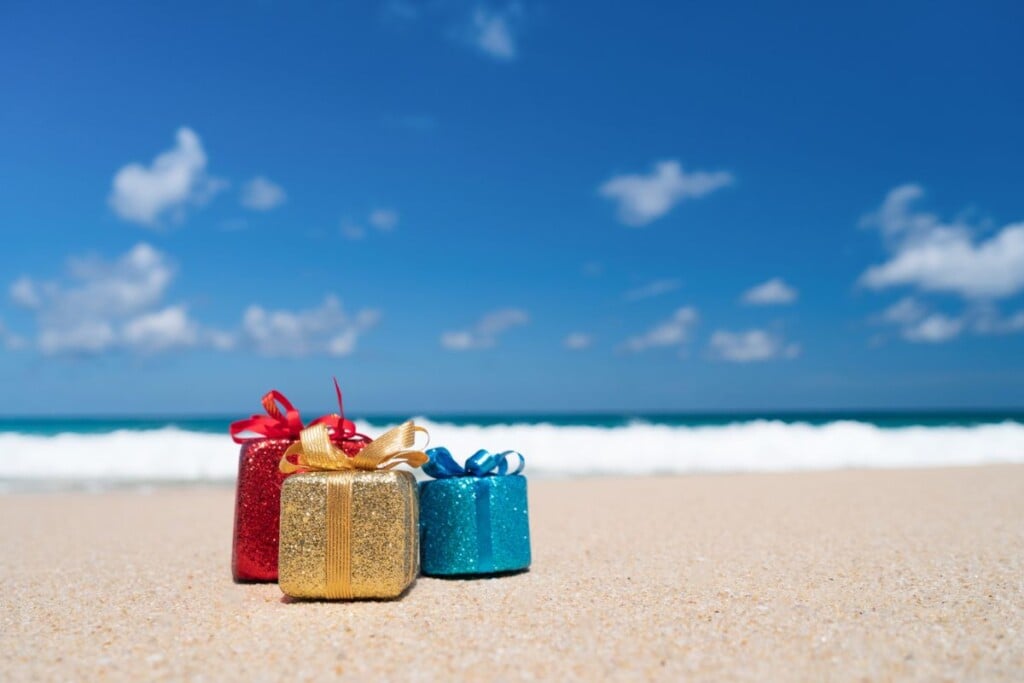 Shopping for a beach bum? Check out these 10 gift ideas for the person on your list who hits the beach every day of the week.
1. Quick-drying beach towels by Surfer Towel
You don't need to be a surfer to be impressed by Surfer Towel's quick-drying fabric. Born on the North Shore of Oʻahu, these lightweight towels are easy to pack, durable and kind to the environment. Not to mention, the towels are super cute, featuring bright and fun designs by local artists. surfertowel.com
2. Sunscreen that's good for you and the environment by
K
ō
kua
Sun Care
Beach lovers know how difficult it is to find a natural, reef-safe sunscreen that doesn't leave a sticky residue and still prevents sunburn. Kōkua Sun Care's zinc sunscreen rubs in clear and smooth and doesn't wash away in the ocean, either. The skin care products are also enriched with locally grown ingredients like noni and kukui nut. Kōkua Sun Care's daily moisturizer and after sun serum gift box will please any sunshine chaser. kokuasuncare.com
3. Soothing after sun spray by Ao Organics
Give the gift of soothing relief from Ao Organics. The local company's after sun spray is made for all skin types to reduce skin irritation and peeling after a day at the beach. The spray combines ingredients like cooling spearmint with hydrating aloe and cucumber to cool and nourish sunburnt skin. And the organic ingredients are sourced from farms here in Hawaiʻi. aoorganicshawaii.com
4. Stylish beach hats with extra protection from the sun
A beach look isn't complete without a hat. And designers in Hawaiʻi know a lot about preventing sunburn. Lola Pilar Hawaiʻi's reversible bucket hats not only feature cute prints but also have a wide brim for extra sun protection, ideal for long days at the beach. Be sure to check out Lola Pilar Hawaiʻi's wide brim visor, too. The hats are perfect for your stylish mom. And for the soul-chasing hipster, unwrapping a Sunrise Shack bucket hat is basically the equivalent of opening a box of good vibes.
5. Splash proof beach bags
If you spend an hour at almost any beach in Hawaiʻi, you'll probably spot a few Aloha Collection bags. The splash-proof pouches and totes are a fashion staple here in the Islands. A tote from Aloha Collection will please any fashionista who also appreciates functionality. aloha-collection.com
6. Page-turning beach reads
For the bookworm who loves the beach, check out these stories set in Hawaiʻi. From "Iced in Paradise: A Leilani Santiago Hawaiʻi Mystery," a suspenseful novel on Kauaʻi to "The Lieutenant's Nurse," a romantic World War II tale and "Hāna: A Photographic History of Hawaiʻi's Paradise," a photo history of the small Maui town, these page-turners will make your bookworm want to stay at the beach all day.
7. Coolers that will keep you and your beverages chill
Chilled beverages are an essential part of any beach day. The lightweight 20L coolers from Hydro Flask will keep your contents cool for up to 24 hours. T&C Surf Shop, a local surf brand, also sells insulated cooler bags with Island-inspired prints. For a little throwback, check out the Hawaiʻi Vice Igloo that exudes some serious retro vibes.
8. Coffee mugs featuring your favorite beach town
Everyone that visits Kailua falls in love with its epic sunrises, turquoise waters, famous Mokulua islands and laidback energy. You can give a piece of paradise with this camp-style mug by Oʻahu artist Nick Kuchar. It'll be the go-to mug during morning surf checks or drinking hot chocolate around a campfire. nickkuchar.com
9. Beach prints by Hawai
ʻi artists
If it's months before the person you're shopping for actually steps foot on a beach, bring the sea to them with prints by Hawaiʻi artists. Get lost in Kris Goto's whimsical surf artwork or the vibrant island life by Shar Tuiasoa of Punky Aloha. Or double up on gifts from Nick Kuchar. You can find prints of Hawaiʻi's most iconic beaches in Kuchar's signature retro style.
10. Scents from the sea
Whiffs of sea salt, bergamot and driftwood in the Kai candle from Salt + Sol Co. will transport anyone to a warm beach in Hawaiʻi—even in the middle of winter. Made on Hawaiʻi Island, the fragrant candle will bring a little sunshine into any home. saltsolco.com