10 Hawaii places you haven't been to yet
Off-the-beaten-track natural wonders everyone should see in their lifetimes (but likely haven't yet).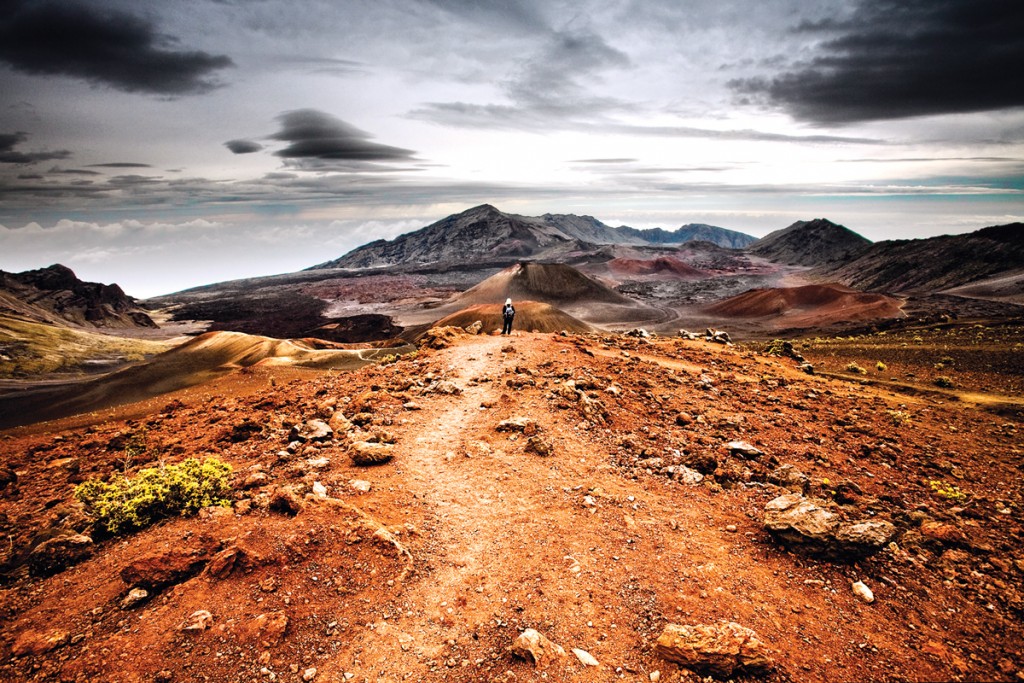 You've stood on the edge of Waimea Canyon on Kauai. You've walked some of the newest land on the planet at the Big Island's Hawaii Volcanoes National Park. Perhaps you've even hiked to the top of Oahu's world-famous Diamond Head Crater … twice.
All cool stuff, to be sure.
But have you built sandcastles on the only green sand beach in the United States? Walked the Napali Coast beach only legally accessible by swimming? Hiked the gorge where the wettest spot on Earth dumps much of its rainwater? And when was the last time you visited Hawaii's only alpine lake?
Uh-huh. We thought so. Still, don't feel bad.
Hawaii abounds with so much unparalleled natural wonder that there are dozens of breathtaking places throughout the Islands even lifelong residents have never experienced first-hand. Thus was born the idea for this compendium of our favorite, off-the-beaten-track Hawaii places everyone should see in their lifetimes (but likely haven't yet).
Though you may find some of these locales difficult to get to, every one of them is legally accessible. (Sorry, Kaliuwaa "Sacred" Falls, Haiku Stairs and Kaau Crater fans.) Each was formed by the forces of nature that created our Islands. Each remains largely unblemished by human hands and, in one case, is actually being restored to its natural state by the work of humans.
Perhaps you've actually been to a few of the 10 Hawaii places on our list. We have, too. Check off the ones you've been fortunate enough to experience and move on to the next.
Either way, your journey into Hawaii's little-seen natural escapes begins right here. We'll see you out there!
1. Kalaupapa Peninsula
Molokai
You get to Molokai's remote Kalaupapa Peninsula in one of three ways: by chartered plane touching down on a tiny airstrip, on the back of a mule via a switchback trail descending the peninsula's sheer, 1,600-foot sea cliffs or by hiking in (again, on the switchback trail). Once at Kalaupapa, however, standing on the startlingly beautiful promontory where Hansen's disease (leprosy) patients were once cruelly banished from society, you'll feel awed by the raw power of nature. Everything you see at the base of the towering cliffs—from the rugged coastline islets to the peninsula itself—was created by a late-stage lava eruption long after the cliffs had majestically eroded to much the way they appear today.
Why you haven't been there yet: Though Kalaupapa is a National Historical Park, the National Park Service doesn't offer any regular programs or tours of the peninsula. Access to Kalaupapa is restricted, must be prearranged and only one tour company offers bus tours of the settlement—Damien Tours, (808) 567-6171.
Getting there: Chartered flights from Oahu, or a guided mule ride or hike on the Kalaupapa Trail from the top of the sea cliffs. Kalaupapa Mule Tour combines the mule ride down to Kalaupapa with Damien Tours bus tours of the settlement.
2. Papakolea "Green Sand" Beach
Ka Lae, Big Island
The green sand that gives Papakolea Beach its better-known English name is actually olivine crystals—silicate minerals formed when Hawaii lava cools. Papakolea and its picturesque crescent bay were likely created by eons of wave action collapsing neighboring Puu Mahana, a 49,000-year-old cinder cone. The continuous erosion of Puu Mahana, which still looms large over the area, is expected to replenish Papakolea's olivine sands until the last of the cinder cone's green mineral crystals is swept out to sea. Even on an island filled with much natural wonder, the only green sand beach in the 50 U.S. states is a uniquely stunning sight.
Why you haven't been there yet: Papakolea is seriously remote—located at the end of an arduous, two-mile hike over the gritty, windswept lava fields of the Big Island's southernmost tip, Ka Lae, and finishing with a steep climb down Puu Mahana to get to the beach. Once on the sand, the beach's turbulent waters are unsafe for swimming.
Getting there: Turn off Highway 11 (Mamalahoa Highway) onto South Point Road. The Papakolea Beach trailhead is at the end of South Point Road.
3. The Koolau Ridge
Oahu
Whoever says there are no good get-away-from-it-all nature excursions on populous Oahu has never hiked the many ridgeline trails leading to the peaks of the Koolau mountain range. Virtually every ridgeline enclosing the residential valleys of Honolulu's urban core has a hiking trail that finishes at the top of the Koolau's sheer, east-facing cliffs, which tower up to 3,000 feet high. From points along the Koolau ridge—which extends from Makapuu all the way to the North Shore—you'll find sweeping views of much of Oahu's rain-kissed Windward Coast. That is, until the Koolau's signature afternoon mists enshroud its peaks.
Why you haven't been there yet: Though there are many trails that lead to points on the Koolau ridgeline, most involve long, relentlessly uphill hikes through boot-swallowing mud, untamed brush and frequent rainfall. If you elect to hike the actual Koolau ridgeline once you're at the top, expect a trail occasionally marked by narrow ridges with sheer drops on either side.
Getting there: Consult a Hawaii hiking trail book for a list of Oahu trails leading to the Koolau ridgeline. We recommend Stuart Ball's "The Hikers Guide to Oahu, Revised Edition" (University of Hawaii Press, 2000).
4. Honopu Beach
Napali Coast, Kauai
You can't hike onto Honopu Beach—there's no trail on the Napali Coast that will get you there. Boats are prohibited from landing, as are (no surprise) tour helicopters. Indeed, the only way to stroll Honopu's pristine white sands and walk under the landmark 90-foottall natural rock arch that juts across the beach is swimming in from a boat moored offshore. Once on the sand, you can hike into lush, equally secluded Honopu Valley, also hidden from the world by precipitous sea cliffs rising more than 1,200 feet. A popular filming spot for Hollywood productions based on Kauai, you can see Honopu's latest big-screen appearance this summer in Disney's "Pirates of the Caribbean: On Stranger Tides."
Why you haven't been there yet: Uh, that swimming from boat to shore requirement, for one thing.
Getting there: Got a Kauai friend with a boat or connections with a Hollywood film crew? While many Napali boat tours take visitors near Honopu Beach, very few escort visitors on shore.
5. Lake Waiau
Mauna Kea, Big Island
Ancient Hawaiians believed that Lake Waiau, just below the 13,796-foot summit of Mauna Kea, was without bottom—a gateway for travel into and out of the spiritual world. Though at 10-feet deep it is actually quite shallow, the small, 1.8-acre lake remains a sacred place, still used for Hawaiian rituals. Formed at the bottom of its namesake cinder cone during the retreat of the last glacier age, Lake Waiau is the only freshwater alpine lake in Hawaii. Rain and melted snow trickling down the barren rock of the cinder cone feed Waiau's placid waters. With its surrounding alpine tundra landscape barren or covered with snow, Lake Waiau is a body of water like no other in the Islands.
Why you haven't been there yet: Located just 700 feet below the summit of Mauna Kea, Lake Waiau is accessible only by four-wheel-drive vehicle and a one-mile roundtrip hike in thin, low oxygen-level air, which makes breathing difficult.
Getting there: Turn off Highway 200 (Saddle Road) onto the Mauna Kea Summit Road. Turn left at the fork in the road near the summit and pull into the gravel parking area, where the Lake Waiau trail begins.
6. Waimoku Falls
Kipahulu, Maui
The largest waterfall on Maui, 400-foot Waimoku Falls is also one of the most time-consuming to get to. First, there's the long and winding Hana Highway, which you'll have to drive all the way to Haleakala National Park's oceanside Kipahulu Visitor Center, 10 miles southwest of Hana town. Hike two miles from the visitor center up Oheo Gulch's Pipiwai Trail, slow down to enjoy a walk through a thick bamboo forest, cross Pipiwai Stream several times and the end of the trail is majestic Waimoku Falls. Is the journey worth it? Waimoku Falls is only one part of the scenic splendor here.
Why you haven't been there yet: Kıpahulu is usually the furthest drivers travel from Kahului on the Hana Highway before turning back or taking the slow, rough road up Haleakala's south side toward Upcountry Maui. Then you have to hike four miles roundtrip.
Getting there: See above.
7. Kahoolawe
Maui County
Long known as the Forbidden Island, the uninhabited, smallest of the eight main Hawaiian Islands was, from World War II until 1990, used as a training area and bombing site by the U.S. military. Owned and managed by the state of Hawaii since 1994, Kahoolawe's land and surrounding waters are now limited to use for Native Hawaiian cultural and spiritual purposes and projects aimed at restoring the island's native plant life. Though arid and largely barren due to years of bombing and severe lack of rainfall—it is located directly in the rain shadow of massive Haleakala volcano on neighboring Maui—Kahoolawe is as uncommon a landscape as you will find in Hawaii.
Why you haven't been there yet: The only way to get onto Kahoolawe is by acceptance into volunteer work projects aimed at restoring native flora or removing weeds.
Getting there: There are two groups accepting volunteers for restoration work on Kahoolawe: the Kahoolawe Island Reserve Commission (kahoolawe.hawaii.gov) and the Protect Kahoolawe Ohana (kahoolawe.org). Be advised, however, that the wait time for your volunteer work on the island may be up to two years.
8. Keoneheehee "Sliding Sands" Trail
Haleakala National Park, Maui
Though widely considered by hikers to be one of the best trails from Haleakala volcano's 10,023-foot summit into the maw of its large crater, Keoneheehee Trail (better known as Sliding Sands Trail) is a path rarely taken by the park's million or so annual visitors. The reason? It's a tough hike—descending 2,600 feet over four miles to the crater floor, then back up to the crater rim on a suddenly steep grade in low-level-oxygen air. What you are awarded for your troubles is the rare view you see here, completely surrounded by the crater's otherworldly arid, and singularly stunning, rust-colored landscape.
Why you haven't been there yet: Saying this trail is strenuous is putting it mildly. Given the area's decreased oxygen, it can take almost twice as long hiking back up to the summit as it does going into the crater.
Getting there: The trail begins at the 9,740-foot elevation Haleakala Visitor Center.
9. Kanaio Coast
Maui
Spanning the isolated, largely uninhabited southern tip of Maui from Makena to Kaupo, the Kanaio Coast boasts unmatched views of Haleakala volcano's dry, little-visited south side, from mountain to sea. Its real prize, however, is the stuff of which kayakers and paddlers dreams are made—a treasure trove of sea caves, lava arches and rugged bays, home to green sea turtles and spinner dolphins. The Kanaio coastline's unique landscape was etched by the explosive meeting of lava and ocean a mere 300 years ago, during Haleakala's last eruptive phase. On a day of calm ocean conditions, exploring Kanaio by kayak or rafting tour is a rare treat.
Why you haven't been there yet: The Kanaio coastline's best features are virtually inaccessible except by water transport.
Getting there: Kayak and rafting tours of the Kanaio Coast are offered from Kıhei.
10. Blue Hole
Mount Waialeale, Kauai
The view from the base of luxuriant, perpetually wet Waialeale volcano is surely one of the most amazing, if rarely-seen, sights on earth. Imagine dozens of waterfalls of every shape and size—some cascading thousands of feet down towering cliffs, others seeming to spring from the walls of a cavernous lava-rock chamber—all emptying from Waialeale's 5,148-foot summit into a lush, narrow gorge believed to be the source of the Wailua River. Now imagine standing smack dab in the midst of it all—the mist-shrouded gorge and the thundering sound and raw chill of falling water surrounding you. Go ahead and pinch yourself. It's real.
Why you haven't been there yet: While Kauai helicopter tours regularly hover above the gorge, folks wishing to see Blue Hole by foot have to traverse an onerous, ill-maintained, often confusing trail whose four miles can take hours.
Getting there: We recommend a private hike, led by an experienced Kauai guide.