10 Maui Restaurants We Recommend You Try
Looking for culinary adventure? Maui's restaurants provide excitement in various guises.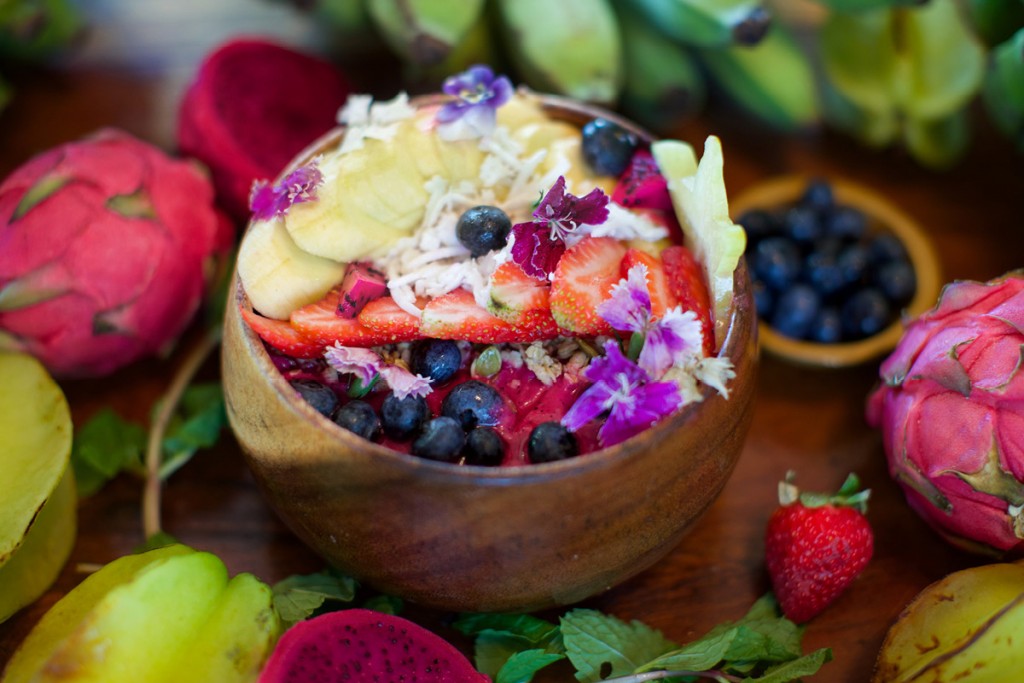 Just as Maui encompasses beauty in many forms, from the lush jungle along the Hana Highway to the sharp starkness of Haleakala, so too do the restaurants on the island provide excitement in various guises. Some serve food that's almost universally comforting despite its regional origins, from American to Italian to Hawaiian, and others thrill in their creativity. Here are 10 restaurants, the old and new, the well-known and overlooked, that should be part of your next Maui itinerary.
Lineage
"Top Chef" star Sheldon Simeon was born on the Big Island but has made his name on Maui. His hole-in-the-wall lunch shop Tin Roof remains ever popular, and now with his new restaurant, Lineage in Wailea, he creates a more comfortable, sit-down atmosphere. Here, he culls recipes passed down for generations within his family and the community, such as his dad's hearty and homey pork guisantes, a Filipino dish of pork and peas; and the Flying Saucer, a round, grill-pressed sandwich filled with cheese and goulash, his take on the popular snack at the Maui Fair. 3750 Wailea Alanui Dr., Wailea, (808) 879-8800, lineagemaui.com.
Star Noodle
As the name suggests, there are noodles every which way here, from local-style fried saimin to Singapore noodles with a hint of curry. When you're done noodling around, the rest of the menu also offers satisfying gems: its rendition of a Vietnamese crêpe—more of a taco, with a rice flour batter pan-fried into a crisp shell—is spot on. 286 Kupuohi St., Lahaina, (808) 667-5400, starnoodle.com.
Kaana Kitchen
This restaurant's open kitchen flows into the dining room as seamlessly as Hawaii seasonings and unique ingredients meld with global, contemporary flavors on the plate. Find fried chicken paired with fried mochi; seared rare ahi with lilikoi (passion fruit), burrata and tomatoes; and abalone dumplings with pohole ferns and ulu (breadfruit). Andaz Maui at Wailea Resort, 3550 Wailea Alanui Dr., Wailea, (808) 573-1234, maui.andaz.hyatt.com.
Leoda's Kitchen and Pie Shop
Pull off the road to Leoda's for a straight-up comfort food pit stop. You could make an entire meal of pie, starting with a chicken pot pie topped with a cheesy, herby crust, and end with a coconut cream pie. But don't overlook the sandwiches, such as the Reuben, and sides, from a fried Brussels sprouts salad to mac 'n' cheese. 820 Olowalu Village Rd., Lahaina, (808) 662-3600, leodas.com.
Poi by the Pound
Come here for a quintessential Hawaiian plate lunch, a TV dinner-like tray loaded with kalua pork, laulau and chicken long rice, plus all the fixin's—poke, lomi salmon and, of course, poi. With a location close to the airport, you can make this your first stop in, and last stop out. 430 Kele St., Kahului, (808) 283-9381, poibythepound.com. (The restaurant closed in 2020.)
Mill House
Set at the Maui Tropical Plantation in lush Waikapu Valley, Mill House would be worth a stop for the scenery alone; the well-executed and creative dishes make it a must visit. The menu changes frequently; recent dishes have included coffee-roasted beets—the coffee added an unexpected but pleasant roasted bitterness—and a taro leaf risotto, enhanced with bone marrow. 1670 Honoapiilani Hwy., Wailuku, (808) 270-0333, millhousemaui.com.
Roasted Chiles
Vacations call for a margarita. Find them at Roasted Chiles, in flavors from roasted jalapeño to lilikoi. But this Mexican restaurant isn't your standard chips and salsa joint. You'll find complex flavors in a traditionally prepared mole, and chiles en nogada, stuffed green peppers topped with a walnut cream sauce and pomegranate seeds, the colors representing the Mexican flag. 1279 S. Kihei Rd., Kihei, (808) 868-4357, roastedchileshawaii.com.
Aa Roots
This cozy vegan café will convince carnivores to put aside meat for a meal or two. Each bowl and plate here is a gorgeous celebration of fruits and vegetables, from the jackfruit tacos to the naked summer roll. The pitaya bowl, made with the shockingly magenta-colored fruit and topped with an array of tropical fruit, makes for a bright point in the day. 5095 Napilihau St., Lahaina, (808) 298-2499, aarootsmaui.com.
Sale Pepe
Hawaii may be one of the most isolated places in the world, but its beauty and culture have a way of attracting people from everywhere. It's how this little Italian restaurant with handmade pastas and pizza came to be: Michele Di Bari is originally from Milan, his wife, Qiana, from New York, and their pizza oven from Naples. And in the wintertime, Michele's mother comes to make the pastas herself. Try the ruffly edged pappardelle that hugs a rich ragu in all its nooks and crannies. 878 Front St., Lahaina, (808) 667-7667, salepepemaui.com.
Mama's Fish House
Fresh, locally caught fish are among the greatest pleasures in Hawaii, but how many restaurants actually know the fishermen who catch the seafood? Mama's Fish House does and even lists their names on the menu. Locals and visitors alike come here for a night out over dishes that let the seafood shine, which means you'll need to make a reservation as far in advance as possible—this is one of the hardest tables to get on Maui. 799 Poho Pl., Paia, (808) 579-8488, mamasfishhouse.com.