10 must-do Kauai outdoor adventures
Ditch your comfort zone and set out for these Kauai spots — you won't regret it.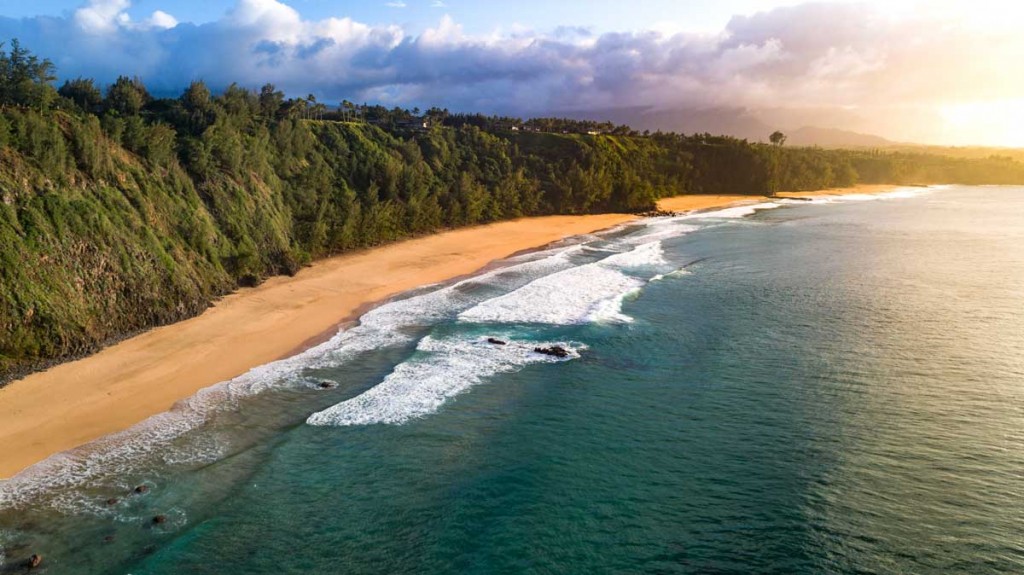 Tie up your hiking shoes, grab your swimming gear and take the time to discover these Kauai spots—they're worth the extra effort.
Explore Kauai's rich natural history
Makauwahi, Hawaii's largest limestone cave, is an ancient sand dune that hardened into stone over 400,000 years. Its rich sediments are imprinted with evidence of long-ago hurricanes and fossils of animals now extinct. Serving as a sort of living museum, the reserve offers visitors a lens to look back on the last 10,000 years of the ecology of this place. Sequestered along the south shore and part of the Mahaulepu Preserve, the 17-acre archaeological complex, which includes a massive sinkhole, is home to native and endangered species of birds and plants. Also on hand are giant tortoises that roam on a mission to keep the reserve free of invasive weeds and grass.
Venture to the Secret Beach
This breathtaking beach at the bottom of a steep, jungle-encroached path offers rewards aplenty for those who venture to find it. No resorts, no crowds—just serenity and picturesque seascapes. Kauapea Beach, also known as Secret Beach or Secrets, is a large yet secluded north shore hideaway with deep, soft sand and lava rock guarded by towering, palm tree-lined cliffs. Located off a nameless dirt road in Kilauea, near Kalihiwai Valley, the beach is truly one of the island's best-kept secrets.
The 10-minute hike leading to the beach is located at the end of the first dirt road you'll see on the right-hand side when turning onto Kalihiwai Road from Kuhio Highway. There is no formal parking lot. Visitors leave their vehicles along the road's end, which abuts a private residence. Wear sneakers and take it slow. Swimming not recommended in the winter.
Experience unspoiled nature
Lithified sand dunes, submerged petroglyphs, pristine bays and beaches await the hiker who ventures on the 2-mile Mahaulepu Heritage Trail. The footpath carves across an undeveloped stretch of coast on Kauai's south shore and is frequented by sea turtles and the endangered Hawaiian monk seal, as well as human enthusiasts of unspoiled nature. Alternatively, if you have a four-wheel-drive vehicle, you can skip the hike and instead drive an unpaved road rife with potholes to reach Mahaulepu Beach, an idyllic scene within the preserve that attracts fewer visitors than the south shore's more easily accessible swim spots. From there, follow the coast east to reach two more secluded bays on foot.
Kick Back at Kilauea Stone Dam
Built in 1880, this historic dam has been connecting farmers to water since the height of Hawaii's storied sugar plantation era. Today, it's also a lush and peaceful oasis in which to enjoy a picnic, meditate alongside a giant Buddha statue or cool off with a swim in the water that gathers above the falls. The dam is the crown jewel of the 5-mile Wai Koa Loop Trail, which traverses tranquil lagoons and a regal mahogany forest. The trail can be walked, jogged or biked daily from sunrise to dusk. Wai Koa Loop Trail at Anaina Hou Community Park in Kilauea, 5-2723 Kuhio Hwy., (808) 828-2118, anainahou.org.
Hike Waimea Canyon to the falls
A signature feature of Waimea Canyon is its two-tiered waterfall, racing like a miraculous oasis down the dusty, red-hued canyon walls. As you drive along Waimea's rim, there are numerous easily accessible outlooks that make for picture-perfect views of Waipoo Falls. But only the Canyon Trail leads hikers to the secluded, natural swimming pool above the 800-foot falls. Along the way, you'll climb several hundred feet in elevation as you gawk at wide, clear views of the island's famous river-carved gorge. Allocate two to three hours for this moderate, 3.5-mile round-trip journey—and don't forget your swimsuit!
Fly Over the Garden Isle
No roads can lead you to the most incredible spots on Kauai, but a helicopter can take you over many of them in a matter of an hour. On a recent tour aboard Safari Helicopters, many of Kauai's hidden wonders appear right in front of you, from Kipu Kai to Waimea Canyon and the Napali Coastline to Waialeale. And you learn so many things along the way. For instance, the Manawaipuna waterfall, which appeared in "Jurassic Park," is actually a bottom tier of a long string of waterfalls. Also, Waimea Canyon isn't the only canyon on Kauai; it shares the island with Olokele Canyon, which you wouldn't be able to see except by air. And no other way will you get a bird's-eye view inside the Napali valleys of Honopu, Kalalau and Hanalei's Namolokama mountain. The real gem, though, is a peek at the otherwise inaccessible "Weeping Wall" of waterfalls at the wettest spot on Earth, Waialeale. You'll be crying happy tears, too. safarihelicopters.com.
Set out for the secluded Kipu Kai
Nestled along the coast between Lihue and Poipu is Kipu Kai, a gorgeous, 2-mile stretch of sandy beach fronting Mount Haupu, the green peak that dominates the southeastern shore's skyline. Accessible only by kayak or boat, the beach fronts private ranchland prominently featured in George Clooney film "The Descendants." Since it can't be accessed by land, Kipu Kai is commonly deserted. For those who make the journey, wonderful swimming, snorkeling and shell-hunting await. If you plan to go by boat, launch from Nawiliwili Harbor. If you're going by kayak, launch from Mahaulepu Beach on days when the weather is mild and the water is calm.
Escape to the forbidden island
No one is allowed to visit Hawaii's Forbidden Isle—the flat, 70-square-mile island, which on a clear day can be spied from Kauai's west coast—unless they are invited by the Robinson family, which owns Niihau, or by one of the its 70 Native Hawaiian residents. The one exception is reserved for those who book a tour with Niihau Helicopters, which lands guests on a deserted Niihau beach, far from the town. Although access is restricted to the sand and the crystal-clear waters, where tropical fish swim and reef sharks mate, helicopter tour-goers nonetheless participate in a rare opportunity to experience a taste of a very special place.
Take in the grandeur of the Napali Coast
Wedged between 3,000-foot sheer cliffs and azure ocean hues is an infrequently treaded beach called Honopu. Located along the majestic Napali Coast, the beach is split by an iconic, waterfall-drenched sea arch featured in Hollywood's "Pirates of the Caribbean" and "King Kong." The valley that ascends beyond the beach was once home to Native Hawaiians, who left behind burial grounds. In order to keep this sacred place undisturbed and pristine, boats, kayaks and surfboards are not permitted for landing. In other words, if you want to visit Honopu, you have to swim. Charter a boat to the waters fronting the beach, jump overboard and swim ashore—the experience that awaits you on this special beach promises to be nothing short of magical.
See the Sunset at Kekaha
You spent many hours driving south to Waimea and up the mountain toward Kokee to see the lookouts at Waimea Canyon, Kalalau Valley, and possibly even completed a lengthy and steep hike. Your south side Kauai bucket list is complete. Instead of rushing back to Poipu, Lihue or wherever you're staying, consider loitering around the town for awhile and seeing the sunset at Kekaha Beach Park like the locals do. It's the best stretch of beach to watch the sunset on the west side, as it's right before Barking Sands (a beach only accessible to military) and Polihale Beach (which requires a four-wheel-drive vehicle). The sunset views over Niihau are incredible. Kaumualii Highway, Kekaha.