10 of Our Favorite Hawaiʻi Snacks
Crack seed, lemon peel, mochi—here's a guide to our favorite cravings.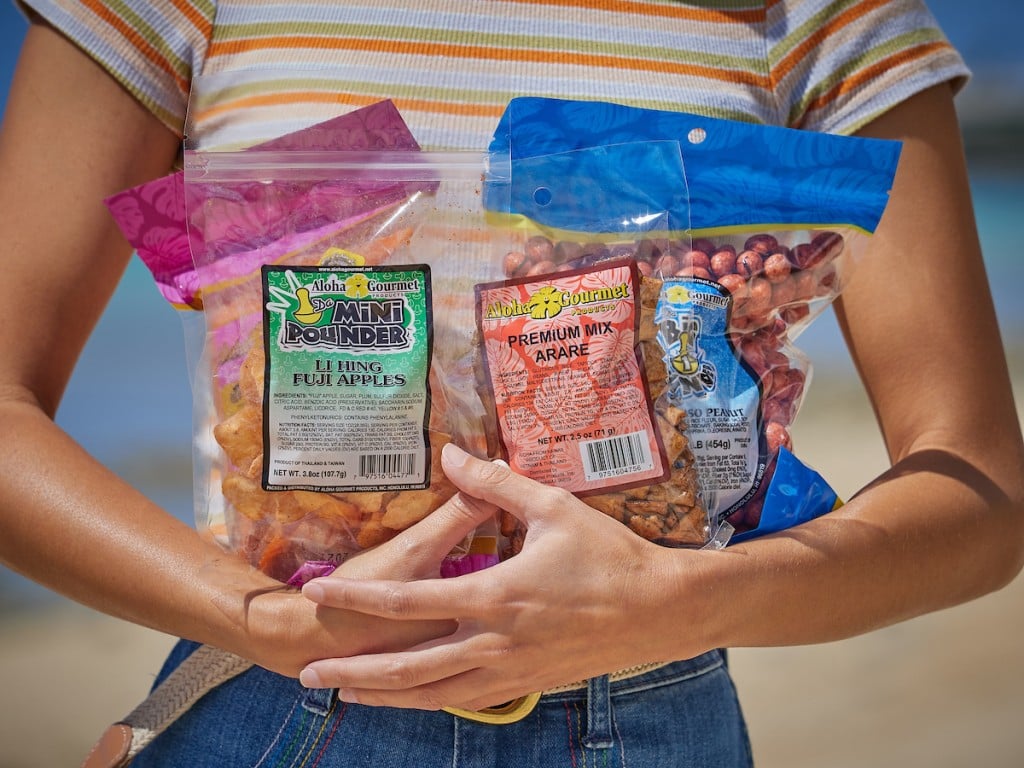 Crack seed, arare, and dozens of dried snacks line the shelves of shops across the Islands. Whether you're at Longs Drugs or the corner crack seed store, there are so many ʻono (delicious) treats to choose from. From sweet to savory, here are 10 of our favorite local snacks from Hawai'i for all occasions.
1. Crack Seed
Crack seed comes in a wide variety of flavors and textures. Cantonese immigrants introduced the snacks to the Islands in the 19th century, and it wasn't long before you could find crack seed all across Hawai'i—some shave ice stands even offer it as a topping! We recommend starting with the classic red li hing mui for the perfect balance between sweet, sour and salty.
2. Arare (aka kakimochi or mochi crunch)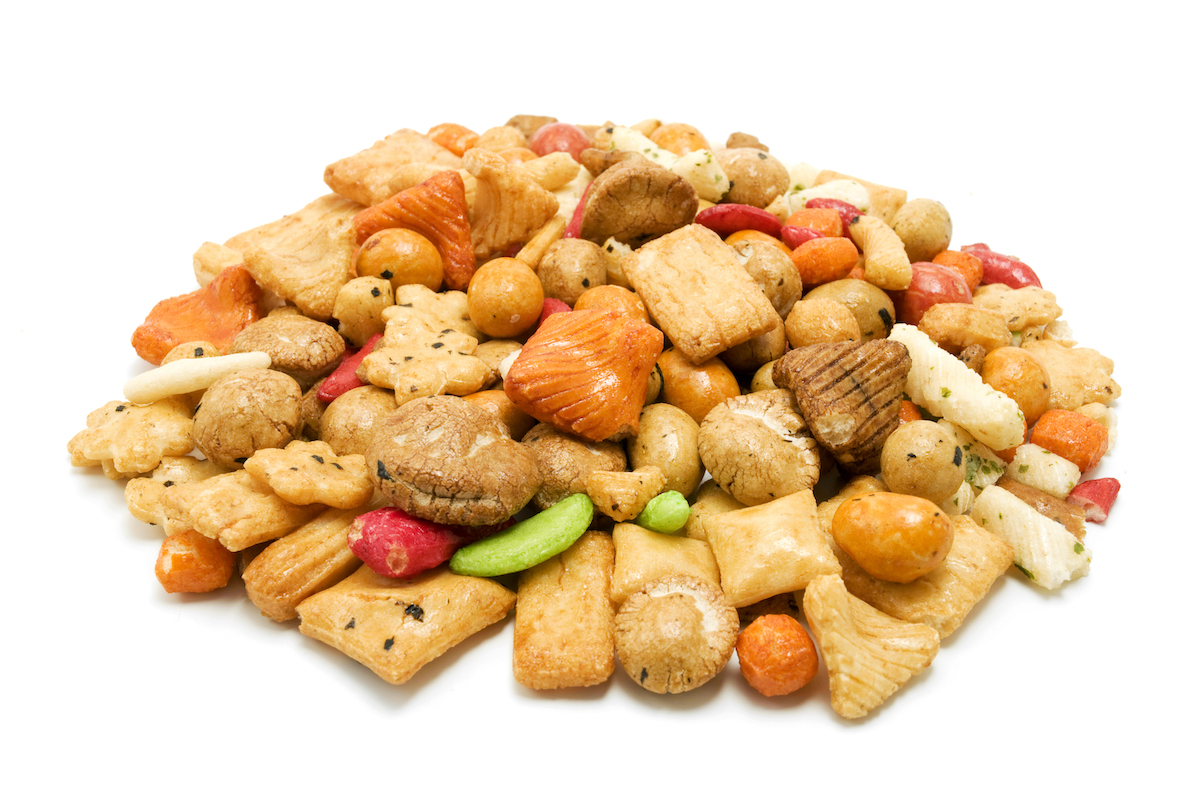 Arare is a staple snack for many children in Hawai'i. Arare, which means "snow pellets" in Japanese, are small, crispy rice crackers, and their shape and size distinguish them from the larger, and oftentimes rounder, senbei. Keiki favorites include the star or cherry blossom shaped and nori-wrapped varieties.
Our editor, Catherine Toth Fox, loves eating arare at the movie theater: "I literally can't watch a movie in a theater without eating popcorn and kakimochi. That slightly sweetly salty crunchy addition to the buttery popcorn is what I live for. The movie can be terrible—as long as I have my box of popcorn and kakimochi! Honestly, I eat most of it before the previews are over."
3. Wasabi Iso Peanuts
These peanuts may be small, but their taste packs a big punch. These bite-sized snacks are peanuts with a crunchy rice cracker exterior. Flavored with potent wasabi for a little bit of spice, they're surprisingly great for grazing and will definitely tide you over while you wait for the main course.
4. Lemon Peel
Lemon peel is a simple yet tasty treat. You can get it "wet" and flavored with honey and other syrups or dry if you're in the mood for something a little more sour. One of my favorite memories is going down to the Crack Seed Store in Kaimukī with friends and watching Mr. Young scoop out the sweet snack from the large glass jars that filled the store.
READ MORE: A Taste of Sweet Li Hing Mui Brings Back Hawaiʻi Childhood Memories
5. Mochi
Pillowy soft mochi is a staple for households in Hawai'i. The rice cakes, made with glutinous rice that gives the food its distinctive texture and chew, come in both savory and sweet varieties, with all kinds of fillings. Chi chi dango, a type of mochi made with coconut and sweetened with sugar, is a Hawai'i favorite. We recommend picking up some at Nisshodo Candy Store in Honolulu.
READ MORE: Why We Eat Mochi on New Year's in Hawaiʻi
READ MORE: The Story Behind Hawaiʻi's Mochi-Pounding Tradition
6. Japanese Tea Wafer
If you're looking for a light snack that pairs well with coffee or tea, look no further than Japanese tea wafers. They come in plain varieties as well as flavors like coconut, black sesame, chocolate and green tea. Some of our favorites are made by Fujiya Hawaiʻi and Hawai'i Candy.
7. Okoshi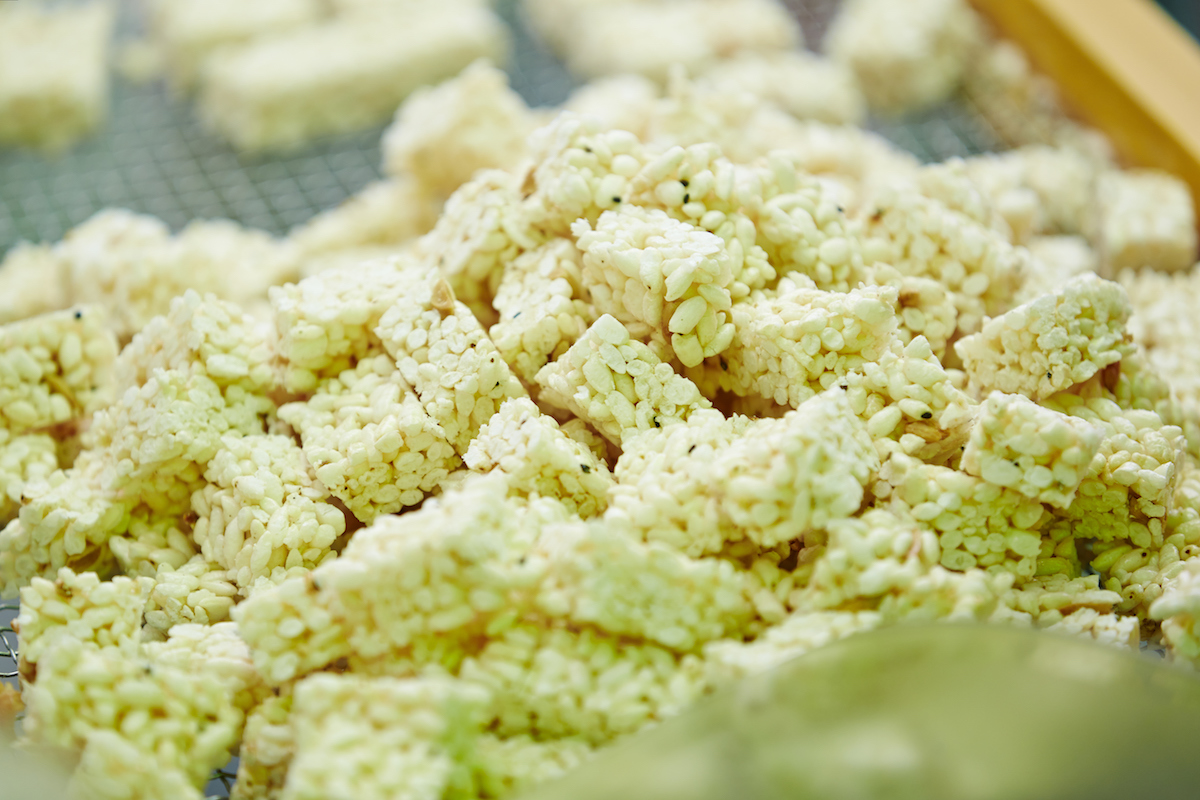 These rectangular puffed rice cakes, similar to rice krispie treats but not as sweet, are great on their own or paired with tea for a perfect afternoon snack. Many people make them at home, but you can also pick them up in the Asian section of your local grocery store.
8. Dried Seafood
Even if you're not a fish fan, you might find yourself enjoying the smoky flavor of dried cuttlefish or octopus. You can get it shredded or in strips, but no matter how you eat it, its savory, slightly salty flavor will have you coming back for seconds.
9. Wasabi Peas
Don't let this friendly pea snack fool you. These green peas have been roasted and coated in a mixture of sugar, oil, salt and wasabi—that fiery-hot horseradish paste you see at sushi bars. Great with beer—and even better to clear your sinuses.
10. Cornflake Cookies
Cornflake cookies aren't exclusive to Hawai'i, but they're definitely a local favorite. I always associate them with School Kine Cookies and fundraisers in elementary school, but as Shelley Shiroma, our digital media specialist, will tell you, Wholesale Unlimited sells a great cornflake cookie. "You can never go wrong with cornflake cookies from Wholesale Unlimited! When I visit the Mainland, I usually make a stop there to pick up omiyage for my family and I always grab some cookies for myself. They're super light and buttery and definitely addicting."