11 questions about Hawaii that were spectacular fails
You wouldn't think these real questions we found online need to be asked. But apparently they do.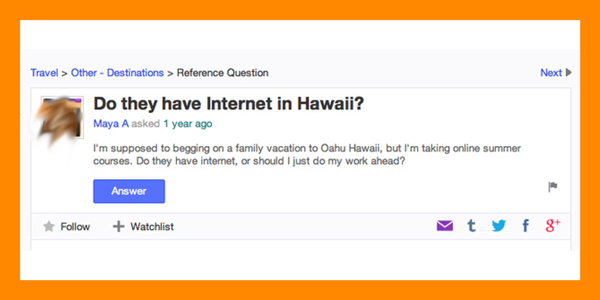 You wouldn't think these real questions we found online need to be asked. But apparently they do.
1.
Although some American bookstores may categorize Hawaii under "international travel," if you're a U.S. citizen, no, you don't need to show your passport—just a valid I.D.—since Hawaii is, after all, a part of the United States.
2.
English is an official language of Hawaii, main method of communication and the language I, a resident, am using to answer this question right now.
3.
There are more than one million Hawaii residents, a large segment who have access to cellular technology and, believe it or not, they're able to contact all sorts of relatives, friends and businesses located on the continental U.S. with them.
4.
People here predominately wear the same clothing you'd see sold at any shopping mall, though we probably own more board shorts and tank tops than other places. Also, the stereotypical grass skirt you see associated with Hawaii in Hollywood media was something introduced to Hawaii by immigrants in the late 1880s. It isn't actually an authentic representation of Hawaii's culture, so if we did wear "grass skirts" here on the daily, they'd be made out of fresh ti leaves.
5.
We indeed do, something everyone on Oahu knows about considering its notorious traffic during rush hour ranked third worst in the nation this year.
6.
Since Hawaii is part of the U.S. (see #1), people run on the exact same outlets here.
7.
The U.S. doesn't require specific immunizations for U.S. citizens to travel within its borders, so, no, you don't as long as you're already up to date on them.
8.
This is an odd question … but, yes, anywhere that has food, most likely has flies? Let's just say Hawaii has a lot of food.
9.
Hawaii is the most isolated island chain on the planet smack dab in the middle of the Pacific Ocean, which is way too wide and deep to maintain a mythical bridge uniting all of them, anyway. Also, a bridge is probably a terrible idea considering the ecological ramifications of such a project.
10.
The U.S. dollar as used in the rest of the U.S. states.
11.
Like most international business centers, Internet access is an important resource for Hawaii's million-plus inhabitants. Many celebrities visit Hawaii on a regular basis and own land here, like Oprah Winfrey, Rihanna, Willie Nelson, Facebook CEO Mark Zuckerberg and Clint Eastwood, and former President of the United States Barack Obama vacations here every winter. We imagine it'd be very difficult for people like them to relax here completely, cut off from the World Wide Web.