12 family-friendly things you need to do in Hawaii
From parks to zoos to aquariums and water parks, these activities will entertain the whole family.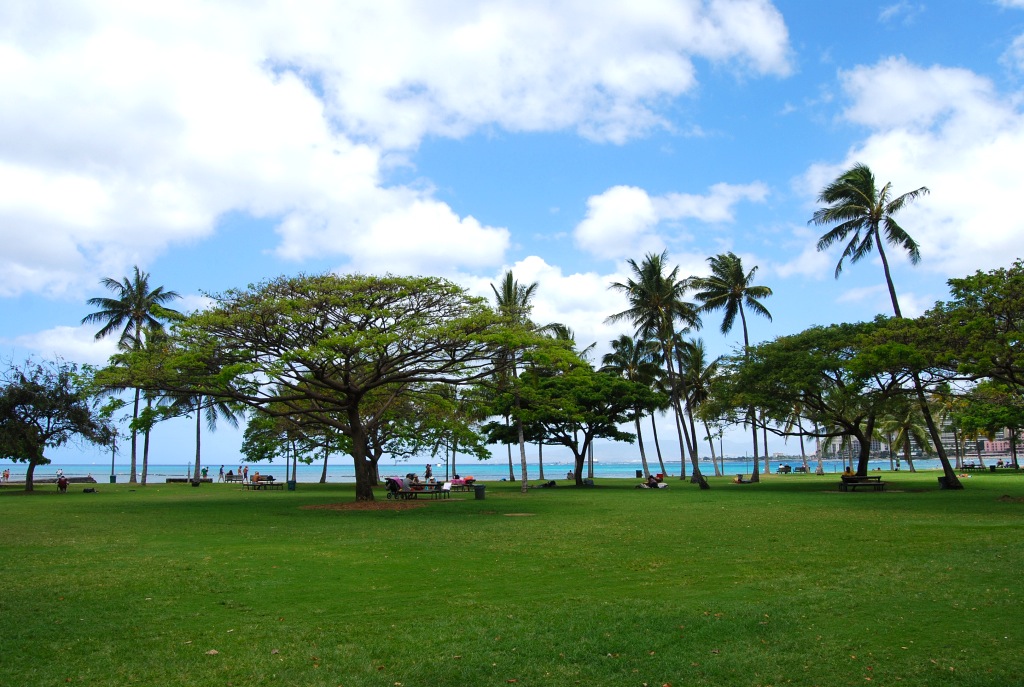 If you're looking for activites that will be fun for the entire ohana (family), think about packing up a picnic or takeout lunch and joining the locals at our favorite parks or maybe head to the Waikiki Aquarium and see all sorts of underwater life.
Kapiolani Park
Lots of room to spread out under the trees or on the great lawn, right at the foot of Diamond Head Crater. 3840 Paki Ave., Honolulu, Oahu.
Kakaako Waterfront Park
Grab a big piece of cardboard, then grass sled down the rolling hills of the Honolulu waterfront park. Don't worry, others are doing it, too. 102 Ohe St., Honolulu, Oahu.
Liliuokalani Park and Gardens
A view of Hilo's charming crescent bayfront and grassy lawns perfect for picnicking amid an Edo-style Japanese public garden with ponds, bridges, pagoda and torii gates. 189 Lihiwai St., Hilo, Big Island.
Lydgate State Park
Residents love this spacious park for its vast grassy field—ideal for kite flying, touch football games and volleyball—white sand beach and calm, protected saltwater wading ponds for kids. Leho Dr., Lihue, Kauai.
Baldwin Beach Park
A long, luxurious white sand beach just outside Paia and a big grassy lawn with public barbecues (or bring your own grill), picnic tables and room to spread out. Alawai Rd., Paia, Maui.
Keopualani Park
Kahului and Wailuku residents converge on the huge 110-acre city park on weekends for kids soccer and adult softball games, picnics, exploring and to use its gym, pool and skate park. Keopuolani Pkwy., Kahului, Maui.
Hawaii Nature Center
Nature trails are open all week. On weekends, guided classes at the Oahu center introduce keiki (kids) to cool stuff like the secret world of Makiki Valley's plants and streams. 2131 Makiki Heights Drive, Honolulu, Oahu; 875 Iao Valley Road, Wailuku, Maui.
Honolulu Zoo
In addition to the zoo's 42 acres of multiple fauna, you'll find cool evening keiki programs such as movie nights, stargazing, sleepovers and dinner safaris. 151 Kapahulu Ave., Honolulu, Oahu.
Waikiki Aquarium
Day and evening family programs offer behind-the-scenes and after-dark tours, meet the Hawaiian monk seal activities and more. 2777 Kalakaua Ave., Honolulu, Oahu.
Maui Ocean Center
Four words: Sleep with the Sharks. Relax, it's just a way cool sleepover exploring what the center's collection of marine life (including sharks) is up to nocturnally. 192 Maalaea Road, Maalaea, Maui.
Wet N Wild Hawaii
More than 25 amusement-park-style water rides, with everything from tranquil playground coves for keiki, to surfing simulators and raging tube slides for teenage adrenaline junkies. 400 Farrington Highway, Kapolei, Oahu.
Panaewa Rainforest Zoo
Entry is free. It's the only natural tropical rainforest zoo in the U.S. And at 3:30 p.m. each day, kids get to watch up close as the zoo's two Bengal tigers, Tsatziki and Sriracha, chomp on their whole chicken dinner. 800 Stainback Highway, Hilo, Big Island.