13 O'ahu Brunch Spots You Need to Try
You'll love these Hawaiʻi spots a waffle lot.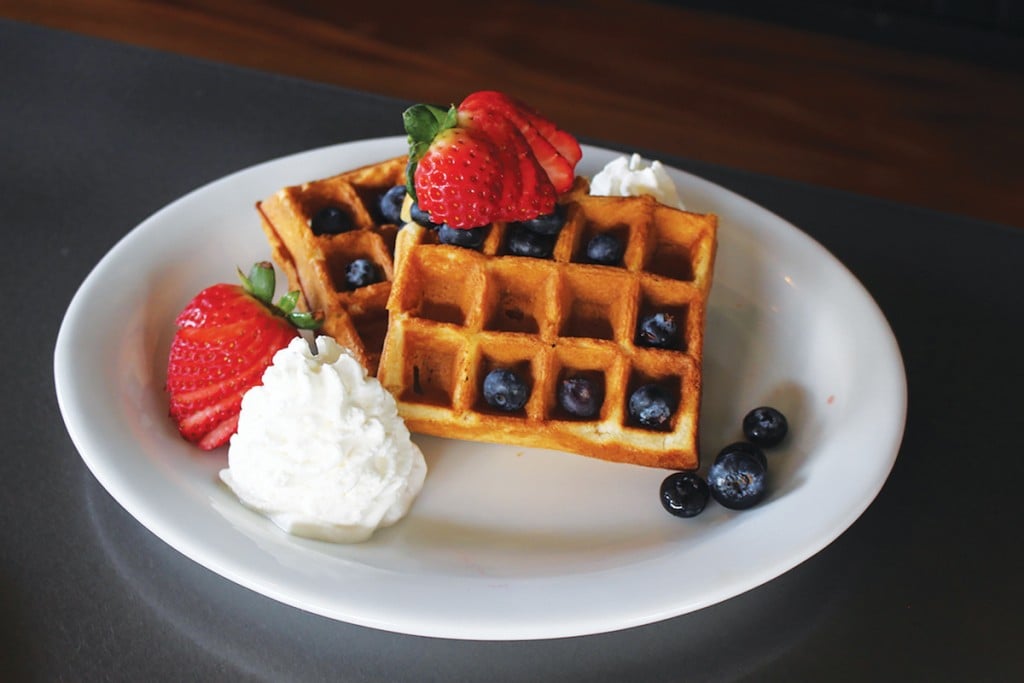 (Editor's Note: This story was published in our Summer 2020 issue. Currently, as of Aug. 27, all of these restaurants have had to close dine-in services and many are only doing take-out or delivery. Some may have temporarily closed. Use this as a resource for your next trip to the Islands.)
If breakfast is the most important meal of the day, brunch must be the best.
In the last few years, brunch has exploded on O'ahu, with dozens of local restaurants serving their twists on traditional breakfast fare, from fluffy liliko'i pancakes to a slow-cooked brisket loco moco. Add the perfect cocktail—a mango mimosa or lychee martini, perhaps—and these late-morning indulgences turn your vacation into a yay-cation.
It's hard to call this spot the second location of the wildly popular The Pig & The Lady in Chinatown since Piggy Smalls has its own vibe and dishes. And it serves brunch with innovative dishes like pandan waffle with flambé apple bananas topped with a fish sauce caramel and churro-style French toast. True to brunch, it serves savory lunch-y dishes, including stir-fried ramen noodles with garlic and smoked bacon and topped with a sunny egg, striploin cooked à la plancha with duck pâté, and a vegan pho with house-made noodles that's become so popular The Pig & The Lady now serves it, too. The Dutch babies—a hybrid of a crepe and popover collapsed in a hot skillet—are intensely good. 1200 Ala Moana Blvd., (808) 777-3588,  thepigandthelady.com/piggysmalls 
The place that may have started the elevated brunch movement on O'ahu is still the go-to spot for a leisurely—and boozy—breakfast. Koko Head Café chef Lee Anne Wong, of "Top Chef" fame, crafted a menu that features clever twists and local ingredients. Consider the Breakfast Bibimbap, a dish that combines the ingredients and flavors of the Korean mashup—crispy garlic rice, soy-mirin shiitake mushrooms, ong choy, sesame carrots, bean sprouts, kim chee—with traditional breakfast meats—bacon, Portuguese sausage, heritage ham—all in a hot skillet. You can get a poke omelet, cornflake-crusted French toast and something called Elvis's Revenge (peanut butter, banana tempura, thick bacon, local honey and toasted coconut on a sweet bun). Don't miss the cocktails, either. A favorite: the Pirate Punch, with two kinds of Old Lahaina rums, Tuaca liqueur and pineapple. 1145C 12th Ave., (808) 732-8920,  kokoheadcafe.com 
Moke's
 Bread & Breakfast, Kailua and 
Kaimukī
Two words: liliko'i pancakes. This is Moke's signature breakfast dish—fluffy hotcakes topped with a creamy house-made passion fruit sauce that you'll lick off the plate. Other specialties include the chili moco, a classic loco moco but topped with chili and cheese; house-made corned beef hash with eggs; and stuffed hash browns, where you take all the ingredients of an omelet and stuff them into hash browns instead of eggs. Genius! 27 Ho'olai St., Kailua, (808) 261-5565; 1127 11th Ave., Kaimukī, (808) 367-0571; mokeshawaii.com
The Nook Neighborhood Bistro, 
Mō'
ili'ili
This charming spot, hidden in a parking lot near the University of Hawai'i at Mānoa, offers playful brunch dishes: cheesecake pancakes made with local Meyer lemons, veggie Benedicts with farm-fresh eggs, a guava barbecue chicken sandwich with li hing fried onions, chilled overnight oats with haupia (coconut pudding) and local chocolate nibs. One of its most popular dishes, though, is the scones and gravy—a combination of cheddar and rosemary scones with house-made sausages using local pork topped with a bacon-cream gravy, Sriracha-maple syrup and two local eggs. Pair this with one of the Nook's bubbly cocktails and your weekend is set. 1035 University Ave., #105, (808) 942-2222,  thenookhonolulu.com
Everything about this restaurant is cool, from the artistic décor by local artists to chef Ed Kenney, who revolutionized farm-to-table dining in Hawai'i. This restaurant, Kenney's fourth on O'ahu, is located in the hip Surfjack Hotel & Swim Club right next to the hotel's Instagrammable pool.  Weekend brunch features pork adobo fried rice, malted waffles, a hefty burrito with chorizo and purple sweet potatoes, and an avocado toast that's as tasty as it is gorgeous. 412 Lewers St., Waikīkī, (808) 924-5810, mahinaandsuns.com
Over Easy, Kailua
The first true brunch spot in Windward O'ahu, Over Easy (same owners as Easy Que) has refined breakfast with its truly unique dishes. While the cozy restaurant serves crispy-edge pancakes and a solid fried egg sandwich, it specializes in dishes you won't find anywhere else. Its French toast features sweet bread from Punalu'u Bake Shop on Hawai'i Island crusted in Cinnamon Toast Crunch cereal and topped with an orange crème fraîche. There's a dish called Kailua eggs—a bowl of rice, chopped Portuguese sausage and two sunny-side-up eggs on a bed of salted cabbage, with a cabbage-bacon broth served over it. And there's the potato 'n' eggs—thick-cut French bread stuffed with a sweet tomato jam and draped in a silky potato purée, topped with real bacon crumbles and a seven-minute local egg. You'll daydream about this dish later. 418 Ku'ulei Road, #103, (808) 260-1732, overeasyhi.com 
Herringbone 
Waikīkī
The weekend brunch at Herringbone Waikīkī is exactly what you want it to be: decadent, languid and with bottomless mimosas. Standout dishes include an eggs Benedict topped with briny uni (sea urchin roe) and king crab, a New England-style lobster roll with creamy slaw and a local version of chicken and waffles with crispy mochiko chicken, chewy mochi waffles and local honey. The drink list here is extensive. 2330 Kalākaua Ave., (808) 797–2435,  herringboneeats.com
This Australian-based restaurant is the kind of space where you'd want brunch—friendly, airy, beachy—and the dishes are just as appealing. The ricotta hotcakes come with bananas and honeycomb butter. The Kahuku sweet corn fritters come with an addictive avocado salsa. And the Full Aussie brekkie combines a Down Under-style breakfast with local flavors: mushrooms are cooked in miso, the scrambled eggs are from Waimānalo, the tomatoes are roasted (instead of grilled) and dusted with cumin. The restaurant offers lighter options, too, including a chopped fruit bowl with honeyed yogurt and coconut rice with fruits. (And yes, you can get toast smeared with Vegemite, too.) 280 Beach Walk, (808) 922-1500, billshawaii.com 
Morning Glass + Coffee, 
Mānoa
The Saturday-only brunch at this popular Mānoa coffee shop is crazy popular; if you don't get there by noon, you likely won't get seated. And here's why: The menu boasts creative spins on brunch favorites, including house-made biscuits and gravy with local pork sausage and eggs, fried rice omelet topped with spicy mayo, and oatmeal brûlée finished with caramelized brown sugar and fresh fruit. The brunch star, though, is the macaroni-and-cheese pancakes, which is exactly what it sounds like. And it's delicious. (Coffee here, by the way, is exceptional.) 2955 E. Mānoa Road, (808) 673-0065,  morningglasscoffee.com 
Morning Brew Coffee & 
Bistro, Kailua and 
Kaka'
ako
If you're looking for something lighter, maybe healthier, consider this coffee shop with locations in Kailua and Kaka'ako. While you can order heavier fare—Belgian waffles, breakfast burritos and brioche French toast—you can opt for dishes like vegan banana pancakes, a tofu and veggie scramble served over brown rice and a waffle packed with flax seeds and walnuts. Or order the Brew Breakfast, which bridges healthy and indulgent. It's an upgraded egg in the basket (or toad in the hole) using naan instead of plain bread, with two eggs fried into it and topped with salty crispy prosciutto, grilled onions, minced garlic, cherry tomatoes, spinach and a mound of goat cheese. 600 Kailua Road, Kailua, 
(808) 262-7770; 685 Auahi St., #113, Kaka'ako, (808) 369-3444;  morningbrewhawaii.com
Bogart's Café, Diamond Head
Whatever you want for breakfast, this quaint café outside Waikīkī will likely have it, from Belgian waffles to fried rice to nine different omelets. One of the most popular items is the açaí bowl, with a smooth blend of the tart superfood berry topped with local banana, strawberries, blueberries, honey and granola. This is best enjoyed under the trees on the tables outside. 3405 Monsarrat Ave., (808) 739-0999, bogartscafe.com
The name of this second-floor eatery in Waikīkī has nothing to do with Disney. (It's actually slang for when surfers put their right foot forward on a surfboard. It's called a goofy stance.) Breakfast is served all day here, and you can find everything from kālua pig eggs Benedict to French toast drizzled with Big Island honey and served with fresh whipped cream. It's just a fun place to relax, with its beach house vibe and surfboards hanging from the rafters. Get a mai tai or mango mojito and kick back. Parking, though, is a challenge. 1831 Ala Moana Blvd., #201,  (808) 943-0077, goofy-honolulu.com 
Cinnamon's Restaurant, Kailua
This Kailua mainstay has everything you could ever want for breakfast: fluffy omelets, loco mocos, French toast and a variety of eggs Benedicts. But one of its most popular dishes is its pancakes—namely, the red velvet and guava chiffon versions. Topped with its house-made honey butter, these stacks are a must—and you'll need a nap after. 315 Uluniu St., (808) 261-8724, cinnamons808.com
(The original story included Easy Que, a casual barbecue joint in Kailua that had been serving brunch. It has since ceased its brunch. We replaced it with Cinnamon's Restaurant.)