14 January events to plan your trip around in Hawaii
Check out these must-do activities across the Islands this month.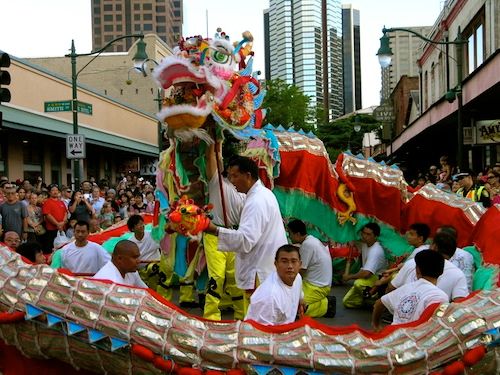 Here's our pick of events across the Islands to help you start the New Year with something exciting. From film festivals to golf tournaments to concerts and shows, here's what's going on in January.
STATEWIDE
Chinese New Year Festival
January 28–February 3
Dancing dragons and lions take to the streets in community events across the Islands to celebrate the new lunar year in Chinese culture. Wear red—it's believed to bring good fortune. A few places to catch the festivities include the Chinatown district on Oahu (January 20, 5 to 10 p.m. and Saturday, January 21, 9 a.m. to 10 p.m.), Maui's Wo Hing Museum in Lahaina (February 3, 10 a.m. to 7 p.m.) and the King's Shops at the Waikoloa Beach Resort on Hawaii Island (Monday, January 30 at 4 p.m.). Free. Various times and locations.
MAUI
New Shanghai Circus
January 16 and 17
China's most daring acrobats, jugglers, contortionists and dancers return to Maui for a breathtaking performance of skill and complexity, rooted in traditional Chinese acts. $12-$35. Shows at 4 and 7 p.m. at the Maui Arts & Cultural Center, Maui, (808) 242-SHOW, mauiarts.org.
UB-40 Reunited Concert
January 20
Catch legendary English reggae/pop band UB-40, known for global hits like "Red Red Wine" and "Falling In Love With You" as their Reunited Tour with the original members passes through Hawaii. $49-$69. 5:30 p.m. at Maui Arts & Cultural Center, One Cameron Way, Kahului, Maui, (808) 242-SHOW, mauiarts.org.
Whale Trust Maui Annual Golf Tournament
January 28
Tee off for whale research on beautiful Maui at this benefit event, sponsored by Mercedes-Benz. The scramble competition-format golf tournament features a continental breakfast, awards luncheon with a guest speaker, cash prizes for men's and women's teams and a new Mercedes on display for a lucky hole-in-one. Entry limited to 36 teams. $275 per person, $1000 for 4-person team registration. 8 a.m. at The King Kamehameha Golf Club, 2500 Honoapiilani Hwy., Wailuku, Maui, whaletrust.org.
OAHU
Harry Potter & The Sorcerer's Stone in Concert
January 6 and 7
The Hawaii Symphony Orchestra performs every note from the first Harry Potter movie, "Harry Potter and the Sorcerer's Stone." Relive the magic of the film on a giant screen while listening to the orchestra perform John Williams' unforgettable score. $27–$79. Shows on Jan. 6 at 7 p.m. and Jan. 7 at 2 p.m. at the Blaisdell Concert Hall, 777 Ward Ave., Oahu, (808) 946-8742, hawaiisymphonyorchestra.org.
Elvis' Rock-a-Hula Birthday
January 8
Celebrate the King's birthday with a special version of this Waikiki show dedicated to Elvis and his dazzling love for and connection to the Islands. $66–$185. 6 p.m. at the Royal Hawaiian Theater inside the Royal Hawaiian Center, 2201 Kalakaua Ave., Bldg. B, 4th Floor, Oahu, (808) 629-7469, rockahulahawaii.com.
Sony Open in Hawaii PGA Tour
January 9–15
Swing by one of the tour's most famous stops, a course bordering the Pacific Ocean in the neighborhood of Waialae-Kahala, where the sport's top golfers have been competing since 1971. $20–$185. Waialae Country Club, 4997 Kahala Ave., Oahu, (877) 722-2924, sonyopeninhawaii.com.
18th Annual Pacific Island Arts Festival
January 21 and 22
Hosted by the nonprofit Handcrafters & Artisans Alliance, this annual festival showcases pieces by some of Hawaii's finest artists and artisans, with live music and hula and a variety of food and beverage options on site. Free. 9 a.m. to 4 p.m. at Kapiolani Park, 2748 Monsarrat Ave., Oahu, (808) 637-5337, icb-web.net/haa.
KAUAI
Kauai Island Crafters Fair
January 14 and 28
Find a unique gift at this collection of beautifully handmade products from Kauai vendors, including jewelry, wood carvings, Hawaiian quilts and accessories. Free. Monthly, 8 a.m. to 2 p.m. at the Church of the Pacific, Princeville Community Center, 5-4280 Kuhio Hwy, Princeville, Kauai, (808) 635-4314.
A Grateful Aloha Concert
January 6
A benefit concert for Kauai Hospice's Transitional Music and Boundless Compassion programs, this show features the Terrapin All-Stars with special guests Bill Nershi and Keith Moseley of the String Cheese Incident, Tim Bluhm of the Mother Hips and guitarist Danny Kortchmar, who has played with Linda Ronstadt, David Crosby, Grahame Nash, Neil Young, Carly Simon and Don Henley. Expect to hear '70s and '80s hits by The Grateful Dead, The String Cheese Incident and The Mother Hips, as well as artist originals. $39.50-$85. 6 p.m. at the Kauai Community College Performing Arts Center, 3-1901 Kaumualii Hwy., Lihue, Kauai, eventbrite.com.
HAWAII ISLAND
Waimea Ocean Film Festival
January 2–10
Surf's up on the silver screen along the Kohala Coast. Watch more than 60 films about our planet's oceans and listen to panels with filmmakers and keynote speakers. $35–$125. Times vary. Mauna Kea Resort, The Fairmont Orchid and Four Seasons Resort Hualalai, Hawaii Island, (808) 854-6095, waimeaoceanfilm.org.
Iolani Luahine Hula Festival
January 27 and 28
The Kailua-Kona hula festival honors the legacy of the late Iolani Luahine, a Native Hawaiian practitioner whose life's work was to pass down the ancient art of the dance. Free (donations encouraged). Sheraton Kona Resort & Spa, Hawaii Island, iolaniluahinefestival.org.
14th Annual Kona Surf Film Festival
January 28
Fans of surfing and surf movies won't want to miss this fun, family-friendly event showcasing gorgeous surf movies by independent filmmakers plus live music and entertainment on the hotel's oceanfront luau grounds. $20 adults, $11 children presale; $25 adult, $15 children at the door. 4:30 p.m. at the Courtyard King Kamehameha's Kona Beach Hotel, Hawaii Island, (808) 936-0089 or konasurffilmfestival.org.
MOLOKAI
Ka Molokai Makahiki 2017
January 26–28
In traditional Hawaiian culture, makahiki was the season of peace, when warfare was forbidden and various chiefdoms would gather for athletic competitions, ceremonies and celebrations of renewal. Molokai's event continues these traditions by hosting elementary, middle and high schools from across the Islands, as well as Coast Guard members. Free. Kaunakakai Ball Park, 90 Ainoa St., Molokai, (808) 553-3214.