14 places where classic meets cool in Waikiki
The latest and greatest in the tropical city.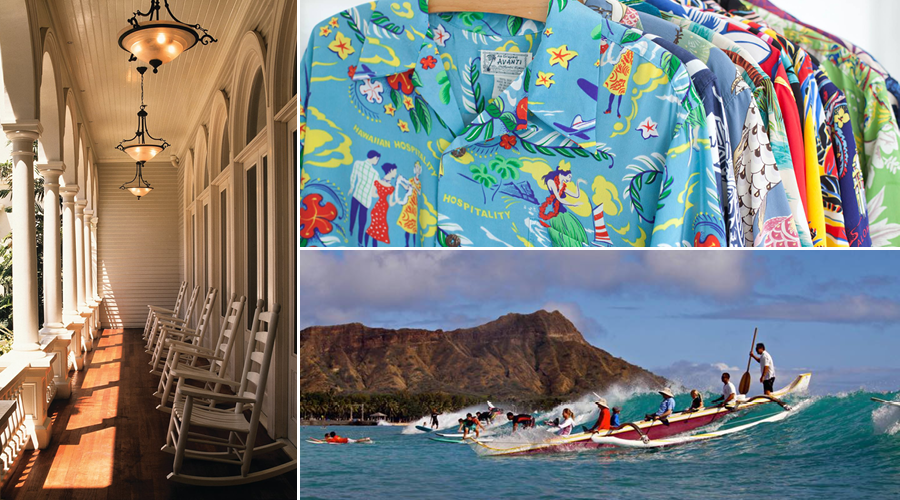 If there's one thing constant in Waikiki it's change. That said, touchstones of a bygone era continue to inspire the feel and texture of this undeniably tropical city. Here are a mix of modern and longstanding establishments—all of which continue to take their cues from Waikiki's golden age of travel.
FOR MAI TAIS

Even non-mai tai drinkers will feel inspired to order one when under the trance of Waikiki's energetic beach. In 2016, it feels like it's all about the deconstructed mai tai. Trendy hangouts like The Modern Honolulu's Lobby Bar (1) and Sky Waikiki (2), a posh lounge on the 19th floor of the Waikiki Shopping Plaza, aim to subvert, surprise and satisfy with their respective twists. However, the Mai Tai Bar (3) at the Royal Hawaiian offers a spectrum of our all-time favorites—after all, it's in the name. The Alii Mai Tai at $35, made with aged rums going back 15 to 21 years, will make you feel like royalty.
FOR BREAKFAST

A modern locavore menu cross-steps into a laidback surf-inspired interior at Goofy Cafe & Dine (4), where you can get an omelette made with local farm eggs. For a cup of quality coffee, Kona Coffee Purveyors (5) in the new International Market Place makes the creamiest cups of cappuccino. Pair it with B. patisserie's (6) kouign amann cakes and you're in flaky, pastry heaven. When in doubt, Wailana Coffee House (7), a diner with an extensive history on Ala Moana Boulevard, will get you your pancake, waffle or French toast fix any time of the day; it's open 24 hours.
FOR HULA

At the Halekulani, House Without a Key (8) puts on regular hula shows sans the caked on makeup and whistling, hollering fanfare. Watch hula auana (modern hula) under the cool shade of its 100-year-old kiawe tree and sway to the sounds of ukulele by moonlight by the iconic Kanoe Miller.
FOR DESIGN

Whether it's designer Andrew Mau's shaka-patterned wallpaper (9) inside Mahina & Sun's or the vintage-inspired racks of aloha-wear from Avanti Shirts (10), there's something stylish everywhere you look in the city. Walk the side streets of Kuhio Avenue and Ala Wai Boulevard (11), one of our favorite (and free) ways to get immersed in Waikiki's architectural history: whimsical typography on each block (search local lettering artist Matthew Tapia's Instagram hashtag #signsofhawaii). When you need to rest your feet, the porch of the Moana Surfrider (12), Waikiki's first hotel, is a must for decor lovers: 46 antique rocking chairs for your relaxing pleasure.
FOR WAVES

Surfboard rental stands line the beaches and streets of Waikiki, but Moku Hawaii Surf Shop (13) has more than enough boards with a dock attached to affix a GoPro. After your surf session, the shop also has a computer to readily upload that hang ten (or wipeout). For a longstanding favorite, and practically a rite of passage, catch a wave on an outrigger canoe with Waikiki Beach Services (14), the original Hawaiian rollercoaster ride.