15 Hawaiʻi-Made Gifts For Mom—or Anyone Who Loves the Islands
From reusable tote bags to hand-painted aprons, these gifts are uniquely Hawaiʻi.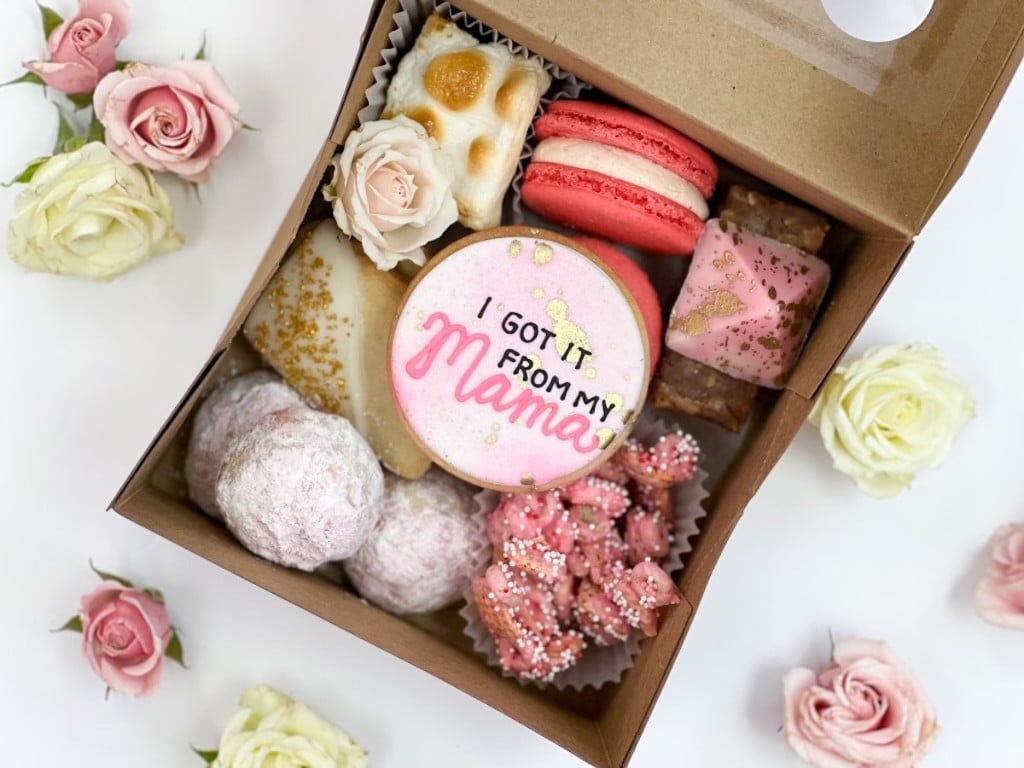 If your mom loves Hawaiʻi, then she'll adore these locally made gifts—which are much more unique than a bouquet of roses. Though we're sure she'd love those, too.
1. Crêpe paper flower arrangements, Boho Blooms
View this post on Instagram
This vibrant Queen Bee Arrangement (above, $130) features a hand-painted queen protea, full-bloom butterfly ranunculus and raspberry rose—and the flowers look so real. Honolulu-based Elisha Hunter creates each flower by hand using high-quality Italian or German crêpe paper. This particular arrangement may be sold out, but Boho Blooms has others in its Mother's Day Collection starting at $35. bohobloomshawaii.com
2. Apron, Jana Lam
View this post on Instagram
We love these hand-printed aprons ($98) by local designer Jana Lam. A mom herself, she crafted these chic and durable aprons with unique prints and a denim skirt—with pockets! There are mini versions, too ($76), for your little sous chef. janalam.com
3. Shop Local tote, Twiggy Hawaiʻi
View this post on Instagram
The husband-and-wife duo behind Twiggy Hawaiʻi has a collection of cute reusable totes specifically for Mother's Day—but we love its Shop Local tote ($34), perfect for your farmers market finds. It's machine-washable, too! hellotwiggy.com
4. Māmā cropped tee, Onepaʻa Hawaiʻi
View this post on Instagram
This smooth, flow-y Māmā cropped tee ($34) is perfect for that outdoor, on-the-go mama. It's comfy and quick-drying. Bonus: You'll be supporting this small, family-run business that's focused on sustainable fashion. The Mānoa-based business only produces clothing it gets orders for, so there's no waste. onepaahawaii.com
5. Packing cubes, Fighting Eel
View this post on Instagram
Summer break is only a month away, and you know the moms who are already planning the next family trip—or girls' weekend! (We're here for those!) The packing cubes ($68) from Fighting Eel are lightweight, functional and chic. The set includes seven pieces—three packing cubes, three zippered pouches and one toiletry bag—that stores and neatly organizes everything in your suitcase. Plus, they're easy to store when you don't need them. fightingeel.com
6. Dessert box, A Cake Life
Who doesn't want a box of tasty treats? A Cake Life is offering a delicious 12-piece "I Got It From My Mama" dessert box ($35) with melting moments cookies, lemon shortbread cookies dipped in white chocolate, assorted macarons, an energy bar (God knows we need that!), pink Chex Mix and more. acakelife.com
7. Floral prints, Nico Made
View this post on Instagram
Hawaiʻi-based Nico Made boasts a range of gorgeous prints ($24 for 8×10 without the frame) featuring tropical flowers like heliconia, protea and anthuriums. Each print is made to order, so you have to allow five to 10 business days to process. It's OK. Your mom won't mind waiting for this. nicomade.com
8. Vegan bucket bag, Oceans End
View this post on Instagram
Kailua-based Oceans End brought back its popular bucket bag—but in a new and improved shape. Meet the versatile Lucy ($125), with adjustable straps, an inside zipper pocket, wide open pocket and pink mermaid lining. You can wear this as a shoulder bag, a handbag or even a backpack. Great for traveling, shopping or browsing the farmers market. And they're vegan! theoceansend.com
9. Pīkake lei kitchenware, Lahaʻole Designs
View this post on Instagram
Oʻahu-based Lahaʻole Designs—started when designer Tanya Uyehara was on maternity leave with her fourth child—boasts sustainable kitchenware, including bamboo mixing spoons, charcuterie boards and rolling pins emblazoned with a pīkake lei design. lahaoledesigns.com
10. Pikoʻole pāpale hats, Hale Pua
View this post on Instagram
For the mom on the go—and aren't we all?—these handmade pikoʻole pāpale crownless hats (full brim, $36; petite brim, $28) are functional and flattering. Each is made with lafite straw—similar to lauhala—and unique, with slight color variations to add to its charm. Great for morning dog walks, beach strolls or working in the garden. hale-pua.com
11. Maddah tank top, Short Stack Hawaiʻi
View this post on Instagram
We love the first line on this tank: "The main reason dis house a home." This tank ($25—and also comes in a tee) pays homage to all the maddahs out there. The tanks—one has side slits, the other is slouchy—have a soft, flow-y feel to them, perfect for lazy Sundays at home or weekends at the beach. short-stack-hi.myshopify.com
12. Personalized platters, SalTerrae808
View this post on Instagram
Gift your mom a beautiful ceramic 16-inch platter ($130) with a handwritten family recipe on it. (Better yet if it's in your grandmother's handwriting!) It's such a unique and personal gift she will undoubtedly cherish forever. The recipe is kiln-fired to the food-safe dish, so the image won't fade. etsy.com/shop/salterrae808
13. Mama necklace, Kira Hawaiʻi
View this post on Instagram
There ain't no 'hood like motherhood—or so Kira Hawaiʻi likes to say. This handcrafted necklace features the word, "Mama," in Old English lettering ($80) for the classic, bold and gangsta mutha in your life.
kirahawaii.com
14. Mama Bear Box, Choco leʻa
This box ($49.99) has all the Mom essentials—four special Choco leʻa truffles, the shop's new chocolate syrup, Waiʻoli Kitchen & Bakeshop's mochi waffle mix, candied mac nut topping (for those waffles), a mocha bomb, a solid dark chocolate bear and dark chocolate-covered gummy bears. Most of these items are exclusive to the kit, so your mom will feel
extra
special. Order in advance.
chocolea.com
15. Lei tee, Mahina Made
View this post on Instagram
If you can't give your mom a lei this Mother's Day, here's the next best thing: a lei tee ($49) by Native Hawaiian-owned Mahina Made. Its lei collection—featuring pua kenikeni, pīkake, plumeria, pakalana—were inspired by the desire to wear and gift lei that last forever. There's a tee with with the word, "Māmā," on it, too. mahinamade.com
This story was originally published in our sister publication, HONOLULU Family.