17 times the Eddie went … and broke the Internet
Never forget how those epic rides, barrels, wipe outs and heavy record-breaking waves nearly shut down online surfing in Hawaii.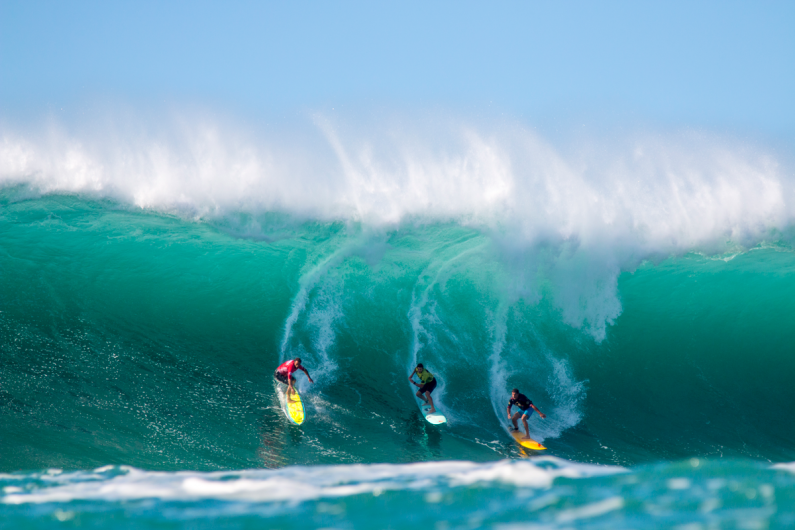 February 25, 2016 was a HUGE day for surfing (online that is).
As the Quiksilver in Memory of Eddie Aikau Big Wave Invitational took off from Oahu's Waimea Bay, fans who couldn't get to the North Shore morning were glued to their computer screens trying to catch every epic ride, barrel, wipe out and heavy record-breaking wave.
All that excitement about real life surfing in Hawaii made it real difficult for everyone to surf the web.
1. Like one of the Eddie's giant 60-foot swells, everyone saw it coming.
Sigh…the Internet is probably going to break at work with everyone trying to stream the 'Eddie'. #EddieWouldGo

— Lori Lum (@ChunLum) February 25, 2016
2. Just an hour in, that's when all the crashing started to happen.
Sooooo the reason why the Internet was so damn slow today was cos the whole island was live streaming the Eddie. Damn. Lol

— KB (@KYLENB) February 26, 2016
Internet super slow today at the office. Maybe lots of people streaming the Eddie? #EddieWouldGo

— Liane Hu (@LHaloha) February 25, 2016
The Internet in the office has slowed to a crawl because everyone is streaming the Eddie at their desks. #Eddie #hawaiiproblems

— Ser Robert Strong (@RobatoRose) February 25, 2016
3. One local internet service provider had to make an announcement about the sluggish service.
"We have received a handful of customer calls reporting intermittent latency or delays depending on what they are trying to do on the Internet, particularly if they are accessing sites outside of Hawaii," a spokesperson for Hawaiian Telcom said in a statement.
4. And offices eventually needed to send out memos like this to their employees.

Translation: "No surfing … in your cubicles!"
5. So, it wasn't just a busy day for the world's most elite surfers, but every company's IT department.
lmao our IT person at work scolded all of us for slowing down the internet bc we were all streaming the Eddie

— reggae pie (@runswithwhales) February 25, 2016
6. Even the University of Hawaii had to put out a student body-wide message.
7. Hospitals too.

Yikes.
8. High schools across Hawaii took hilariously drastic measures to keep the Internet working.
Hawaii News Now reported that at Damien Memorial School, "teachers locked bathroom doors so students couldn't sneak in and watch the surf contest on their smartphones."
9. One high school just started playing it on a screen for everyone to watch.
Every high school in Hawaii today #EddieWouldGo pic.twitter.com/jE2eaG6QWn

— Jean Marcos Garcia (@Jeanmarcos_4) February 25, 2016
10. There were just too many moments no one wanted to miss.
Like when Nathan Fletcher, Ian Walsh and Peter Mel caught this awesome party wave.
11. That 96-point ride, the biggest single wave score of the day, was must-watch streaming.
It was caught by surfer Ross Clarke-Jones.
12. Or the gnarly wipeout everyone kept re-watching with one eye open.

Grant "Twiggy" Baker dropped 45 feet without sustaining an injury. At 19 seconds you can actually see him going over with the lip.
13. Not to mention this extremely tense collision that had everyone above water holding their breath.
Kala Alexander and Makuakai Rothman became entangled after falling from the summit. Luckily neither of the two, who are friends, were hurt. Rothman was unfazed by the time they made it back to the beach from their heat, and told a reporter, hey, these things happen.
14. The most emotional ride of the day was the wave Kelly Slater dedicated to Brock Little.
Just last week, Hawaii's own Brock Little passed away from cancer at 48 years old. Yesterday, Slater intentionally switched to an 8'6 board, and stayed closer to the shore near smaller waves in the second heat of the second round, with the intention of getting barreled—something Little is considered to be a trailblazer for in his career.
In his post-heat interview, Slater held back tears. "Sorry, I'm a little emotional right now. I just wanted to get a barrel for Brock … I miss Brock so much."
15. Everyone wanted to catch a glimpse of Clyde Aikau's final Eddie.
Clyde Aikau, 66 years old, about to paddle out! #EddieWouldGo LIVE: https://t.co/KFxyqUsqGq https://t.co/DBQ84M66cn

— World Surf League (@wsl) February 25, 2016
Eddie Aikau's younger brother, at 66 years young, said this would be his final contest. His appearances brought out some of the biggest cheers from the crowd.
16. Then when Hawaii's own John John Florence won the contest, it made for a perfect ending to an epic day of surf.
Congratulations to the 23-year-old from Haleiwa whose win immediately lit up social media.
17. It was perfect conditions for the rare event.
It was only the 9th time in 31 years the Eddie ran. Clyde Aikau called it some of the best waves he's seen at Waimea in 40-plus years. For conditions like that, all of Hawaii got outside—or tried to via streaming—and were able to survive without Internet for a very special day.