2 Great Hikes on Hawaii Island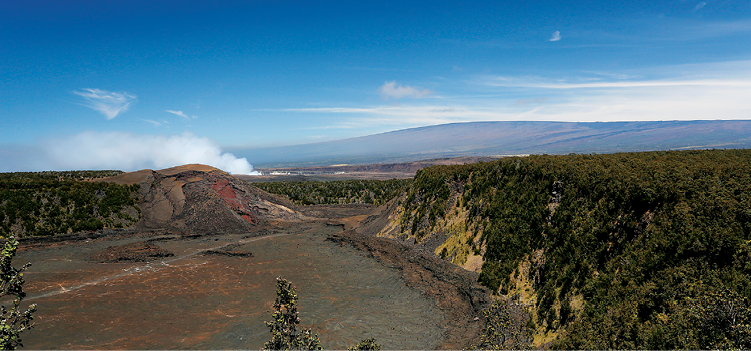 Hawaii is hikers' nirvana, with trails on every island for every level of hiking experience, over multiple varieties of terra firma (and not-so-firma), showcasing every measure of our Islands' world-renowned diversity of landscapes, climate zones and unsurpassed natural wonder.
Below you'll find two great Hawaii Island hikes straight from the pages of HAWAII Magazine's May/June 2014 Outdoors Issue feature "15 Great Hiking Trails." Be sure to check out our already-shared 6 Great Oahu Hikes, 4 Great Kauai Hikes and 3 Great Maui Hikes, and have fun out there!
EVERYBODY! EVERYBODY!

Kilauea Iki Trail
Hawaii Volcanoes National Park, Big Island
Distance: 4-mile loop trail
Time: 2 to 3 hours
Terrain: Volcanic crater floor; forest canopy
↓ In November 1959, a vent opened up in Kilauea Iki crater, near the summit of Kilauea volcano, producing world record fountains of lava up to 1,900 feet high and a molten lava lake that blanketed the crater floor. This unique trail descends from the scenic overlooks and cool native rainforests of Kilauea Iki's rim onto its floor, traversing the length of its now smooth, hardened lava lake. On the floor, hikers can peer into the once-active vent of the eruption from its lip and imagine the height of the lava fountains that towered over the crater walls 45 years ago. Also along the graded, easily navigated trail are still-active steam and sulfur vents, dense forests of ohia trees and hapuu tree fern, ohelo berry shrubs and the songs of native birds, especially the apapane (Hawaiian honeycreeper).
TRAILHEAD: Kilauea Iki Overlook, off Crater Rim Drive

EXPERTS ONLY!

Mauna Loa Summit Observatory Trail
Mauna Loa, Big Island
Distance: 13 miles, round-trip
Time: 12 hours
Terrain: Alpine
→ The "easiest" way to get to the summit of the 13,679-foot world's largest active volcano is no mere walk in the park. You'll have to acclimate yourself to the thin air of a hike that starts at the 11,150-foot elevation of Mauna Loa and still risk altitude sickness. You'll have to start at daybreak to ensure you have lots of time to climb and descend before afternoon clouds and fog, nightfall and, sometimes, even snow rolls in. And you'll be crossing sole-crushing aa (jagged) lava for a good portion of your trek. Still, moving past seemingly endless expanses of stunning lava landscape you'll see spatter cones and pit craters from ancient and modern flows, and, at the summit, breathtaking Mokuaweoweo Crater—2.7 miles long, 1.6 miles wide and up to 600 feet deep in some spots.
TRAILHEAD: End of Mauna Loa Observatory Road at Mauna Loa Observatory