22 Hawaiʻi Dishes You Must Try When Traveling to the Islands
Foods across the Islands you and your friends need to get your hands on.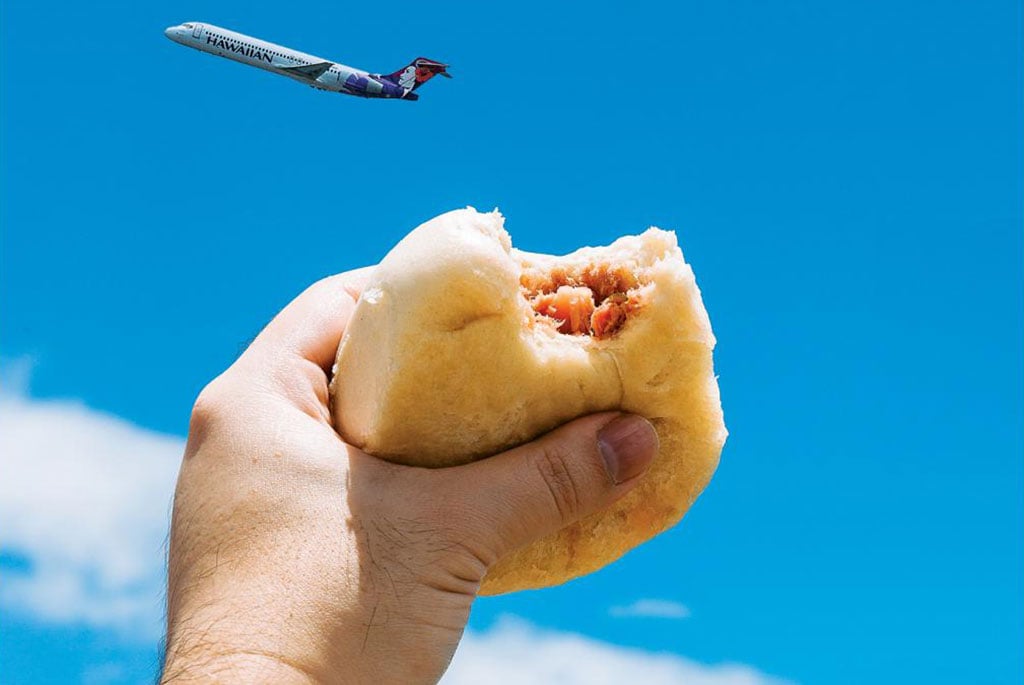 Eating your way through Hawaii is always better in good company. Whether that means with an adventurous friend who'll try anything, or posted up across your social media to give your virtual circle a taste, these are all the local favorites we seriously love to "like."
1. Hawaiian Plate
It doesn't matter if you find it at a restaurant, lunch wagon or somebody's house; when in Hawaii, you have to do what the locals do: get a plate of Hawaiian food. Order a scoop of rice with kalua pig on top, pork or chicken laulau (wrapped in ti leaves), pipikaula (dried beef) and lomi salmon on the side, with a helping of poi (taro, cooked, pounded and thinned with water), and kulolo (taro and coconut cream pudding) or haupia (coconut cream pudding) for dessert. Mix and match it however you like, and eat until you kanak attack (want to go into a food coma). For a classic Hawaiian plate, visit the James Beard Award-winning Helena's Hawaiian Food, open since 1946. 1240 N. School Street, Honolulu, (808) 845-8044.
2. All-Natural Shave Ice
Hawaii's iconic frozen treat is now part of the Islands' farm-to-table movement. It's becoming easier to get a bowl of finely shaved ice over which housemade, all natural, locally sourced syrups are generously poured. In many ways, this evolved shave ice recaptures the cool cones' history. Japanese laborers, contracted to work in Hawaii sugar and pineapple fields, brought shave ice with them. Plantation workers would use their machetes to finely shave the ice from large ice blocks, then pour fruit juice over the fluffy ice.
Uncle Clay's House of Pure Aloha in the Aina Haina Shopping Center on Oahu crafts each shave ice cup with natural syrups. The east Honolulu shave ice counter, opened by Uncle Clay Chang and his nephew Bronson, features local strawberries and pineapple. For a sweeter shave ice, get a chocolate version made with Waialua chocolate. Their shave ice is made even more gourmet with Tropical Dreams vanilla ice cream, made in Kamuela, Hawaii Island. Added to the bottom, ice cream is one of the most popular shave ice extras, as well as azuki beans—Japanese red beans boiled with sugar and pressed into a sweet paste—and mochi balls.
For other natural, locally sourced shave-ice joints, visit One Aloha Shave Ice in Kailua-Kona on Hawaii Island, Ululani's Shave Ice on Maui and Wailua Shave Ice in Kapaa on Kauai. Uncle Clay's House of Pure Aloha, 820 W. Hind Dr., Honolulu, Oahu, (808) 373-5111, houseofpurealoha.com.
3. Saimin
One of Hawaii's most traditional local foods, saimin is an iteration of a Chinese egg-noodle soup that was developed during the Islands' plantation era. You can taste how the recipe has been touched by Hawai'i history's different immigrant groups, primarily the thin Chinese chow mein-inspired noodles wading in a Japanese dashi broth.
As more migrations followed, more ingredients informally entered the mix—green onions, kamaboko, kimchi, Portuguese sausage, Spam—to create the recognizable bowls of saimin you see today. It's become so iconic you can order it at sporting events at Aloha Stadium, even McDonald's locations across Hawaii. Star Noodle on Maui is one of the island's go-to saimin shops. If you want to really steep yourself in some old-school nostalgia, though, you need to find a favorite mom-and-pop, the kind that have been community staples for generations, like Hamura Saimin Stand on Kauai or the original Shiro's Saimin Haven location in Aiea on Oahu, which has over 60 saimin options to choose from. Star Noodle, 286 Kupuohi St., Lahaina, Maui, (808) 667-5400, starnoodle.com; Hamura Saimin Stand, 2956 Kress. St., Lihue, Kauai, (808) 245-3271; Shiro's Saimin Haven, 98-020 Kamehameha Hwy., Aiea, Oahu, (808) 488-8824, shiros-saimin.com.
4. The Coconut
(UPDATE: Alan Wong's Honolulu closed permanently in 2020.)
Alan Wong has crafted everything you could want in a dessert with this one. Made with haupia sorbet, lilikoi (passionfruit) sauce from Hawaii Island and fresh, seasonal fruits, it's the ideal combination of sweet and tangy. Plus, this is a beautiful dessert—you'll want to Instagram every rounded edge of this work of art before digging into its creamy sorbet. Even though the chocolate shell with toasted coconut shavings looks like the fruit's husk, every part of the dessert is edible. In fact, it takes special training by the Alan Wong's kitchen staff to make the dessert look so realistic, from molding the chocolate shells to intricately scooping the sorbet.
The Coconut is one of Alan Wong's signature desserts; the King Street restaurant sells between 20 and 40 each night. Wong has even prepared it for President Barack Obama and first lady Michelle during their annual December vacations to Oahu. You, too, will feel presidential when eating this crowd-pleaser.
5. Taro Ko Farm Chips
If the best foods can be partially defined by how difficult they are to get, then Taro Ko Farm's taro, uala (sweet potato) and potato chips are legit. You can only find these handmade chips on Kauai in the small historic town of Hanapēpē at an old green house. If you drive too fast, you might miss it. The hours are simple: If the door's open, you'll find its owner, Dale Nagamine, selling bags out of brown boxes for $5 each. If the door's closed, you're out of luck. We can't get enough of the li hing mui (dried plum) flavored potato chips, made with four simple ingredients: potatoes, garlic salt, soybean oil and li hing mui powder. It tastes like a sweet barbecue potato chip, only more addicting. Taro Ko Farm, 3940 Hanapepe Rd., Hanapepe, Kauai, (808) 335-5586.
6. Poke
Poke isn't just a dish in Hawaii, it's a way of life. The chunky, raw-fish salad makes appearances everywhere, from birthday paina (parties) to casual picnics spent at the beach. Nowhere else in the world does it quite like its place of origin, with its incredibly fresh seafood selections and dizzying array of varieties. It also transcends culinary barriers, crossing over from holes-in-the-wall in residential neighborhoods to high-end restaurants in Hawaii's luxury resort towns.
For the uninitiated, poke is similar to a ceviche, but instead of an acidic flavor, get your tastebuds ready for something bolder, more savory and unique to the Islands. It's made with thick sections of your seafood of choice, the most common being ahi or hee (octopus), mixed with different seasonings.
Traditional Hawaiian poke is the dish at its most simple and pure, seasoned with Hawaiian sea salt, inamona (crushed, roasted kukui nuts mixed with salt) and limu kohu, a variety of seaweed difficult to find anywhere outside of Hawaii. Its since given birth to a seemingly never-ending tableau of recipes influenced by the many cultures that immigrated to the Islands using ingredients like onions, tofu, shoyu (soy sauce), garlic and ginger. You can find poke practically anywhere in the Islands, but the satisfying ahi poke at Ono Seafood is a great place to start (beware the tiny parking lot) if you're in Honolulu. On Hawaii Island, Da Poke Shack's takeout offerings are perfect for lounging around the island's Kona-side beaches. Ono Seafood, 747 Kapahulu Ave., Honolulu, Oahu, (808) 732-4806; Da Poke Shack, 76-6246 Alii Dr., Kailua-Kona, Hawaii Island, (808) 329-7653, dapokeshack.com.
7. Luau Stew
Is there anything more emotional than a taste memory? For Hawaii locals, this dish likely conjures tutu's (grandma's) home cooking and first birthday parties; for visitors, well, here's your opportunity to make one. Luau stew easily falls into the category of Hawaiian comfort food—proof simpler is just better. Made with kalo (taro) leaves, they're cooked until it reaches that perfect melt-in-your-mouth tenderness, then seasoned with a dash Hawaiian sea salt and … that's it. The most popular of luau stews is made with beef brisket, but you can find various versions throughout Hawaii. Depending on the recipe you could also expect a little ginger, onion, coconut milk, pepper or limu (seaweed) to spice up this already flavorful dish even more. Chef Mark Noguchi, for instance, has been bringing his luau stew recipes passed down to him to every kitchen he cooks at. Most recently his can be found at Mission Houses Museum in Honolulu, where he serves it fresh daily with either pork shoulder or uala. Mission Houses Cafe, 553 S. King St., Honolulu, Oahu, (808) 531-0481, missionhouses.org.
Update: Mission Houses Cafe has closed for business since publication of this article.
8. Strawberry Mochi
Chewy, gooey goodness. Mochi, the sweet Japanese rice cake, is in no short supply in Hawaii and comes in many diverse forms here—mochi ice cream, mochi balls with shave ice, butter mochi (another local-style classic you should hunt down)—but the strawberry mochi hailing from Two Ladies Kitchen in Hilo on Hawaii Island is considered a perennial favorite. The humble, family-owned bakery is famous for putting out this popular daifuku (mochi stuffed with sweet filling), a fresh, warm pillowy mochi cake stuffed with a whole strawberry surrounded by anko, a red bean paste.
By mochi standards, these treats are pretty massive; if there's a mochi that wouldn't raise an eyebrow because you're cutting it in half with a knife and fork, this is it. Along with this specialty, Two Ladies Kitchen makes some of the most obscure mochi and daifuku you'll find anywhere. That you can readily order mochi like lilikoi, brownie, grape, purple sweet potato and peanut butter makes its eclectic variety a destination in and of itself. Two Ladies Kitchen, 274 Kilauea Ave., Hilo, Hawaii Island, (808) 961-4766.
9. The Mix Plate at Rainbow Drive-In
You can't visit Hawaii without skipping your no-carb diet at least once and filling up on a plate lunch. Two scoops rice, one scoop macaroni salad, and three kinds of meat (barbecue beef, mahimahi and boneless chicken). That's exactly what you'll find in Rainbow Drive-In's Mix Plate, perfect for those of us who want a little bit of everything. The beef is tender, the fish tastes fresh and the chicken is juicy. It's a meal indicative of the Islands' melting pot of cultures with a history dating back to the 1880s when plantation laborers would bring their bento-style lunch to work. Now, it's become a local's go-to comfort food in handy take-home packages. Rainbow Drive-In, 3308 Kanaina Ave., Honolulu, Oahu, (808) 737-0177, rainbowdrivein.com.
10. Cow Pig Bun Burgers
Almost every restaurant has a hamburger on its menu, but there's only one that causes your mouth to salivate as soon as the plane touches down. Cow Pig Bun's burgers on Maui are that good and arguably the best in Hawai'i. Roger Stettler and Greg Shepherd opened the gastropub in 2014 (in a tech park of all places), and it's garnered a strong following of meat eaters in the few years it's been open. Choose from six different burgers—all equally flavorful and delicious—such as, the House burger with focaccia bread, bacon-garlic aioli, gruyere cheese, arugula, caramelized onions and balsamic glaze and the Bacon Jam burger with brioche, blue cheese, lettuce, bourbon bacon jam and pickled onions. Cow Pig Bun, 535 Lipoa Pkwy., Kihei, Maui, (808) 875-8100, cowpigbun.com.
11. Coco Puffs
Ask a local about Liliha Bakery and he or she will likely rave about the Honolulu bakery's coco puffs, a beloved Hawaii cream-puff pastry. Residents can't get enough of the light, flaky Choux pastry, filled with gooey chocolate pudding and topped with buttery chantilly frosting—and neither will you once you try it. Why? It's the frosting that sets the coco puff apart from other baked goods. A modified take on German chocolate cake frosting, chantilly frosting ditches pecans and coconut and adds more butter. It's hard to eat just one. Liliha Bakery, 515 N. Kuakini St., (808) 531-1651 and 580 N. Nimitz Hwy., (808) 537-2488, Honolulu, Oahu, lilihabakeryhawaii.com.
12. Da Hawaiian Acai Bowl
True, you can order an acai bowl at a number of different places, but there's only one spot where you can get it with granola, bananas, strawberries, blueberries and honey, topped with paiai (hand-pounded taro), and that's at Diamond Head Health Cove Bar in Waikiki. The collection of sweet flavors mix very well together with the paiai, and is a great introduction to the Hawaiian staple if you've been hesitant to try it on its own. Pretty soon you'll be eating paiai like a local. Diamond Head Health Cove Bar, 3045 Monsarrat Ave., Honolulu, Oahu, (808) 732-8744, diamondheadcove.com.
13. Croissada
Say aloha to the Croissada, the croissant-malasada. For the past few years, hybrid desserts have been all the rage across the country and it was only a matter of time before the current wave of creative carbs reached Hawaii's shores with the Islands' one-of-a-kind answer to the Cronut. The Croissada is a convincing fusion of the two, taking the airy, sugar-covered doughiness of a malasada, the beloved Portuguese pastry, on the inside and giving it the flaky, layered texture you'd expect of a croissant on the outside. The Aloha Center Café at the Pacific Beach Hotel first introduced the creation in Waikiki, infusing each of its Croissadas with a Polynesian vanilla Bavarian cream. More recently, another interpretation has hit the scene, the Grandona, from Honolulu bakery Let Them Eat Cupcakes in Chinatown, which makes a limited number of its own spin on the doughy delight. These super-size pastries are fresh out of the oven on a first-come, first-serve basis every Friday morning. Aloha Center Cafe, 2490 Kalakaua Ave., Honolulu, Oahu; (808) 922-1233, pacificbeachhotel.com; Let Them Eat Cupcakes, 35 S. Beretania St., Honolulu, Oahu, (808) 531-2253, cupcakes808.com.
Update: Let Them Eat Cupcakes has closed for business since publication of this article.
14. Pasteles
Hawaii's first wave of Puerto Rican immigrants at the turn of the 20th century brought this culinary icon of their island nation with them: the pastele, or as we call it in the Islands, "pa-tel-e" with a silent "s." The incorrect pronunciation is a quirky remnant of the sugarcane plantation era's multi-ethnic workforce best attempt to understand all the languages foreign to them, in this case, Spanish. Luckily after more than a century years its flavors didn't get lost in translation. You can liken pasteles to the Mexican tamale, but the Puerto Rican pastele skirts the corn masa for grated green bananas mixed in with plantains and yuca or yautía (a corm that belongs to the same family as kalo).
The savory fillings in pastele can vary; we've come across pork, chicken, seafood and currant, all wrapped up in a banana leaf and served on a bed of gandule rice, a hearty dish made with sofrito and pigeon peas. Pasteles aren't the easiest to track down here—you typically find them at potlucks, food festivals or sold from a stand by the road—but there are a few Oahu eateries that are committed to serving this labor intensive dish, like The Pastele Shop and Island Pastele and Rib House, both in Kalihi, or Wat Get Kitchen in Waipahu. The Pastele Shop, 2101 N. School St., Honolulu, Oahu, (808) 847-6969.
15. Leoda's Pies
On the long stretch of road to Lahaina from Maalaea, grab lunch at Leoda's Kitchen and Pie Shop, then save room for dessert. The restaurant's house-made miniature pies come in a variety of flavors, some savory and some sweet. We absolutely love the pineapple and macadamia nut pie, but the Olowalu lime and chocolate macadamia nut pies are hard to resist. There are also pot pies, made with chicken, meat and potatoes and even a veggie. Pack a few of your picking for the road. They make great late-night snacks. Leoda's Kitchen and Pie Shop, 820 Olowalu Village Rd., Honoapiilani Hwy., Maui, (808) 662-3600, leodas.com.
16. Honu Seafood and Pizza's Ahi Bruschetta
Right next to the ocean in Lahaina, the ahi bruschetta at Honu Seafood and Pizza is causing quite a stir. But with a chef like Mark Ellman at the helm, who's one of the original 12 founders of Hawai'i Regional Cuisine, why wouldn't it? The bruschetta is one of the most flavorful you'll ever have, with an edamame puree, local tomatoes, 20-year-old balsamic, and perfectly sized slices of ahi carefully placed on top of flaxseed toast. Honu Seafood and Pizza, 1295 Front St., Lahaina, Maui, (808) 667-9390, honumaui.com.
17. Mac and Cheese Pancakes
Can't decide between breakfast or lunch? At Morning Glass Coffee and Café, a tiny café tucked away in breezy Manoa Valley on Oahu, the two worlds quite literally collide for the ultimate savory brunch dish, mac and cheese pancakes. (Yes, macaroni and cheese pancakes, you read that right.) The two hotcakes are smothered with a layer of melted cheese and each bite reveals morsels of elbow macaroni cooked into the batter. Top them off with slices of crispy bacon and drizzle everything with a generous amount of maple syrup and you have yourself a salty-sweet pairing that's nothing short of glorious. Morning Glass Coffee and Café, 2955 E. Manoa Road, Honolulu, Oahu, (808) 673-0065, morningglasscoffee.com.
18. Chocolate Haupia Cream Pie
Haupia is a Hawaiian dessert mainstay across the Islands. While the traditional dessert is often served at luau (Hawaiian feasts) and Hawaiian food restaurants, the coconut milk concoction has influenced other desserts. For haupia with a decadent twist, head to Ted's Bakery in Haleiwa. The local North Shore bakery is renowned for its chocolate haupia cream pie. Made with a flaky crust, layered dark chocolate custard cream and silky haupia, and generously topped with whipped cream, this pie is as good as it sounds. It has inspired many a trip to the North Shore, sometimes just for a slice. Ted's Bakery, 59-024 Kamehameha Highway, Haleiwa, Oahu, (808) 638-8207, tedsbakery.com.
19. Manapua
There's not a destination that exists—beach, office meeting, in front of your TV with that Netflix series you need to catch up on—where manapuas aren't appropriate. Order them by the dozen, or just a single bun to throw in your bag, it's arguably Hawaii's most portable food. The Islands' local take on traditional Chinese bao, these pillowy white buns filled with sweet char siu pork were brought by the Chinese who immigrated here in the mid- to late-19th century. Depending who you ask, the name is either a shortening of mea ono puaa ("delicious pork pastry") or mauna puaa ("pork mountain") and whether they're better baked or steamed is still up for debate decades later. Manapua are available at most of Hawaii's Chinese restaurants, but if you're looking for a more eclectic variety, manapua take-out joints like Libby Manapua Shop on Oahu and The Manapua Bakery on Maui are the way to go. Along with char siu, ginger chicken, sweet potato, lup cheong, hot dog, pizza, shoyu chicken—you name it, there's probably a manapua for it. Libby Manapua Shop, 410 Kalihi St., Honolulu, Oahu, (808) 841-2253, libbymanapuashop.com.
20. Loco Moco
You can't beat a classic. This comfort dish is found on menus across the Islands, from hole-in-the-wall eateries to five-star restaurants. A typical loco moco is this: a bed of white rice topped with hamburger patties and fried eggs, blanketed in rich, brown gravy. It's often eaten for breakfast, but anytime is a good time for one of these. Loco moco are for enthusiastic eaters—they're known to cause a "kanak attack," which is pidgin for eating so much you need a nap. To get the full flavor experience, first, break the eggs then make sure to get a little of everything in each bite.
Café 100 in Hilo is credited with inventing the loco moco. The diner, which opened in 1946, features 30 types of the iconic dish. The original is only $3.50 and still one of the most popular.
For a reinvented loco moco on Oahu, there's the braised short-rib loco moco at Moena Café in the Koko Marina Shopping Center in Hawaii Kai. Owners Nicole and Eric Chang wanted to create an upscale loco moco, so they swapped the classic hamburger patty for slow-braised beef short ribs. Tying the dish together is the housemade demi-glace. It's one of the café's signature items, and its most popular. Café Hilo, 969 Kilauea Ave., Hilo, Hawaii Island, (808) 935-8683, cafe100.com; Moena Café, 7192 Kalanianaole Hwy., Honolulu, Oahu, (808) 888-7716, moenacafe.com.
21. Hula Pie from Duke's
There's having a slice of pie after dinner, then there's having a heaping slice of Hula Pie at any of the Duke's Restaurants around Hawaiʻi. Made with macadamia nut ice cream and crusted with a chocolate cookie exterior, the Hula Pie is big enough to share with the whole family, but so good you may want to keep it all for yourself. Hot chocolate fudge and toasted macadamia nuts are the perfect finishing touches on this plate, which was originally concocted at Kimo's in Lahaina—on Maui—and was billed as "What the sailors swam ashore for in Old Lahaina Town." Get your slice of Hula Pie at any Duke's location, dukeswaikiki.com.
22. Zippy's Chili
The famous Zippy's chili is shrouded in mystery and local lore. How do they make the sauce so thick, but sweet? Some say it's peanut butter, others mayonnaise. Whatever it is, it sure is delicious. Whether you get your bowl with rice—the common choice—or crackers—for more chili—you can't go wrong, it's just that good. Zippy's even sells their chili by the bucket for those going to a potluck or family gathering. Zippy's chili is available at any Zippy's location around Hawaiʻi, zippys.com.