"20 Things to Love About Hawaii Right Now": We've got the perfect place to see stars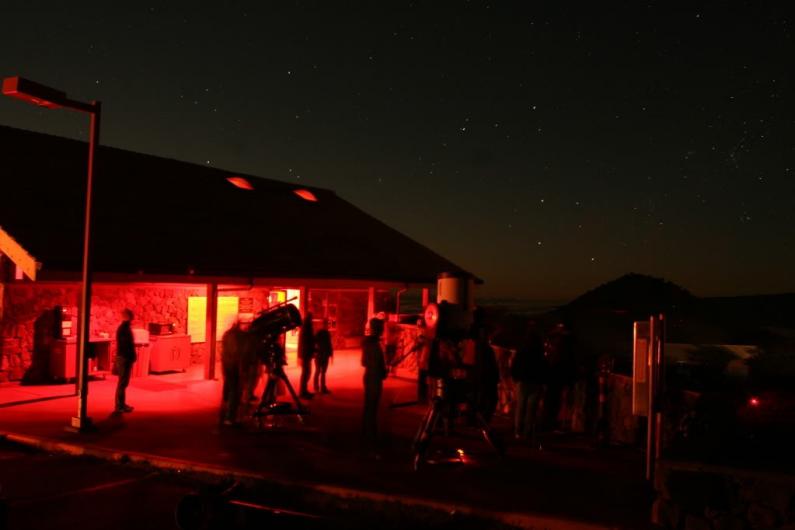 HAWAII Magazine's March/April 2010 cover feature unveils our "20 Things To Love About Hawaii Right Now."
We've devoted several pages of write-ups and photography to Hawaii things our staff is currently fascinated with. Catamaran rides from Maui to Lanai to snorkel in Hulopoe Bay's clear blue waters. A trio of classic Hawaii hotels, newly remade. Surf lessons from female professional surfers and, uh, Honolulu firemen. The fact that nature is always happening—both explosively and quietly—at the Big Island of Hawaii's Hawaii Volcanoes National Park.
You'll find our editorial staff's "20 things" selections in HAWAII Magazine's current print edition, in bookstores and on newsstands nationwide … right now. You can also subscribe to HAWAII Magazine's print edition by clicking here, or digital edition by clicking here.
Here's a sneak peek at another one of our "20 Things To Love About Hawaii Right Now":
We have the perfect place to see the stars:
Mauna Kea Visitor Information Station
You can see all of the stars that have made the Big Island of Hawaii's Mauna Kea the world's premier astronomical site without having to brave the subzero temperatures on the summit of Hawaii's tallest mountain.
Nestled on the 9,300-foot level of 13,803-foot Mauna Kea, the Mauna Kea Visitor Information Station has been called the best place on Earth to check out the stars with the unaided eye or an amateur telescope. Clear skies are the norm here 90 percent of the year.
The station is open 365 days a year from 9 a.m. to 10 p.m. It even sets up telescopes at night for public use, and offers a free stargazing program every night from 6 to 10 p.m. On the first Saturday night of each month, an astronomer from one of the summit's various observatories stops by for "The Universe Tonight," a program discussing recent observations and discoveries made at their respective scopes.
The visitor station's First Light Bookstore—its interiors bathed in moody red light by night so as not to disturb summit stargazing—carries a solid selection of books about astronomy and Hawaiian culture and some food items. You can also warm up from the cold air outside with the bookstore's interactive and educational displays and video programs. The bookstore is open from 9 a.m. to 9:30 p.m.
Can't make it to the visitor station after dark? Daytime visitors can check out what's happening on the sun with the station's solar telescope, and roam the grounds for amazing views of the immensity of Mauna Loa to the south
If you have a rental car, getting to the center is easy enough. Unlike the twisting road to the summit—which begins at the station and is open only to four-wheel drive vehicles—the paved road to the Mauna Kea Visitor Information Station is open to all vehicles.