2016 in review: HAWAII Magazine writers' most inspiring trips
The coolest sights and activities HAWAII Magazine writers saw and did in 2016.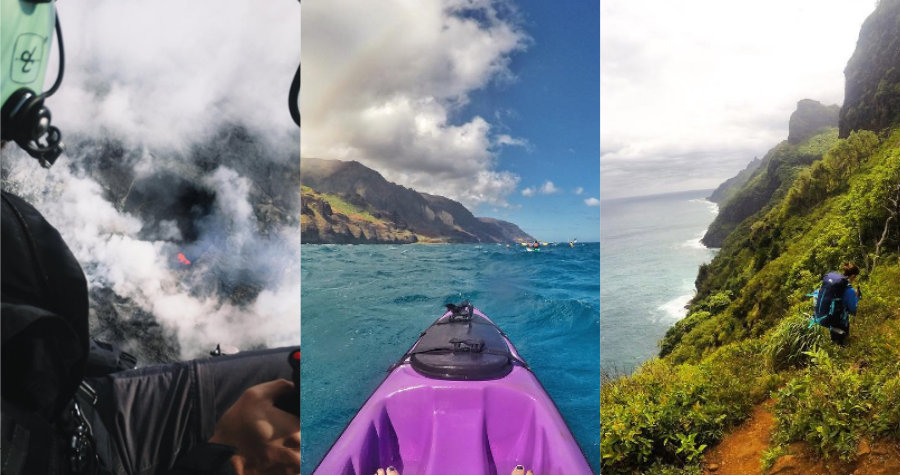 In bringing the Islands to our readers, the team of editors and writers at HAWAIʻI Magazine travel the Hawaiian Island chain in search of its most inspiring stories. Because what better way to experience Hawaii than to, well, experience it, right? We asked our contributers to reflect on the most unforgettable places they were immersed in this year.
Watching lava enter the sea off Hawaii Island
Speeding across 14 miles of ocean in the early morning hours before dawn was exhilarating as is, but seeing lava glow so very brightly into the gigantic plume billowing above it with a full moon shining down on everything took my breath away. — CHRISTINE HITT, editor-in-chief
Kayaking Kauai's ancient Napali coast
A 17-mile stretch of mountainous lava rock separating Kauai's desert-like west side from its lusciously green North Shore was an almost indescribable experience. To my left, a shoreline of electric green vegetation and cascading waterfalls. To my right, all I could see was water—and the occasional spinner dolphin pod splashing by. It was a long and strenuous haul, but well worth every capsize. — BRITTANY LYTE, contributing writer
Hiking Halawa Valley on Molokai
As a Hawaii-based freelance writer, I've been fortunate enough to travel to Oahu, Maui, Molokai and Kauai for work this year from my resident Kona. Though I experienced so many new things in 2016 (my first trips to Maui, and Waimea Canyon), my favorite Hawaii adventure happened on a return trip to Molokai where I finally, after two rained-out tries, took a cultural hike through the Halawa Valley on Molokai's far eastern end. Tromping through the jungle and fording thigh-high rivers with multi-generational residents and cultural practitioners Anakala Pilipo Solatorio and his son Greg, I listened to the valley's moolelo (legends) and learned about its complete transformation following a 1940s tsunami, the original purposes of the crumbling and vine-encrusted lava rock heiau, the moo (giant lizard) that lives in one of the valley's waterfalls, and the self-reliance and live-off-the-land ethos of valley residents that persists today. — MEGHAN MINER MURRAY, contributing writer
Prone paddleboarding the Kaiwi Channel
You will have a hard time convincing me that there is any race as beautiful as the Molokai-2-Oahu paddleboard race. It took my teammate and me seven hours to paddle the 32 miles; I distinctly remember being physically tired half way through, and yet, I wanted the race to never end. I was having too much fun riding open ocean waves, reveling in the vastness of the deep blue water, paddling into grayness and nothingness and then seeing Oahu grow larger and larger as we neared it. — MARTHA CHENG, contributing writer
Flying over Puu Oo by helicopter, doors off
I was not prepared to see the lava lake as feisty as it was. As we circled around it from above, I remembered seeing the lava crash up against the cone, just like an ocean wave would. That was a very powerful visual for me. In that moment your mind thinks about dichotomies in nature—land and sea, fire and water—and it was a reminder of what makes Hawaii such an inspiring place. — MATTHEW DEKNEEF, deputy editor
Backpacking (halfway) to Kalalau
As disappointed as we all were to not reach the end (due to a flash flood), getting the opportunity to intimately learn about the different valleys, waterfalls, trees, plant life, trails and streams along the trek is something I will always remember. One day, we'll try again. — C.H.
Watching the Eddie Aikau big-wave surf contest at Waimea
The Eddie took place for the first time since 2009 this year (before that, it last took place in 2004) and the entire island of Oahu pretty much turned out for it. You couldn't even get to Waimea unless you camped there the night before (which is why my dad and I rode a tandem bike from Haleiwa to the bay in the a.m.). People were calling in "sick," the internet in downtown Honolulu was moving at a crawl with everyone trying to stream it—there was a true communal island spirit present and the vibe truly felt electric. — M.D.