3 Great Maui Hiking Trails
Our recommendations, grouped by proficiency level.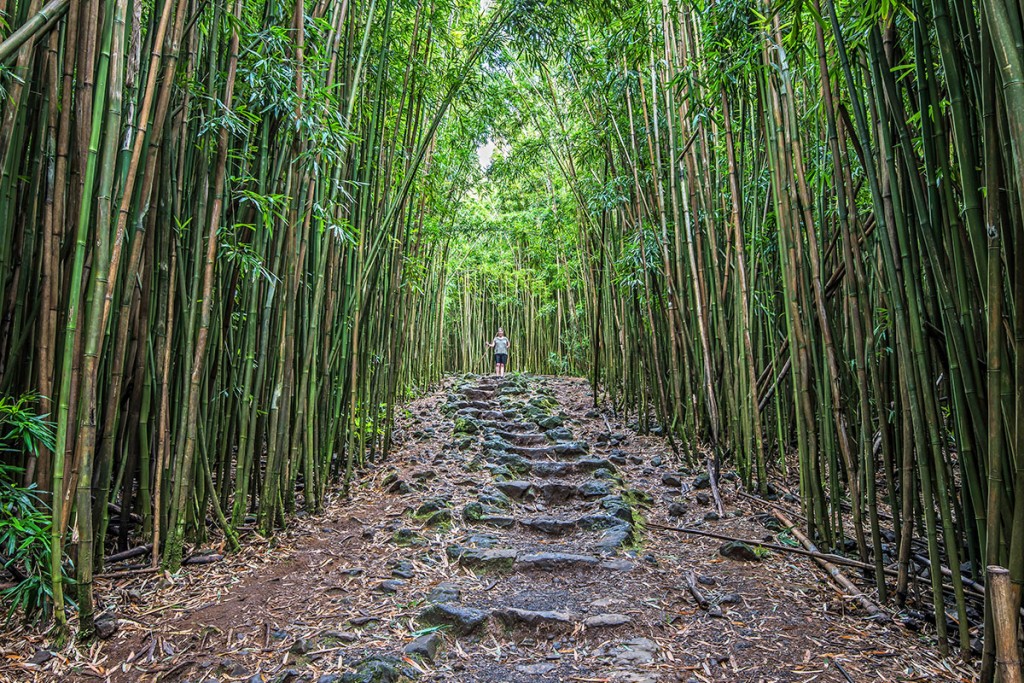 Hawaii is hikers' nirvana, with trails on every island for every level of hiking experience, over multiple varieties of terra firma (and not-so-firma), showcasing every measure of our Islands' world-renowned diversity of landscapes, climate zones and unsurpassed natural wonder.
Below you'll find three great Maui hikes, grouped by proficiency level. We've already shared 6 Great Oahu Hikes and 4 Great Kauai Hikes. Have fun out there and bring lots of water along!
EVERYBODY! EVERYBODY!

Pipiwai Trail
Haleakala National Park Kipahulu Visitor Center, Maui
Distance: 4 miles, round-trip
Time: 3 hours
Terrain: Forest canopy; stream crossing
→ The payoff of this trek into the deep lushness of Oheo Gulch, on Maui's wet windward side, is magnificent 400-foot Waimoku Falls, the island's largest waterfall. Along the well-maintained way are multiple crossings of Pipiwai Stream (the trail's namesake), a Zen boardwalk through three dense bamboo forests, sheltering tree canopies, rock terraces built by early Hawaiian residents and another waterfall: 185-foot Makahiku Falls. A popular hike with visitors to the seaside Oheo Gulch Pools (a.k.a. "Seven Sacred Pools") and Haleakala National Park's Kipahulu Visitor Center, the trail is best taken in the early morning or late afternoon when crowds subside. While crossing Pipiwai Stream, be alert to weather and stream conditions. Water levels in the stream and currents may rise suddenly due to heavy rainstorms in the back of the valley. Otherwise, Pipiwai offers an easy hike and wondrous feast of nature.
TRAILHEAD: Haleakala National Park Kipahulu Visitor Center, off Hana Highway (Route 330)

Polipoli, Haleakalā Ridge, Plum and Redwood Loop Trail
Polipoli Spring State Recreation Area, Maui
Distance: 5 miles
Time: 3 hours
Terrain: Forest canopy
→ Combining four great forest trails on the cool, green slopes of Haleakala volcano at the 6,000-foot-elevation, this loop trek meanders past the most scenic parts of Maui's Polipoli Spring State Recreation Area. The forest surrounding the trails was largely planted in the 1920s, restoring a watershed destroyed by cattle grazing and logging in the 1800s. Disregarding the original native watershed, however, forestry workers planted non-native California pines, cypress, cedar and even redwoods in the area. For Hawai'i residents, the hike offers a feel of exploring a Mainland forest; albeit one filled with the songs of native birds like the Hawaiian honey creepers apapane and alauahio. An overlook on the Haleakala Ridge Trail portion of the loop reveals a distinctly Hawai'i panorama of the volcano's southeast Maui face and, on clear days, a view of the Big Island across the Alenuihaha Channel.
TRAILHEAD: End of Polipoli Access Road at Polipoli Spring State Recreation Area
EXPERTS ONLY!

Haleakala Keoneheehee (Sliding Sands) and Halemauu Trails
Haleakala National Park, Maui
Distance: 20 miles
Time: Overnight, at least two days
Terrain: Sub-alpine open landscape; lava; sand; rock canopy
↑ This backpackers' hike—combining two of the lengthiest trails in Haleakala National Park—traverses much of the otherworldly interiors of the 10,023-foot volcano's vast erosional summit crater (actually a large depression), descending 4,000 feet on the Keoneheehee Trail to the massive maw of the Kaupo Gap, high above the cloud line. From there, it climbs 3,000 feet on the Halemauu Trail over lava fields and cool, rock-strewn sub-alpine cliff faces to its end at Haleakala's 8,000-foot level. Its expert rating is mostly due to length—you'll need at least two days to complete it, staying overnight in one of two reservation-required cabins on the crater's mist-shrouded outer limits—and the stamina needed for its elevation changes. Still, the trail combo is worth the effort, offering encounters with some of the most unique terrain, scenery and flora in Hawai'i along the way.
TRAILHEAD: Haleakala National Park summit visitor center