32 Gotta-Eat Hawaiʻi Grinds
These A-to-Z local food faves are the ones you must taste while in the Islands.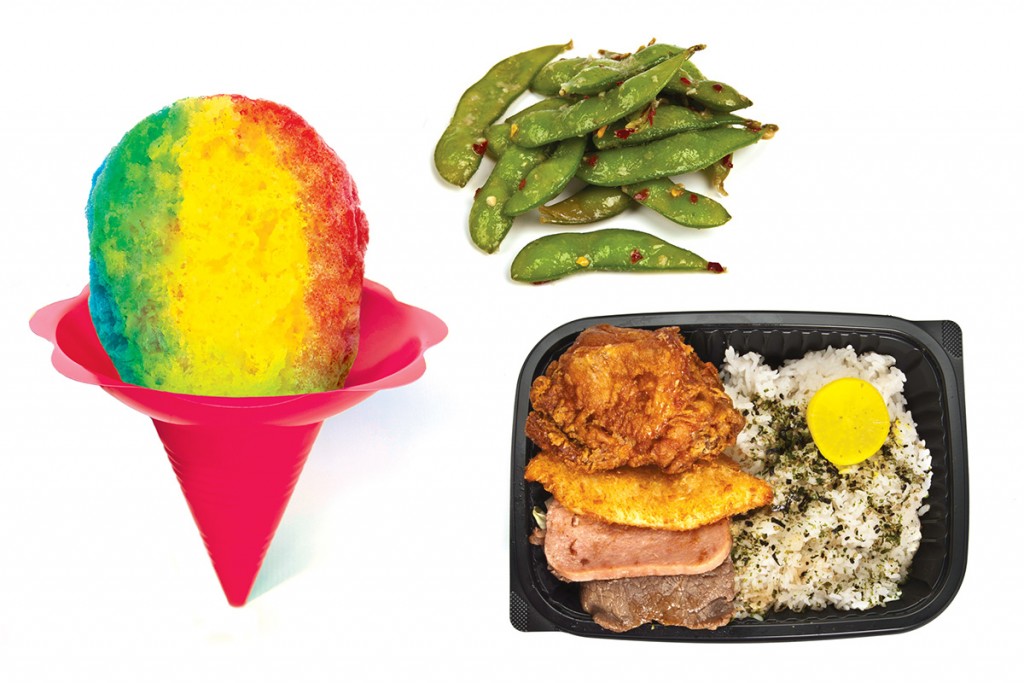 A sugar-blanketed deep-fried Portuguese doughnut. A bowl of chili that leaves aficionados of the traditionally spicy side dish scratching their heads. A canned luncheon meat with an annual festival in its honor. Love 'em or not, this collection of Hawaii foods represents the eats we feel everyone must try at least once to boast that they've truly experienced Island cuisine. Whether homegrown or adapted from the cuisines of the multitude of cultures that have settled here, these are the comfort foods we love. Grab a plate—we hope you brought an appetite!
1. Andagi
Who doesn't love deep-fried dough? Certainly not fans of this sweet Okinawan confection made of flour, sugar and eggs, formed into a ball, dropped into hot oil, and served warm and crispy.
Our favorite place to get it: Summer bon dances statewide, where the warm treat is a perfect snack for cool evenings.
2. Bento
Hawaii's version of the Japanese takeout lunch typically features rice, pickled or cooked vegetables, and just about any combination of local food entrées you could want. Sold everywhere, it's good hot or cold.
Our favorite place to get it: Shirokiya, at Ala Moana Center, Oahu; shirokiya.com.
3. Boiled peanuts
The secret to great Hawaii-style boiled peanuts is using the right amount of sea salt when boiling and removing them from the heat at the right time. The result should be moist and salt-kissed with a snappy crunch.
Our favorite place to get it: We like cooking up our own, but you'll find it at Hawaii food markets.
4. Chicken katsu
This Hawaii plate-lunch staple takes boneless chicken cutlet to crunchier extremes by dredging it in panko (Japanese bread crumbs) before frying. Nearly always accompanied by a sweet/tangy dipping sauce.
Our favorite place to get it: Tonkatsu Ginza Bairin, 255 Beach Walk, Oahu, pj-partners.com/bairin
5. Chili-pepper water
Hawaii's answer to Tabasco, this condiment is a staple on dining tables statewide. A mixture of Hawaiian red chili pepper, vinegar, water, salt and, occasionally, garlic, it is used to kick up the flavor and heat of everything from stews to kalua pig to plain white rice.
Our favorite place to get it: At most Hawaii food markets.
6. Crack seed
Preserved fruit snacks still primarily imported from China, crack-seed treats range from sweet and salty dried cherries or peaches to pickled plums and mango and just about anything covered in li hing powder.
Our favorite place to get it: Small crack-seed shops found throughout the Islands.
7. Cocoa puffs
Mere words cannot do justice to this decadent, chocolate-cream-filled puff pastry, accorded legendary status by its signature dollop of buttery chantilly frosting.
The only place to get it: Many copies exist, but the best is the original from Liliha Bakery, 515 N. Kuakini St., Oahu, lilihabakeryhawaii.com.
8. Edamame poke
You've had boiled, salted soybeans at Japanese restaurants. But unless you've had edamame enhanced poke style, with sesame oil, sea salt, and fresh garlic and chili pepper bits, you haven't had it done right.
Our favorite place to get it: At home. But it's also found wherever poke is sold.
9. Fried rice
In Hawaii, fried rice is enjoyed at breakfast, lunch or dinner, often as a main entrée. Why? We put everything in, from bacon, Portuguese sausage and Spam to adobo, kalua pig, egg and onion, flavored with shoyu or oyster sauce.
Our favorite place to get it: At home, using anything in the fridge.
10. Haupia
As with kalua pig and lomi salmon, a luau wouldn't be the same without this sweet, gelantinous, coconut-milk-based dessert. It's also a tasty topping on wedding cakes and other desserts.
Our favorite place to get it: Helena's Hawaiian Food, 1240 N. School St., Oahu, helenashawaiianfood.com.
11. Kalua Pig
The genius of this dish is its flavorful, basic recipe: pork shoulder, salt-rubbed, smoked underground, shredded and served.
Our favorite place to get it: Masa & Joyce, 45-582 Kamehameha Highway, Oahu, masa-n-joyce.business.site.
12. Kalbi
Kalbi, a gotta-eat Hawai grind? Sure, you can get this Korean marinated and grilled beef short rib dish anywhere in the world. But you won't find it in as many Korean and non-Korean restaurants, and prepared in as many different ways, as you will in Hawaii.
Our favorite place to get it: Side Street Inn, two Oahu locations, sidestreetinn.com.
13. Kim chee
A spicy condiment tasty alongside just about anything on a plate lunch. A go-to ingredient for kicking up the heat in stews, soups and fried rice. This piquant Korean fermented vegetable dish is all of these in Hawaii.
Our favorite place to get it: Palama Market, three Oahu locations, palamamarket.com.
14. Laulau
The laulau is, arguably, Hawaii's first real mixed plate. A complete meal of pork, chicken or beef, salted butterfish and taro leaves wrapped in ti leaves and steamed, its taste is savory and uniquely Hawaiian.
Our favorite place to get it: Highway Inn, 680 Ala Moana Blvd. #105, Oahu, myhighwayinn.com.
15. Li hing powder
Traditionally used to impart a finger-licking sweet, sour and salty flavor to crack seed, this bright red powder is now found flavoring everything from cocktails and paletas to shave ice.
Our favorite way to eat it: On various types of crack seed, from li hing mango slices to li hing gummi bears.
16. Loco moco
Born in Hilo out of teenage hunger and economic necessity, the loco moco is a Hawaii comfort-food original—a grilled beef pattty on a bed of rice, topped with a fried egg, and slathered with brown gravy.
Our favorite place to get it: We've enjoyed too many in Hawaii to choose just one.
17. Lomi salmon
The Hawaiian word for "knead" or "massage," lomi, in the case of this classic Hawaiian-food side dish of diced, salted salmon, tomatoes, and sweet and green onions refers to the way it is mixed in preparation.
Our favorite place to get it: Homemade is best. But you'll find it at most Hawaii food markets.
18. Lumpia
In Hawaii, these fried spring rolls—filled with everything from banana and shredded pork to vegetables and Spam—originated with Chinese and Filipino settlers who worked the Islands' sugar plantations in the late 1800s.
Where to get it: At Chinese and Filipino-food takeout restaurants and many lunch shops.
19. Macaroni salad
What would a Hawaii-style plate lunch be without a scoop of this monochromatic mix of elbow macaroni, salt, pepper, a lot of mayonnaise and, for crunch, slivers of carrot, celery or onion? Healthier, maybe, but certainly not as tasty.
Where to get it: Anywhere plate lunches are sold; it comes with the lunch.
20. Malasadas
The closest thing to deep-fried, sugar-high nirvana, this traditional Portuguese confection is simple perfection—a ball of sweet yeast dough, dropped in hot oil, then coated with sugar and served hot.
Our favorite place to get it:  Leonard's Bakery, 933 Kapahulu Ave., Oahu, leonardshawaii.com.
21. Manapua
Also known by their Canotonese moniker, char siu bao, these steamed or baked buns—typically filled with sweet, Chinese-spiced shredded pork—are a favorite Hawaii between-meal snack for a protein and carb-loaded boost.
Our favorite place to get it: Char Hung Sut, 64 N. Pauahi St., Oahu.
22. Mochi
A Japanese rice cake made of pounded glutinous rice, traditionally filled with sweet red-bean paste, you can now find the confection molded into many visually appealing shapes, with fillings such as peanut butter or whole strawberries.
Our favorite place to get it: Two Ladies Kitchen, 274 Kilauea Ave., Big Island.
23. Musubi
Spam musubi—a seared slice of the famed luncheon meat, surrounded by rice and crisp seaweed—is the best known version of this favorite Hawaii snack. But don't limit yourself. Varieties include sweet or spicy tuna, pickled plum and more.
Our favorite place to get it: Mana Bu's, 1618 S. King St., Oahu, hawaiimusubi.com.
24. Pickled mango
Warning: Leave a container of this crunchy, pickled green mango treat—sweet with sugar, tart with vinegar—near a group of co-workers and it will disappear. The above samples were gone right after the photo was taken.
Our favorite place to get it: Homemade, or at crack-seed shops on all Islands.
25. Pineapple
Barely 2 percent of the world's pineapple crop is still grown in Hawaii, once the world's top producer. But a plate of ice-cold, sliced, locally grown pineapple remains a favorite of visitors and residents alike.
Our favorite: Maui Gold Pineapple from Maui Gold Pineapple Co., Maui, pineapplemaui.com.
26. Shave ice
Shave ice here in Hawaii is more than a dome of powdery ice flakes flavored with syrup. Where you buy it, and what syrups and toppings you have on it, may actually define you to others.
Our favorite place to get it: Waiola Shave Ice, three locations, Oahu.
27. Pipikaula
Hawaii's beef jerky, pipikaula ("rope beef") is made by rubbing strips of beef in sea salt, then drying them outdoors for about two days. The best pipikaula is dry on the outside, tender within.
Our favorite place to get it: KTA Super Stores, multiple Big Island locations, ktasuperstores.com.
28. Portuguese sausage
Introduced to the Islands by Portuguese immigrants working the sugar plantations in the late 19th century, Hawaii's version of linguica is a sweeter, softer sausage than the traditional recipe. A must for breakfast with scrambled eggs and rice.
Our favorite: Kukui Sausage Co. brand, sold in Hawaii food markets.
29. Spam
Hormel's infamous pink luncheon meat is on the breakfast menu at all Hawaii McDonald's. Thousands annually attend a Waikiki street fest dedicated to it. In a musubi, it's a favorite of residents, visitors and a former U.S. president.
Our favorite place to get it: The question is, where CAN'T you get Spam in Hawaii?
30. Poke
Taken from the Hawaiian word for the act of "slicing or cutting crosswise into pieces," a tasty basic poke recipe is cubed raw ahi, crunchy ogo (seaweed) and sweet onion mixed with shoyu, kukui nut and sesame oil.
Our Favorite way to have it: Any way we can, from tako (octopus) to crab and steak poke.
31. Saimin
Another comfort-food staple born of Hawaii's sugar era, saimin is a simple but tasty dish of soft, curly egg noodles in shrimp or seaweed-flavored broth, often garnished with sweet Chinese roast pork, green onions and fish cake.
Our favorite place to get it: Hamura's Saimin Stand, 2956 Kress St., Kauai.
32. Zippy's chili
The signature dish at this Oahu fast-food restaurant chain is unique in all the chili world—thick and way creamy, with zero heat and a mild sweetness. The recipe is closely guarded (its secret ingredient is rumored to be mayonnaise). True chili buffs might cry foul. We love it.
Our Favorite way to have it: Over rice at any Zippy's location.