4 days! 34 ziplines! Our Maui ziplining tour in photos and video.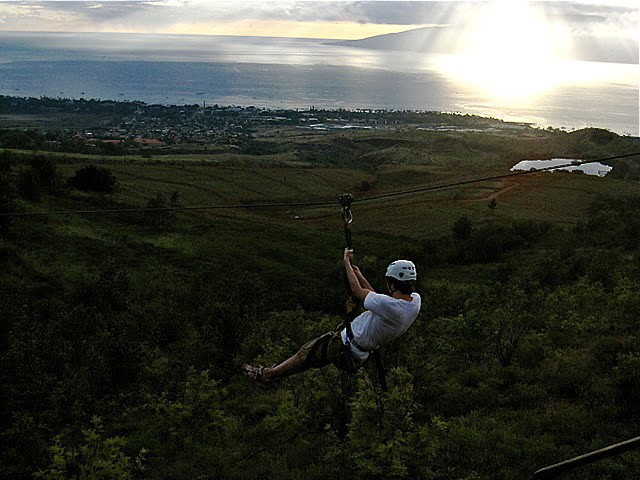 In the current issue of HAWAII Magazine, we take you ziplining on Maui. On 34 ziplines, to be exact. Every zipline on the island.
Never been ziplining? Your next Maui vacation might be a good place to start.
Imagine being strapped into a harness, clipped to a pulley and sent down a steel cable—at speeds up to 50 mph—above and/or through the island's visually-stunning forests and valleys. That was my reality over four days on Maui as I took a turn on every line of the island's five zipline tour companies: Skyline Eco-Adventures: Haleakala, Skyline Eco-Adventures: Kaanapali, Piiholo Ranch Zipline, Kapalua Adventures and Flyin' Hawaiian Zipline.
There's a zipline course on Maui for just about every kind of zipliner—from first timers to aficionados, from leisure riders to speed, length and height junkies.
In HAWAII Magazine's March/April 2010 print edition feature "Maui Zip-Away," we give you the lowdown on the lines and courses of all five Maui zipline tour operators. Which course has the highest maximum height separating you from the world below? Which course claims the longest zipline in Hawaii and third-longest in the world? What kind of scenery can you expect to see while zooming down the ziplines of each course? What's the best zipline on each course?
We reveal all you need to know before you go.
Pick up a copy of the current issue in bookstores and on newsstands nationwide now, or subscribe to HAWAII Magazine's print edition by clicking here, or digital edition by clicking here.
On this page and on the pages ahead we present a slideshow of our Maui zipline experience, and videos of ziplines from each course.
The ziplines of Maui (click frame for larger photo):
Day 1 video: Skyline Eco-Adventures: Haleakala:
Day 2 video: Piiholo Ranch Ziplines:


Day 2 video: Skyline Eco-Adventures: Kaanapali:
Day 3 video: Kapalua Adventures Ziplines:


Day 4 video: Flyin' Hawaiian Ziplines: