5 Changes We Love About Oahu's Mew Matsumoto's Shave Ice Store
The best part: Much of it hasn't changed at all.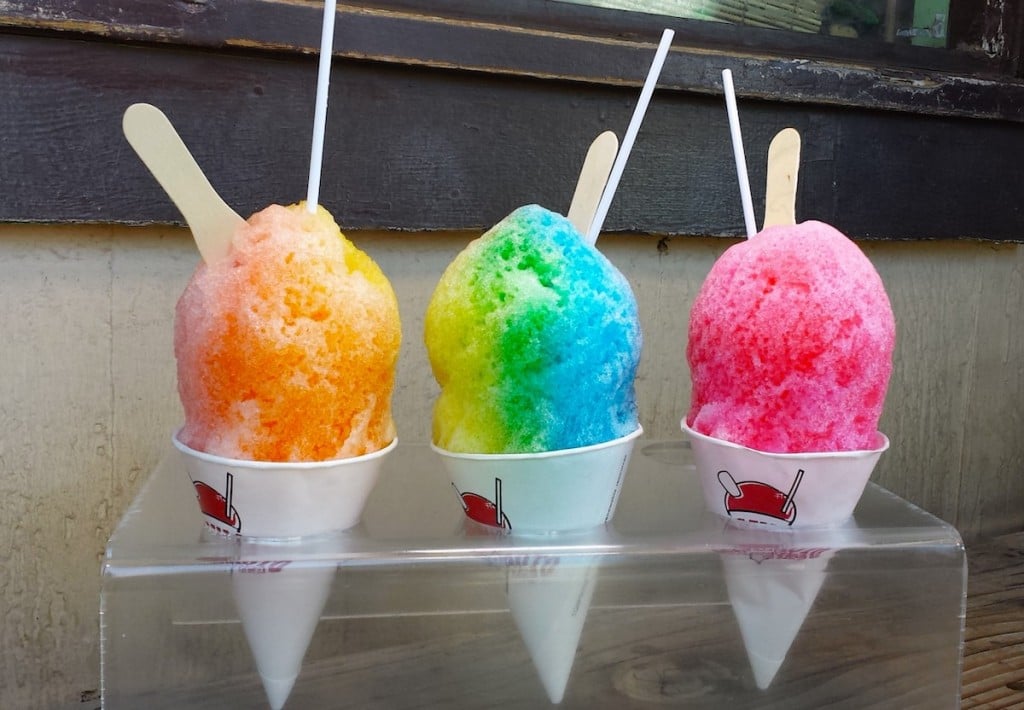 Don't worry, the taste and quality of Matsumoto Shave Ice's popular icy treat haven't changed and it's located in the same area—just bigger and better. The expansion resulted from the construction of the Haleiwa Store Lots, a cluster of recently-built storefronts in the surrounding area, which includes Matsumoto's. And, we are happy to report that the new store is equipped with much needed and fun changes.
1. Parking
And lots of it! The small lot, which used to be right next to the store, is gone (it's now a courtyard). So, that means there's no more crowding the perimeter of the church across the street for parking. Just drive to the back of the new store where there's ample room.
2. Better crowd-flow
Remember how crowded it used to be? Everyone clumped together in one area waiting to order, then you had to squeeze past people to get back out? Well, now, there's a dividing rope in the doorway, with one side to enter and one side to exit. Once in line, you'll follow a one-way, clockwise route that takes you through ordering, paying, picking up your shave ice and exiting to enjoy your snack outside.
3. Shave ice sign
This one is genius. While waiting in line to pay, you can snap your proof-I-was-there Matsumoto's picture without holding up customers behind you. The wall next to the cashier has its logo on it, which is the perfect backdrop for a fun selfie while the person in front of you pays for their order. Additional photo ops can be found outside at the Matsumoto face-cut-out stand.
4. Open kitchen
Yes, you could kind of see the workers making your shave ice in the old store, but the work area was compact. Now, see the entire process. After paying, walk past the production line and watch the store's staff grind the shave ice, shape it into your bowl, or cone, and then add on the syrup and other toppings.
5. Ichiban Special
Previously, Matsumoto's offered what it called a Green Tea Special: green-tea shave ice, topped with condensed milk, azuki beans, mochi balls and a scoop of ice cream. Now, they offer the Ichiban Special, where you can select any flavor you want with all those toppings. Plus, all special orders come in an edible waffle bowl!