5 delicious dining stops on Oahu's North Shore
Where residents and visitors go for quick lunches to take to the beach or dinners with a sunset view.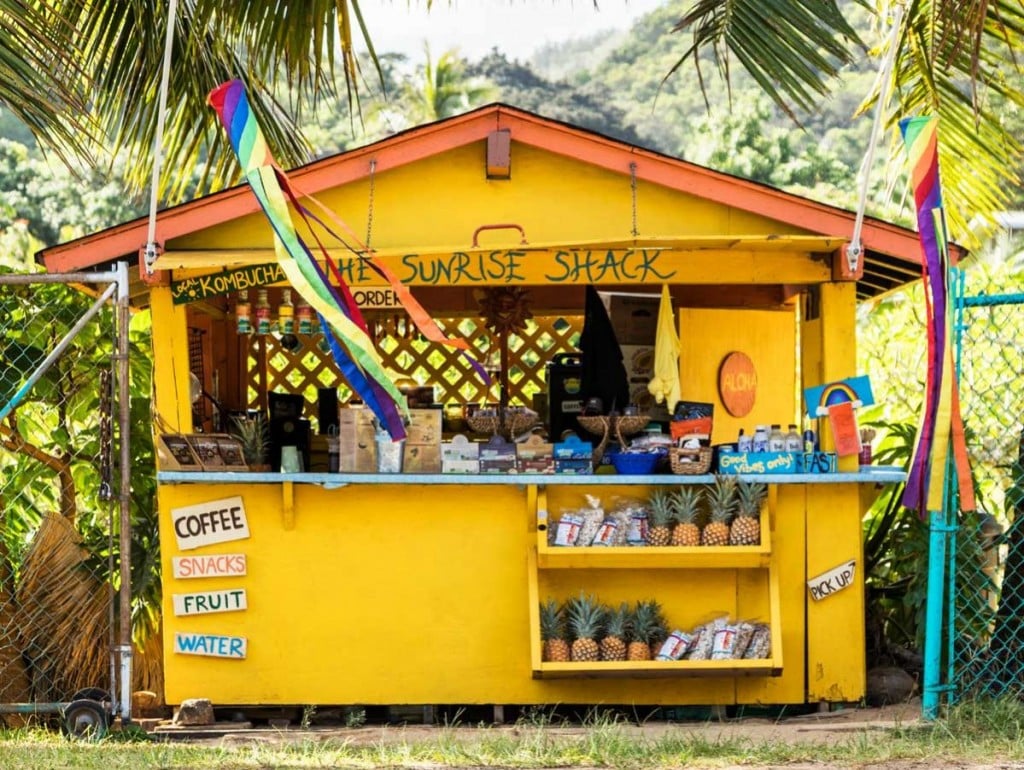 Oahu's North Shore eateries have to be on their game to fuel the active lifestyle of the Seven Mile Miracle's residents and visitors. You'll find coffees made with butter alongside papaya bowls, sandwiches filled with local and organic ingredients, and menus with whole sections devoted to the vegan consumer. The cafés, restaurants and food trucks lining Kamehameha Highway are perfect for quick grab-and-go lunches to take to the beach or for mellow dinners watching dramatic sunsets.
The Sunrise Shack
Established late last year by brothers Travis, Koa and Alex Smith, along with professional surfer Koa Rothman, the Sunrise Shack advocates superfoods and healthy living. The petite yellow shack's main attraction is its many variations of Bulletproof coffee. Creamier than normal coffee, it's said to give you the same caffeinated kick without the crash. Also on the menu are papaya bowls filled with seasonal fruits, peanut butter, bananas and granola. Open daily from 7 a.m. to 2 p.m., 59-176 Kamehameha Hwy., sunriseshackhawaii.com.
Pupukea Grill
If you want a real country experience, visit Pupukea Grill. Sitting neatly across from the picturesque and popular snorkeling spot Shark's Cove, the food truck specializes in ono (delicious) plate lunches, such as its ahi loco moco or spicy tuna poke bowl. It's become a hotspot for local surfers, made apparent by the display of autographed photos of famous watermen, such as Mason Ho and Jamie O'Brien. Open Tuesday through Sunday 11 a.m. to 5 p.m., 59-680 Kamehameha Hwy., pupukeagrill.com.
Haleiwa Beach House
Overlooking Alii Beach Park, where gentle waves push fledgling surfers on their foam surfboards, is Haleiwa Beach House. Opened early last year, this restaurant blends country aesthetic with fine dining, and its chef has been impressing diners with his creative dishes ever since. Our favorites include the spicy tuna club, which is seared just right, the braised short rib, and the mongchong, served with coconut-lemongrass-infused rice. Save room for the Instagram-worthy doughnuts topped with Fruity Pebbles. Open daily from 11 a.m. to 11 p.m., 62-540 Kamehameha Hwy., haleiwabeachhouse.com.
Beet Box Café
Don't be fooled by Beet Box Café's plain exterior. Once inside, you'll find warm colors, local art and patches of greenery strewn around, giving the café a down-to-earth mood, where footwear almost seems optional. The menu of bowls, tacos, burgers and sandwiches is entirely vegetarian and orders are served with copious amounts of fresh veggies, all organically grown and GMO-free. Open daily from 7 a.m. to 4 p.m., 66-437 Kamehameha Hwy., thebeetboxcafe.com.
Banzai Sushi Bar
Near the North Shore Marketplace, Banzai Sushi Bar's slick furnishings, red lanterns and beautiful wood flooring set the mood, while a full sake bar creates a refined, yet, low-key dining experience. Opt to sit at the chabudai (a traditional Japanese short-legged table), then feast your eyes on the nigiri, sashimi, makimono and other raw fish delicacies, prepared by executive chef Hide Takahashi. Open daily from noon to 9:30 p.m., 66-246 Kamehameha Hwy., banzaisushibarhawaii.com.