5 Must-See Cacao Farms on Hawaiʻi Island
Celebrate World Chocolate Day today by touring these Hawaiian cacao farms.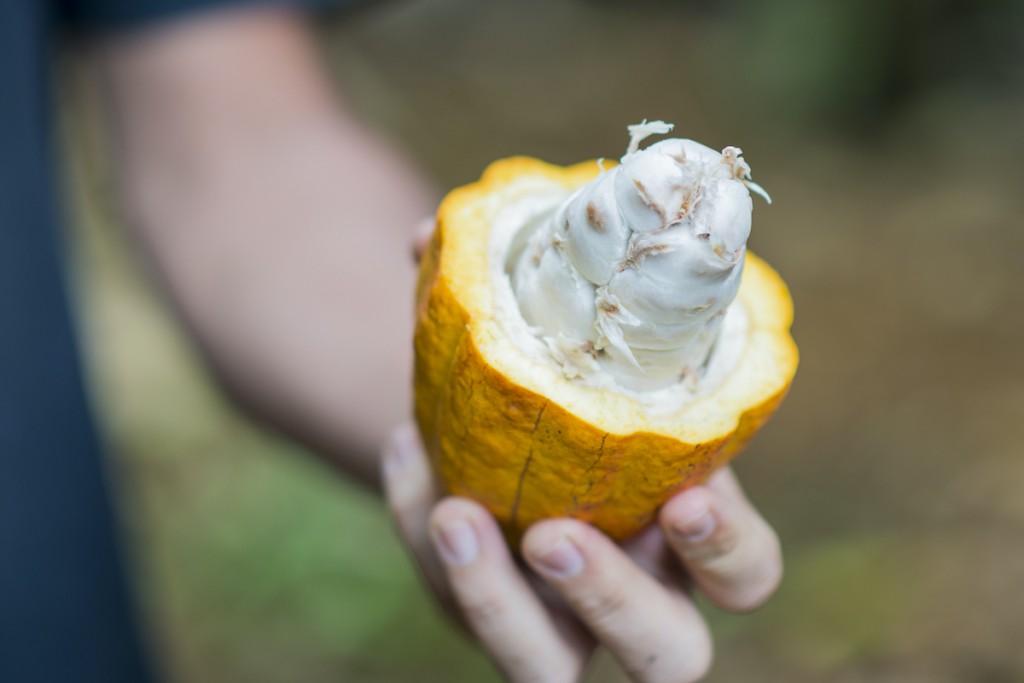 Ever wonder how chocolate is made or how a cacao bean turns into a chocolate bar? Touring a cacao farm (or a few) is the perfect place to learn about the beloved treat. Though cacao is a relatively new commercial crop in the state, farmers on Hawai'i Island are working hard to develop the industry and produce high quality Hawaiian chocolate. Here are five cacao farms you must tour while visiting Hawai'i Island.
Lavaloha
View this post on Instagram
Experience Lavaloha's tree-to-chocolate tour just 10 minutes outside of Hilo. Lavaloha is a 1,000-acre farm and was started after the sugar cane industry collapsed in the 1980s. In 2002, the founders of Lavaloha cleared the land and began growing cacao and other crops. The 60-minute tour is guided by knowledgeable workers who will tell you everything you need to know about cacao and chocolate processing, and you'll even get to taste its 100% Hawaiian chocolate. Cost is $39 per adult and $7 for children 12 and under.
Honoka'a Chocolate Co.
View this post on Instagram
Located on the Hāmākua coast at Kahi Ola Mau farm, Honoka'a Chocolate Co. is home to more than 750 cacao trees and other exotic plants. The 45-minute tour features views of the cacao orchards and the history of the century-old farm and of the district of Hāmākua. Honoka'a Chocolate Co. also offers one-hour chocolate tastings of chocolates from around the world (including Hawai'i). The chocolate is handcrafted in small batches using high quality and fair-trade ingredients. Tours and tastings are by reservation only and have a two-person minimum. Cost is $60 per adult and $30 for children under 10; children under 5 are free.
Puna Chocolate Co.
View this post on Instagram
Puna Chocolate Co. offers farm tours in both Kona and Hilo. Since 2012, about 15,000 cacao trees have been planted on 45 acres of land in Hilo and Kona. Farm tours in Kona last 1 1/2 hours and include walks in the orchard and chocolate tastings. The farm has 600 cacao trees, 2,000 coffee plants, 400 macadamia nut trees, and other tropical plants. Kona tours are $25 per adult. Farm tours in Hilo feature cacao orchards, a cacao nursery, and the "fermentory," along with Hawaiian macadamia nut, coffee and banana trees. Rates are $22 per adult.
Hāmākua Chocolate Farm
View this post on Instagram
For a more in-depth cacao farm tour, look no further than Hāmākua Chocolate Farm in Pāpaʻikou, just 10 minutes from downtown Hilo. In 2 1/2-hours, you can experience farm tours, chocolate tastings, and botanical gardens in one place. Tours and chocolate tastings are on Wednesdays and Saturdays at 1 p.m. for $79 per person. Tours are catered more toward adults. Hāmākua Chocolate Farm also offers overnight farm-stays.
Mauna Kea Cacao
Located 15 minutes away from downtown Hilo in Pepe'ekeo is Mauna Kea Cacao. The owners started the farm in 2011 and won the "Best Cacao" award at the Big Island Chocolate Festival in 2018. Farm tours are offered every Thursday at 10 a.m. and 1 p.m. On the 90-minute tour, you can enjoy views of the 1,800 cacao trees, learn about chocolate processing, and taste the award-winning chocolate. Cost is $40 per adult and $15 per child ages 5 to 17.