5 Must-Try Food Trucks on Kaua'i
From local grinds to high-end sushi, you won't want to miss these spots on your next trip.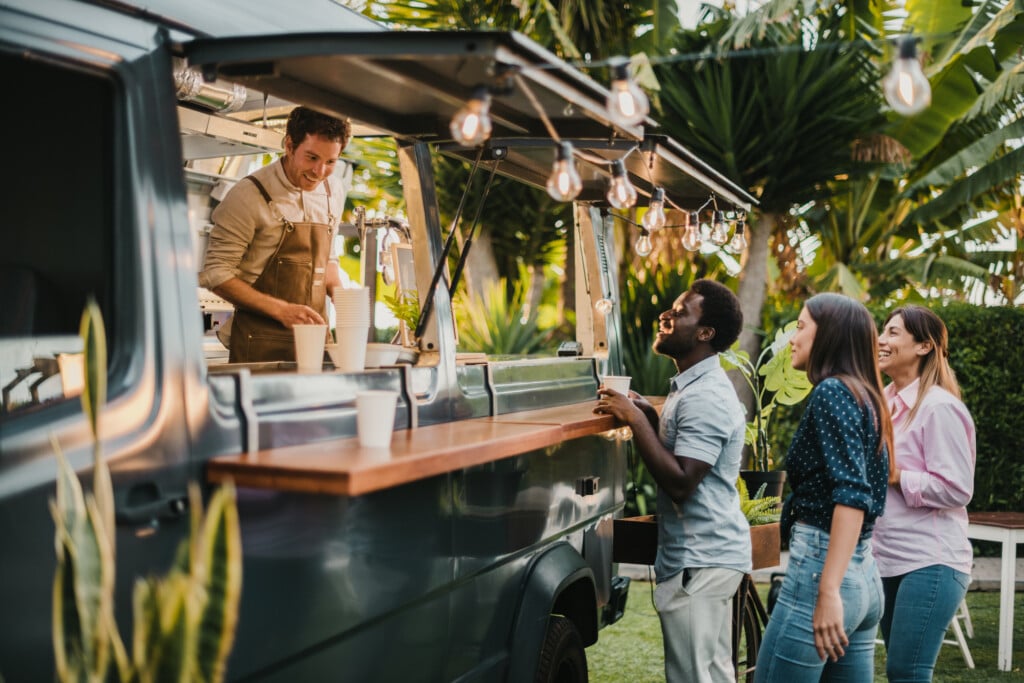 Kaua'i's cultural diversity combined with limited brick-and-mortar rental space has birthed a culinary revolution in the form of food trucks. The Garden Isle boasts some of the best local fare in the Islands, top-tier sushi, Euro-fusion, and even dessert trucks! Whether it be rising overhead costs or the Covid-induced lull in tourism, Kaua'i's chefs have gotten creative in the past couple of years … and you won't believe what they've come up with. The food truck scene is where you'll undoubtedly find the most authentic, unique dishes. Here are five stops that you won't want to miss.
1. Mama Bear's Kitchen
Appropriately named, Mama Bear's is the ultimate comfort food truck with a local flare. Owners Kaya Wester and Joseph (Lala) Lee opened Mama Bear's in July 2021 with the goal of bringing high-quality gourmet food to the community at an affordable price. They keep it simple and delicious with a weekly menu featuring one dish per day.
You can find anything from roast pork moco to wagyu beef sliders or a satisfying Reuben on the menu, but Mama Bear's is best known for its smash burger. Pro tip: Order a teriyaki smash burger for an extra kick!
9935 Kaumuali'i Highway, Waimea, (808) 866-7762
2. Kickshaws
Kickshaws really delivers on its tagline of "not your ordinary truckin' food." As a self-taught chef with a background in biology, chef Seth Peterson describes Kickshaws as "science-forward food." He pushes flavor profiles to the limit with his unique dishes and cooking techniques, and we just can't get enough.
Best known for its Island Catch fish sandwich and 100% Awesome Burger, Kickshaws changes it up weekly with specials including Tasty Thai Tater Tots, the Duckin' Dank Breast Sandwich, and the Kickass Katsu Dog—a fried hot dog (katsu style) topped with roasted fennel, foie gras aioli, and togarashi. Come hungry, and come adventurous. This place does not disappoint.
5371 Koloa Road, Koloa, (808) 651-6750
3. Kaua'i Sushi Station
Don't be fooled by the location of this truck across from the Costco gas station. A meal at Kaua'i Sushi Station rivals any top-tier brick-and-mortar in both quality and variety. Sushi chef James-San offers everything from starters to classic and specialty rolls, sashimi, nigiri, and even vegetarian options.
You'll find the popular Japanese street snack takoyaki to be a unique and delicious starter, and for those who like a little spice, don't miss out on the King Ocean Roll. Authentic, fresh and reasonably priced, this is a necessary stop for any sushi lover.
2403 Ulu Maika St, Līhuʻe, (808) 320-0220
4. 808 Grill
You won't believe the five-star dishes that come out of this Pacific Rim cuisine food truck. Chef Jenna Kerr-Michaels combines Island-style family dining with French and Asian cooking techniques and farm-to-table freshness to deliver an unparalleled culinary experience.
The Double-Fried Brussels Sprouts kicks it off right with savory Portuguese sausage, shaved parmesan, and a balsamic reduction drizzle. But 808's signature dish is the showstopper: The pan-seared mahimahi with jasmine coconut rice, sautéed green beans and sweet Thai chile butter sauce will have you planning your next trip to the truck before you're finished. Located within walking distance of NoKa Fair, it's perfect for a pre- or post-shopping meal.
4-1613 Kūhiō Highway, Kapaʻa, (808) 651-6647
5. Holey Grail Donuts
Holy doughnuts, you will not find a more Hawaiian dessert experience than this. Co-founders Nile and Hana Dreiling use taro, the Hawai'i-grown canoe crop, as the starch for their dough base, setting them apart from your average doughnut. Each doughnut is fried in coconut oil and their weekly tasting box varies depending on what is in season. One of our favorites is the Purple Haze—ube and lilikoʻi. For a savory sweet tooth, we love the Miso Honey doughnut—Miso, local honey and black lava sea salt.
The truck started as a sort of community "Sunday ritual," serving hand-fried taro doughnuts once a week. As word spread through the coconut wireless, the truck expanded to locations on O'ahu and in Los Angeles, with Tony Hawk as its most recent investor. Their incredibly fresh taste aside, these doughnuts are works of art. Hand-decorated with local botanicals and splashes of natural color, these treats are almost too beautiful to eat.
5-5100 Kūhiō Highway, Hanalei, (808) 212-7147