5 Oahu eateries to enjoy Hawaii's new milk and cereal food trend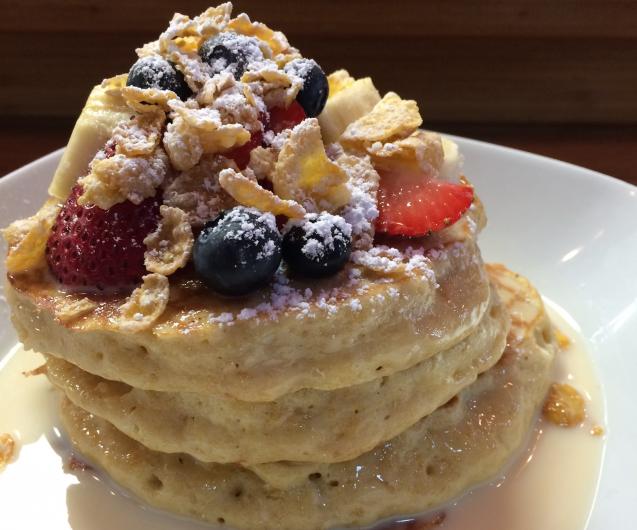 Breakfast is the most important meal of the day, so it's a good thing that one classic breakfast combo is trending: milk and cereal. Whether it's for breakfast, brunch or dessert, here are five Oahu eateries that are serving up different ways to enjoy this breakfast classic.
1. Scratch Kitchen & Bake Shop
Breakfast is served all day at one of the few sit-down breakfast spots in downtown Honolulu. Those with bar seating get up-close viewing of what goes on in the open kitchen. Try the Milk and Cereal Pancakes–a stack of fluffy pancakes drizzled with sweet milk syrup, topped with frosted flakes, seasonal berries and sliced banana. Get it while you can because the menu rotates every few months.
Open daily 8 a.m. to 2 p.m., 1030 Smith St., Honolulu, (808) 536-1669, scratch-hawaii.com.
2. Koko Head Café
Owned by one of Hawaii's acclaimed chefs, Lee Anne Wong, Koko Head Café is an island-style brunch restaurant with hearty and delicious food. Try the Cornflake French Toast, a cornflake-coated French toast topped with frosted flake gelato and bacon.
Open daily 7 a.m. to 2:30 p.m., 1145 12th Ave., Honolulu, (808) 732-8920, kokoheadcafe.com.
3. Via Gelato
Starting as a mobile gelato truck, Via Gelato now has its own storefront in Kaimuki. One of its most popular flavors is the Frosted Flakes Gelato. The cereal is soaked in milk, and its flavors are used in the milk base for the gelato. It tastes just like the cereal milk leftover at the bottom of a bowl.
Open Tuesday through Sunday, 1142 12th Ave, Kaimuki, (808)732-2800, viagelatohawaii.com.
4. Cookie Lady
These cookies just might bring out the cookie monster in you. With unique flavors like sweet and salty mochi crunch or crackling Rice Krispies, there's a cookie for everyone with these revamped family recipes. And, staying on trend, try the cornflake cookies—a crunchy, flaky, buttery goodness.
Open Tuesday through Saturday, 94-449 Akoki St., Waipahu, (808) 671-4715, thecookieladyhawaii.com.
5. Regal Bakery
This donut shop pretty much has it all with unique and delicious flavors. But do try its Crunch donut. It's a vanilla donut, topped with vanilla icing and frosted flakes sprinkled right on top. Yum.
Various locations and times. Visit regalfoodsusa.com for more information.