These Are 5 of Our Favorite Roads in Hawaiʻi for Scenic Views
Buckle up for an Island road trip.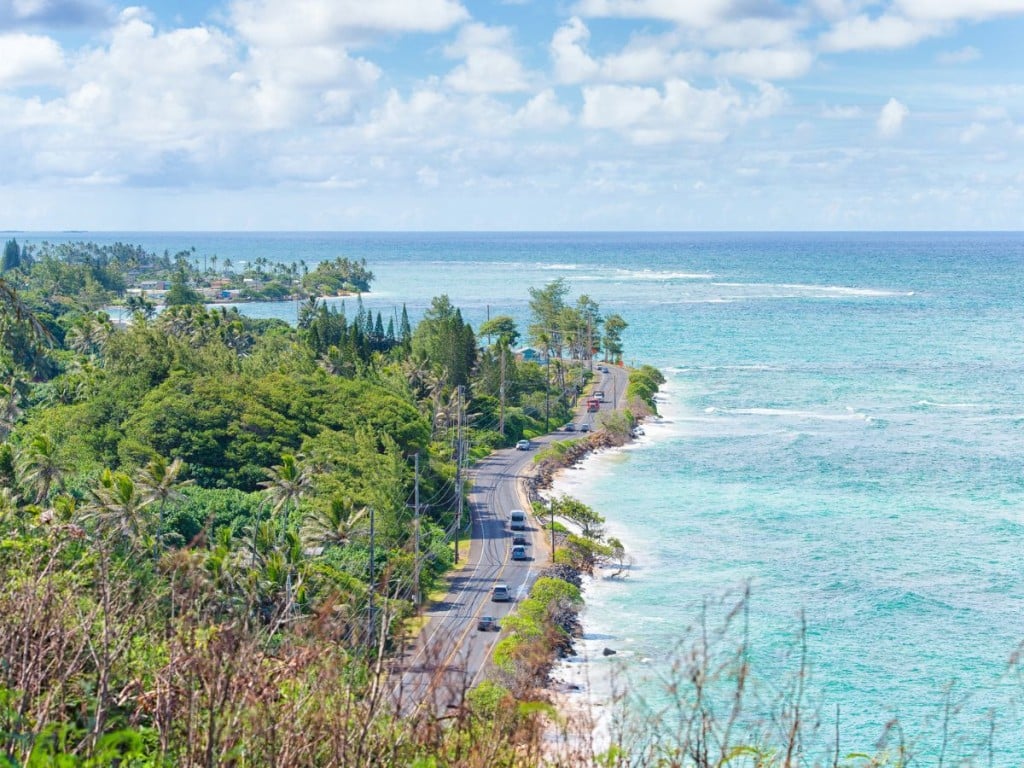 Taking a road trip might not be the first activity that comes to mind when planning a trip to Hawaiʻi. But it should be. What better way to see the Islands than by hitting the road?
Just pick an island and follow the long, winding road that traces its perimeter, exposing majestic cliffs, cascading waterfalls and magnificent seascapes. You can also find roads that reach high up to dormant volcanoes, revealing sweeping vistas. While on your day trip be sure to snap plenty of photos and pull over at a farm stand for some tasty treats, too. Banana bread, anyone?
1. The Road to Hāna, (Hāna Highway, HI-360)
The legendary road to Hāna is one of the most picturesque drives in the state. On Hāna Highway, which snakes 52 miles from Kahului in Central Maui to the island's east side, it's truly about the journey. The road has 620 curves and crosses 59 bridges, taking drivers and their passengers through tropical forests and scenery straight out of "Jurassic Park." Flowing waterfalls are tucked into almost every corner, it seems, and farm stands and botanical gardens dot the sides of the road, serving as rest stops along the way. The road to Hāna is best done with no time constraints: You'll want as much time as possible to explore waterfalls, pick up lunch at a food truck and to just savor the beauty of the place.
How long it takes: The drive from Kahului to Hāna takes about two hours. However, it's about 2 ½ hours if you head out from Wailea and three hours from Kāʻanapali.
2. Oʻahu's Windward Coast (Kalaniana'ole Highway, U.S. Route 61; Kamehameha Highway, U.S. Route 83)
I will always remember the first time I drove along Oʻahu's Windward Coast. On my drive from Kailua to Kahuku, I was enamored by the Koʻolau Mountains to my left and the turquoise ocean on my right. The road still manages to take my breath away.
To drive the entire coast, you'll need to take two highways: Kalaniana'ole, U.S. Route 61, and Kamehameha, U.S. Route 83. For the most part, they trace the coastline from Hanauma Bay up to the North Shore. From Hanauma Bay, you'll pass Sandy Beach, with its notorious shorebreak; the Makapu'u Point Lighthouse and beach, with Mānana and Kāohikaipu just offshore; the town of Waimānalo; and Mount Olomana, a set of three mountain peaks near Kailua. Equally as stunning is the part of the drive from Kāneʻohe to Kahuku. Here, you'll pass Mokoliʻi islet, a macadamia nut farm, the Waiāholi Poi Factory and famed Kualoa Ranch. The verdant forests and sharp ridges of the Koʻolau Mountains have helped give the ranch the nickname "Hollywood's backlot" after being featured in dozens of movies and TV shows. And you get a front-row view from the road.
How long it takes: The drive from Hanauma Bay to Castle Junction is about 35 minutes, and another 50 minutes or so from Kāneʻohe to Kahuku.
3.
Highway to Hanalei (Kūhi
ō
Highway)
Nestled on Kauaʻi's north shore, Hanalei is a small town known for its crescent-shaped bay, acres of loʻi kalo (taro patches) and lush mountains. While the town is a must-visit, the trek up to the north shore is well worth the ride, too. From Kapaʻa, hop on Kūhiō Highway, which will take you through miles of Garden Isle greenery and countryside. Before arriving in Hanalei, make sure to pull over at the Hanalei Valley Lookout in Princeville. Here, you'll enjoy panoramic views of Hanalei's taro patches and beautiful hillside. You'll then cross a one-lane bridge to get into the town center. However, the journey doesn't end there. You can continue to the end of the road, which stops at Kēʻē Beach in Hāʻena State Park. (Out-of-state visitors will need to make reservations to enter the park.) From Hanalei to Kēʻē Beach, you'll pass pristine shores like Mākua Beach known for incredible snorkeling conditions and Lumahaʻi Beach where "South Pacific" was filmed. From Kēʻē Beach, the Nāpali Coast is right around the corner.
How long it takes: The drive is about 40 minutes from Kapaʻa to Hanalei and 80 minutes from Poʻipū.
4.
Haleakalā's Hillside (Haleakalā Highway)
Watching the sunrise from the summit of Haleakalā is one of the most popular things to do on Maui, but the peak offers great views long after sunup, too. Plus, you'll be completely awake to enjoy them. As you make your way to the 10,000-foot summit on Haleakalā Highway, you'll drive through a sea of purple jacaranda trees, fields of lavender and miles of quiet countryside. And the views keep getting better as you make your way above the clouds on Crater Road, a continuation of Haleakalā Highway. Once you enter Haleakalā National Park, take the winding road to the visitor center and summit.
How long it takes: The drive is about 60 minutes from Kahului to the entrance of Haleakalā National Park, which is about 7,000 feet above sea level. It's about another 20 minutes to the summit.
5. Climb to Waimea Canyon (HI-550)
Stretching 14 miles long and more than 3,600 feet deep, Waimea Canyon on Kauaʻi is one of the state's most remarkable geological features. The lookout of this natural wonder is at an elevation of about 3,400 feet, which makes for a scenic climb—especially on a cloudless day. Waimea Canyon Drive (Highway 550) starts in Waimea Town and is about 10.5 miles from the lookout. Like the road to Hāna, the drive to Waimea Canyon twists and turns, with multiple lookouts and vantage points along the way. If you're lucky, you'll spot the island of Niʻihau to the west.
How long it takes: The drive is about 30 minutes from Waimea Town to the Waimea Canyon Lookout.
Honorable Mention: Honoapiʻilani Highway (HI-30)
If you've ever driven to Maui's west side, you probably took Honoapiʻilani Highway. And you probably were stuck in traffic. During the winter months, stop-and-go traffic makes it easy to spot breaching whales off the coast; any other time of the year, though, it's no fun being stuck on Honoapiʻilani Highway.