5 Popular Outdoor Hawaiʻi Attractions that are Reservation-Only
From Diamond Head State Monument on Oʻahu to Hāʻena State Park on Kauaʻi, you'll want to reserve your spot at these iconic locales.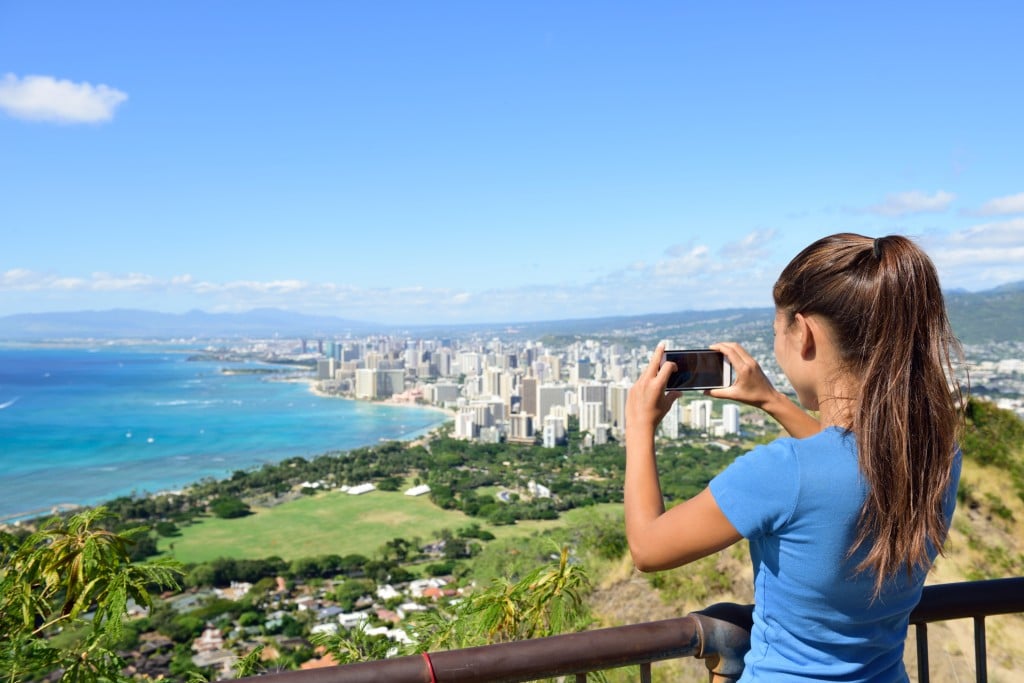 Ever wonder if you need a reservation to enjoy outdoor Hawaiʻi attractions?
Well, wonder no more. You do, at some of them anyway. And what would suck more than showing up at Hanauma Bay on Oʻahu, snorkeling gear ready to go, only to be turned away at the gate because the place is already booked up for the day? Don't let it happen to you: Do your research ahead of time by checking out our informational guide below for five popular Hawaiʻi attractions. It tells you what you need to know before heading out.
1. Diamond Head State Monument
Since May 12, 2022, reservations have been required for out-of-state visitors—kamaʻāina can still get in without a reservation—to trek up Lēʻahi, commonly referred to as Diamond Head. The reservation system was put into place to mitigate hiker congestion and protect the natural resources of the surrounding area—as well as to relieve parking issues in nearby neighborhoods. Entry is $5 per person—keiki (kids) under the age of 3 get in free—and $10 per noncommercial vehicle.
To make your reservation and for additional information, visit the DLNR's website.
READ MORE: Reservations Will Be Required at Hawaiʻi's Most Recognizable Landmark
2. Haleakalā National Park (3 to 7 a.m.)
For many, seeing the sunrise from Haleakalā National Park on Maui is a Hawaiʻi-vacation bucket list item. However, you'll need a reservation to check out the epic view—and you'll want to make it well before your trip, as sunrise spots on Haleakalā sell out months in advance. Fortunately, the cost is cheap ($1 per ticket) and the reservations are really designed to ensure the summit isn't overcrowded. If you can't book in advance, Haleakalā is also one of the best places in Hawaiʻi—and possibly the world—to watch the sunset, which you don't need a reservation for.
Make your reservations for the Haleakalā National Park sunrise experience here.
3. Hāʻena State Park
For hikers and nature lovers, Hāʻena State Park on Kauaʻi is mecca. There's so much to do and see at the park, home to one of the best trails in the Islands, the Kalalau Trail, which snakes into, out of and around the Nāpali Coast's rugged ridgelines. And yes, if you're from out of state, you will need to reserve in advance to access the park. Kamaʻāina with a Hawaiʻi driver's license or state ID can enter without a reservation on a first-come, first-served basis. For out-of-state visitors, reservations cost $5 for those entering without a car and $10 for a parking time slot plus the $5 per person entrance fee.
To make your reservation and for additional information, visit gohaena.com.
4. Waiʻānapanapa State Park
Home to a ruggedly handsome shoreline, a black sand beach and more, Waiʻānapanapa State Park is a visitor favorite and well worth the drive on The Road to Hāna. And, as of April 19, 2021, all nonresident visitors are required to reserve an entrance and parking pass. Reservations must be made at least a day before visiting the park, and visitors planning ahead can purchase their tickets into Waiʻānapanapa State Park as far as 30 days in advance. Since there isn't much parking outside of Waiʻānapanapa State Park—the road leading up to the park is privately owned and your car could be towed if you park there—it's imperative that visitors also remember to reserve a parking pass for their planned visiting time. Passes are $5 per person, and $10 per noncommercial car.
To make your reservation and for additional information, visit the DLNR's website here.
5. Hanauma Bay Nature Preserve
While it's not required to reserve in advance, those looking to visit Hanauma Bay Nature Preserve may want to plan ahead. Open to the public Wednesday through Friday, walk-in tickets are available for purchase at 6:45 a.m.—when the park opens—however, they are very limited and sell out quickly, with people arriving well before Hanauma Bay's opening time to line up for a chance to get one. Online reservations can be made two days in advance—starting at 7 a.m. Hawaiʻi Standard Time—and even those can go quickly, selling out in as fast as five minutes.
To make your reservation and for additional information, visit Hanauma Bay Nature Preserve's website here.