5 Premium Hawaii Hotel Options that are Worth the Upgrade
At these Hilton properties, luxury and privacy go hand in hand.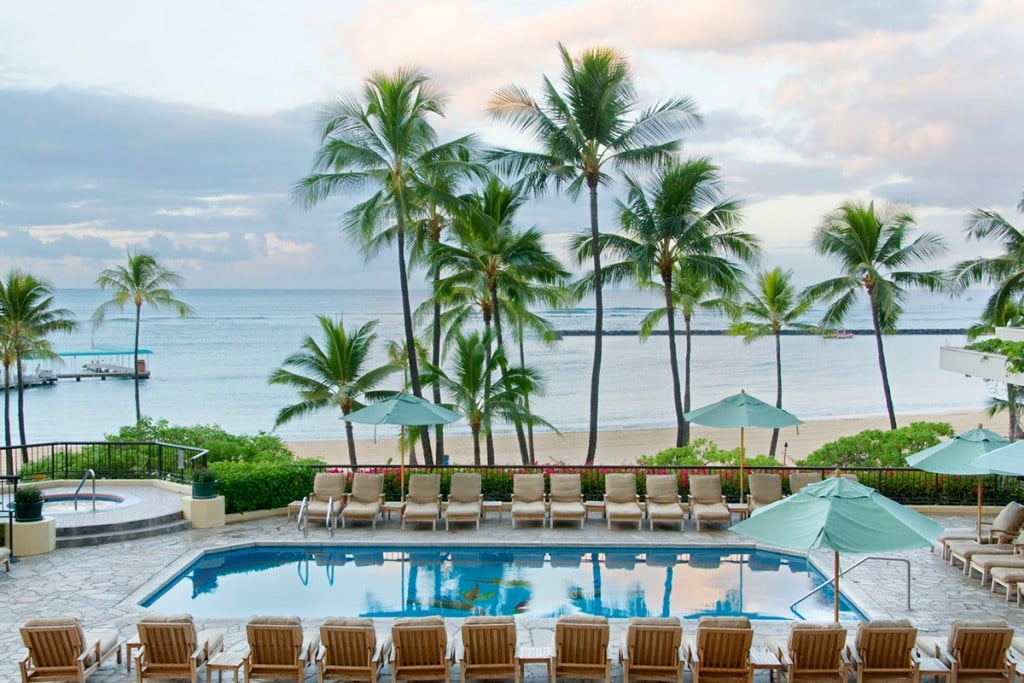 There's something to be said about arriving at your hotel and getting an exclusive key to a private floor where you know that, without a doubt, you will be well taken care of. Whether it's a complimentary morning buffet, private concierge desk or just bigger and better rooms, splurging for additional benefits can improve your hotel experience immensely. And at these Hilton properties, paying a little extra can go a long way.
Hilton Garden Inn Kauai Wailua Bay
Nothing says luxury like living out of a suite, and the suite options at the Hilton Garden Inn on Kauai—the one-bedroom ocean view suite and the junior suite with an ocean view and sofa bed—are worth every penny. These rooms come with king-size beds, Neutrogena bath products, blackout curtains, a stunning view of the Pacific Ocean and more. If you want even more space and privacy, however, the Hilton Garden Inn's beach cottages, which feature their own living rooms, outdoor lanai (porch) and modern amenities, can't be beaten. 3-5920 Kuhio Hwy., Kapaa, Kauai. For more information, visit its website.
Embassy Suites Waikiki Beach Walk
How could staying in an all-suite hotel just steps from the beach and some of the best shopping in Waikiki get better? Oh, it can. Upgrade to a premium suite at the Embassy Suites Waikiki Beach Walk and get complimentary non-alcoholic beverages, local snacks and K-cup coffee selections, all replenished daily. All guests receive free made-to-order breakfast and complimentary drinks and pupu at the nightly evening reception at the hotel's pool. 201 Beachwalk St., Honolulu, Oahu. Visit its website.
Hilton Waikiki Beach
The executive rooms of the Hilton Waikiki Beach, located at the top of the 37-floor hotel, will provide you with a bird's-eye view of Waikiki and much of the surrounding area. After checking in and receiving a special security card to access the executive floors, guests can check out the private executive lounge, which offers a light breakfast every morning and hors d'oeuvres every evening. You'll have to leave your room to enjoy these pleasantries, which can be a hard task when these suites have a 42-inch plasma screen TV, marble bathrooms and an unreal view of Waikiki from the balconies. 2500 Kuhio Ave., Honolulu, Oahu. For more information, visit its website.
Hilton Waikoloa Village
When making reservations at the Hilton Waikoloa Village, the hardest choice you'll have to make is whether to upgrade a suite in MAKAI at Lagoon Tower with an ocean or mountain view. While the views may be different, the premium accommodations in these MAKAI rooms are the same: a dedicated concierge, reserved seating at the Kona Pool, priority restaurants reservations, plush robes, signature Coco Mango bathroom amenities and complimentary access into the Kohala Spa's facilities, which include a Jacuzzi, steam room and fitness center. 69-425 Waikoloa Beach Drive, Waikoloa Village, Hawaii Island. For more information, visit its website.
Hilton Hawaiian Village Waikiki Beach Resort
In Hawaiian culture, alii were considered Hawaiian royalty and held a high status in the community. And that's how the guests at the Hilton Hawaiian Village Waikiki Beach Resort's Alii Tower are treated. Guests staying in the tower will have access to a dedicated concierge, who will assist you with all of your reservations for activities and restaurants. Alii Tower occupants will also have exclusive access to the Alii Pool Terrace and Mixbar, which features a poolside bar and whirlpool, and also happens to be the best place in Waikiki for watching the Friday night fireworks. 2005 Kalia Road, Honolulu, Oahu. For more information, visit its website.
Grand Wailea, a Waldorf Astoria Resort
If staying at the Grand Wailea, a Waldorf Astoria Resort wasn't luxurious enough, the VIP comforts provided by staying in a Napua Club room or suite raises the bar even higher. Gated off from the rest of the resort, the Napua Lounge, decked in modern decor with wide windows looking out to Haleakala, also provides guests with myriad amenities, such as complimentary breakfast, hors d'oeuvres, cocktails, tea and even a dessert buffet aptly named Chocolate Decadence. 3850 Wailea Alanui Drive, Wailea, Maui. For more information, visit its website.