5 Surprising Facts About These Popular Hawaiʻi Landmarks
Learn more about some of Hawaiʻi's most iconic landmarks.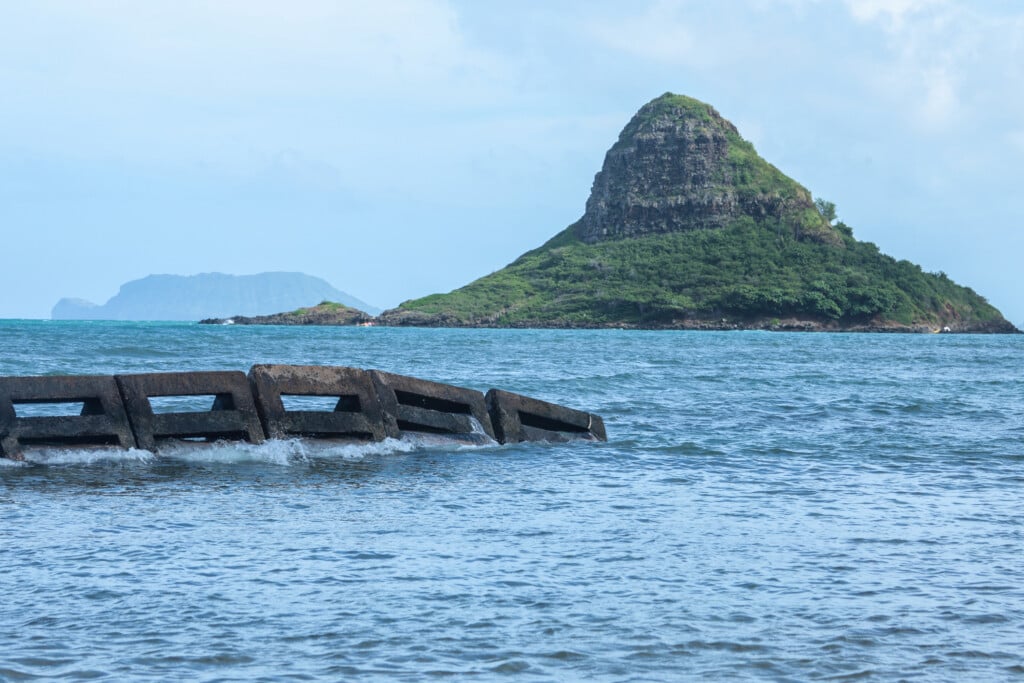 At a glance, Leʻahi (Diamond Head) amazes visitors and locals with its raw beauty and natural splendor. And the same can be said for many Hawaiʻi landmarks, like Kukaʻemoku (ʻIao Needle) and Mokoliʻi Island. But behind the visual appeal, many of the landmarks hold historic and cultural value to Native Hawaiians, often being important figures in moʻolelo (legends) and the culture itself. Furthermore, there are even smaller tidbits and trivia lost to time that involve these wonderful Hawaiʻi landmarks. Here are a few of our favorite fun facts about these iconic Hawaiʻi places that you may not know about.
1. Diamond Head Had Its Own Woodstock
The Sunshine Festival, which ran from 1969 to 1978, was hosted in the crater of Diamond Head and had some of the biggest names at the time—Carlos Santana, America, Styx, Journey, War and Tower of Power, alongside Hawaiʻi talents like Cecilio & Kapono and the Mackey Feary Band—playing to thousands in attendance. It was eventually shut down due to its increasing popularity, which was leading to damage and decay of the natural surroundings in the crater.
2. The Haleʻiwa Sign Isn't the Original
Did you know, the Haleʻiwa signs you see when driving to the town aren't the originals? Actually, far from it. The original signs were put up in 1996 by Californian artist Carole Beller, who was paid $15,000 to erect three signs that would draw attention to the North Shore's iconic surf town, Haleʻiwa. These signs ended up featuring red boardshorts-clad surfers in the pit of a wave with white lettering spelling out the town's name. Before long, each of the signs was covered in graffiti and one sign was even stolen.
After constant restoration projects, the North Shore Chamber of Commerce began distancing itself from the signs, as they were becoming a financial burden. Finally, in 2005, only one sign was left standing, however, its iconic surfer had been sawed off back in 2004. The perpetrator only left a pair of tan feet atop a yellow surfboard. A Japanese surfer and artist, Tatsuro Oda, restored the original sign, but even that was eventually taken down completely and a new sign with the same design—done by Beller once again—replaced it.
3. Kukaʻemoku Was Used as a Wartime Lookout
While entering ʻIao Valley was considered kapu in ancient Hawaiʻi, as many aliʻi (royalty) were laid to rest there and Kukaʻemoku (ʻIao Needle) itself serves as an altar to the sea god Kanaloa, things were different when it came to wartime. In fact, the needle was used as a lookout by Hawaiian warriors to easily get a read on enemy movements. Of course, scaling Kukaʻemoku must have been a herculean effort—the landmark rises over 1,200 feet from the base of the valley in a near-vertical climb.
4. Mokoliʻi Island Isn't a Hat—It's a Tail
A striking figure in the crystal-clear Kāneʻohe Bay waters, Mokoliʻi Island is one of Oʻahu's best islets to visit—there are so many ways to get out there—but its Western name, Chinaman's Hat, has not aged well, to say the least. Its given Hawaiian name, Mokoliʻi, sounds much better and has a great story to tell. In an abbreviated version, Hawaiian moʻolelo says that the islet is the remains of a giant lizard's tail, which was thrown into Kāneʻohe Bay by Hiʻiaka, the goddess of hula, who had slain the monster. The island's name, Mokoliʻi, actually translates to "tiny lizard" in ʻōlelo Hawaiʻi.
5. Hawaiʻi Volcanoes National Park Is Seriously Huge
To call the Big Island big is really unnecessary—it's right in the name!—but even its landmarks are massive in size. Hawaiʻi Volcanoes National Park, which is home to both to two of Hawaiʻi's most active volcanoes, Kīlauea and Mauna Loa, comes in at roughly 523 square miles in size, which is almost as big as the entire island of Oʻahu—597 square miles. Of course, you can't go anywhere you want in Hawaiʻi Volcanoes National Park, but there is more than enough there to fill a few days of activities—from hiking trails to scenic outlooks and more.