How to Kayak to Oahu's Favorite Islet, Chinaman's Hat
Off the coast of Kaneohe Bay, Mokolii Island, also referred to as Chinaman's Hat, entices adventurous locals and visitors with its rugged hikes and private coves.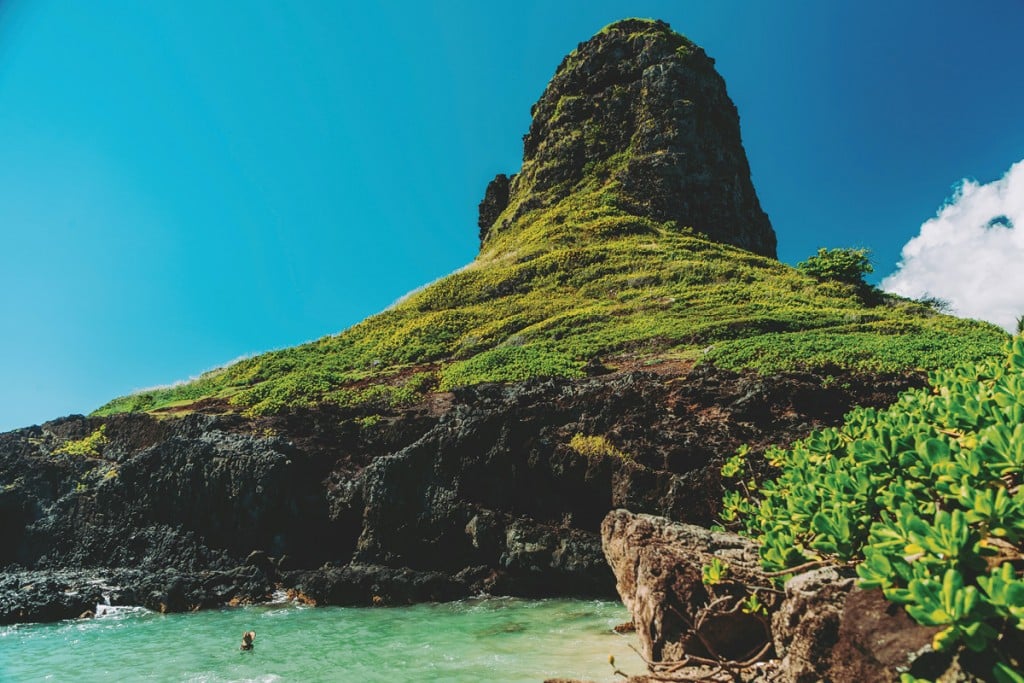 Digging my bright yellow paddle into the calm turquoise seas, my kayak glides over the crystal-clear Kaneohe waters, with Mokolii Island, often referred to as Chinaman's Hat, coming closer and closer into view. I can't help but comment on how perfect the weather is, which causes my girlfriend, Kaila, to mention how I've said that "like 20 times already." Fair enough, but on this sunny Sunday morning, the east side of Oahu, with its cloudless blue skies, vibrant Koolau Mountain Range and calm, glassy seas, is truly showing us its best.
Behind us, a friend I brought along is taking a quick swim, sticking near his bright-orange one-man kayak, while our photographer and his wife are well on their way to the island—just a third of a mile off the coast—paddling in near perfect unison. Now nearly halfway there, I look back at Kualoa Regional Park, where we launched our kayaks from, and take it all in.
With calm waters and a high tide—important factors to consider when making the trip over to Mokolii Island via kayak—our group decides to dock in the small sandy cove on the backside of the island rather than the rocky beach facing us. Paddling around the side of Mokolii, I'm stunned at how large the islet actually is, and how high our group will have to hike to reach the top.
We begin angling our kayaks one by one toward the cove and paddle in. Although making landfall isn't difficult for us, this side of the island does face open ocean, and I can see how it would be challenging, if not impossible, to dock in rougher conditions.
After dragging our kayaks high up on the rocks and anchoring them to nearby foliage, we explore our new surroundings. We're the first ones today to dock in the cove, which means we've got it all to ourselves. The water, given a light-blue shade from its shallow, sandy bottom, is coaxing us to go for a swim. There are barely any waves coming into the bay, and my friends immediately wade into the water. Looking at this scene from up-high at the border of the cove, I can't help but appreciate every natural occurrence it must have taken to create this solitary seashore. As a small surge of water flows in toward our private beach, I leap in.
We continue for the next hour splashing, lounging and swimming in our little blue lagoon, then head inland and upward. Looking toward the top of Mokolii Island and its unique landscape, I'm reminded of how the place got its name. Hawaiian moolelo (legend) says that the islet is the remains of a giant lizard's tail, which was thrown into Kaneohe Bay by Hiiaka, the goddess of hula, who had slain the monster. The island's name, Mokolii, actually translates to "tiny lizard" in olelo Hawaii (Hawaiian language). There are a few paths to the summit of Mokolii Island, none of which are marked and all are overrun with vegetation; the easiest path is on the opposite side of the island, where most kayakers will land. My group finds a small trail in the brush at the rocky outcropping above our beach; we walk by plants native to Hawaii, weaving around the heart-shaped leaves of the 'ahu 'awa, working past shrubby naupaka and taking a moment to admire yellow and red ilima flowers.
We're not at the top yet, but after 10 minutes of hiking, we've reached our first lookout. Peering out of the brush, I get my first bird's-eye view of Kāne'ohe Bay, and it's epic. From this height, I'm able to see the entire stretch of beach that spans Kualoa Regional Park, and even get a good look at Kualoa Ranch. In the waters below us, I see a few kayakers paddling in, their red kayaks contrasting sharply with the blue ocean. Looking up, the peak of Mokoli'i Island still stands imposingly above us, but we're getting closer.
A little farther up, we come to another outlook. Sitting on a rocky peak, just below the top of the hat, I tell myself not to look down—but the view from up here is just too good. Disregarding the lump forming in my throat, I grab another glance from the skyscraping perch. From this height, I'm able to see even more of the east side of Oahu, and my eyes wander past the beaches and toward the Koolau Mountain Range, which even at my altitude, still towers over us. Kaila joins me on the ridge, which is at the trail's end, and we pose for a few photos. A few of my friends decided not to brave this stretch of the hike, and I don't blame them. The small path and minor scrambling to get here is definitely not for everyone, and the only way to the tippy-top now is by climbing up a short, but jagged, cliffside. I decide to tackle it, and once again, remind myself not to look down.
Placing every hand and foot with the utmost care, I'm just about done with this nerve-wracking climb, and, hoisting myself over one last stretch, I finally reach the summit. The top of Mokolii Island consists of a small, flat, lightly vegetated viewing area. Looking out to the navy-blue sea stretching into the horizon, I'm filled with a feeling of triumph. Peering down on Mokolii, I watch kayaks mosey their way over to the island, and am reminded that we were there just an hour ago. Taking a seat to catch my breath, a rush of wind blows through my hair. The sun's intense rays are being cooled by the lackadaisical clouds hovering above, and like a broken record, I can't help but utter, "this weather is perfect."
Additional Information and Safety Tips
The city does not maintain trails on Mokolii, and Kualoa Regional Park, the nearest beach, only has lifeguards on duty during summer months and on weekends and holidays. Be aware of changing ocean and weather conditions. The trade winds tend to make it an easy paddle to the island, but returning can sometimes be much more difficult. Be mindful of the wildlife that inhabit the island, too. Daily tide reports can be found at tide-forecast.com, and surf forecasts at prh.noaa.gov/hnl/pages/SRF.php. If you'd rather not tackle this adventure on your own, Tim Underwood of Tim's Tours offers guided kayak tours to the island, as well as snorkel, scuba and hiking tours. timstours.net, (808) 462-0032.