5 surprising Hawaii snacks made with poi
Enjoy the traditional Hawaiian purple root in these delicious forms.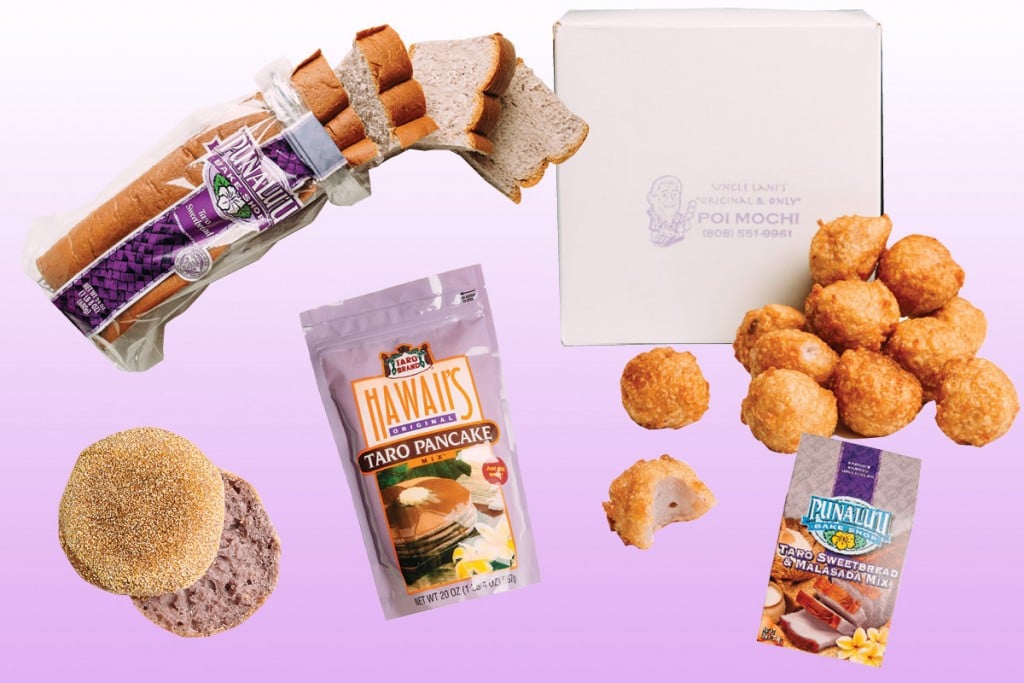 Native Hawaiians made poi by steaming the root of the kalo (taro) plant, mashing it into a paste and mixing it with water. Today, you'll see poi served alongside traditional Hawaiian foods, but you can also enjoy it in delicious modern forms, too.
TARO SWEETBREAD AND MALASADAS

The Punaluu Bake Shop opened in 1991 and features a popular bakery and visitor center on Hawaii Island. The company is famous for its sweetbread, which is lighter and fluffier than regular bread (and makes amazing French toast). Malasadas are another island favorite; these Portuguese-style doughnuts are heavy, sweet and don't have holes in the center. You can make either treat using taro-based baking mixes. The purple mixes will create either three 24-ounce loaves of sweetbread, or three dozen malasadas.
$13.99 plus shipping. Punaluu Bake Shop, bakeshophawaii.com.
POI MOCHI
Sweet, sticky mochi is a Japanese dessert made from pounded rice. Uncle Lani's Poi Mochi creatively came up with a delicious hybrid of taro and mochi 24 years ago and has been delighting customers ever since. The snack is a bit like deep-fried pudding balls: crunchy, oily and slightly savory. Check the company's social media channels to find where it will be selling these tasty treats next.
55 pieces for $20. Pre-order by texting or calling (808) 551-9961. More info at @Poi_Mochi on Instagram and Twitter, or facebook.com/UncleLanisPoiMochi.
TARO PANCAKES
Poi pancakes are healthier for those who are lactose intolerant, because they don't contain any dairy products like buttermilk pancakes do. This delicious mix features dehydrated poi blended with wheat flour. Plus, you can get a three-flavor variety pack (original, taro macadamia-nut and taro chocolate-chip), an easy way to whip up a Hawaiian breakfast for the folks back home.
$7.49 at Times Supermarkets. HPC Foods, tarobrand.com.
POI ENGLISH MUFFINS
The English had a big influence on Hawaiians in history, so it doesn't seem odd for there to be taro English muffins. They're made by local bakery Hawaii Star and have a thicker consistency than a regular version, as well as a sweeter taste that comes from the poi, and a lovely purple hue. They are amazing in the morning with some Kona coffee or a spot of tea.
$4.79 for 6-pack at Times Supermarkets or $6.98 at Sam's Club in Hawaii for a variety pack.