5 Unbelievable Signature Big Island Golf Holes You Need to See
When it comes to golf courses designed to show off the beauty of their surroundings, these holes take it to the next level.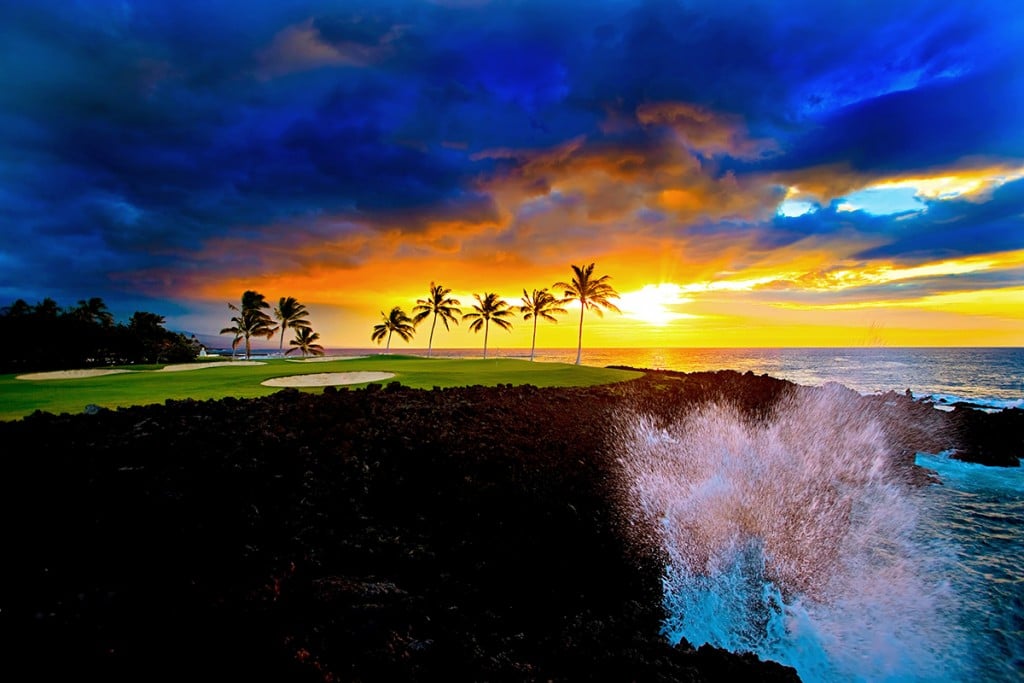 The beautiful thing about golf courses is that, by design, they're meant to exhibit the natural beauty and surroundings they're set in. And in Hawaii, that visual wow factor is only multiplied thanks to our Islands' natural beauty, beaches and almost-always sunny demeanor. Below we've highlighted some of the Big Island's most scenic golf holes.
1. Hualalai Golf Club's 17th
A par 3 that plays toward makai (ocean), this short but difficult hole is a great way to cap off a day of golf. As you tee off, you'll be met with a grand view of the Pacific Ocean just beyond the putting green. Designed in 1996 by one of the sport's all-time greats, Jack Nicklaus, the hole is given an added challenge—and visual appeal—as it's surrounded by well-placed sand bunkers and naturally formed lava rocks.
For more information or to reserve a tee time, visit its website.
2. The Waikoloa Beach Course's 7th
Although every hole on this par-70 course, designed by Robert Trent Jones II, provides golfers with dramatic views of the Big Island's western coastline, its seventh hole in particular rises above the rest. Lava fields flank the fairway, and the ocean is straight ahead. Don't let the crashing waves, swaying palms and, if you're playing later in the afternoon, magnificent sunset take up too much of your attention: The wind blows harder here than anywhere else on the course and can push your ball off course with ease. Let's hope you booked a room at the nearby Hilton Waikoloa Village, where you can finish your round with a lomi lomi massage at the Kohala Spa.
For more information or to reserve a tee time, visit its website.
3. Mauna Lani North Course's 17th
Built on a bed of lava rock, this course, designed by golf course architects Homer Flint, R. F. Cain and Robin Nelson, features a unique aesthetic as greens and fairways are split up by jagged aa (the sharper, less smooth lava rock) and kiawe trees. The course's 17th hole, a 140-yard par 3, perfectly utilizes this natural, raw aa, as golfers tee off from an elevated tee to a green surrounded by a ring of lava rock.
For more information or to reserve a tee time, visit its website.
4. Mauna Kea Golf Course's 3rd
Mauna Kea Golf Course's third hole, which goes against the commonly held idea to save your showstopper for the end, requires golfers to drive their ball from its perfectly manicured tee, over the biggest water hazard on earth—the ocean itself—to the open fairway. This epic shot, designed by world-renowned golf course architect Robert Trent Jones Sr., encapsulates everything that makes golfing in Hawaii such a magical experience.
For more information or to reserve a tee time, visit its website.
5. Makani Golf Club's 17th
Formerly known as the Big Island Golf Club, Makani Golf Club's 17th hole features a unique island green layout (that's when a putting green is surrounded by a lake or large body of water). As challenging as it is eye-catching, this hole may require a few strokes over par to safely navigate, but it's worth it, knowing you've successfully golfed an island green—on an actual island.
For more information or to reserve a tee time, visit its website.