6 delicious eateries inside Oahu's new Shirokiya Japan Village Walk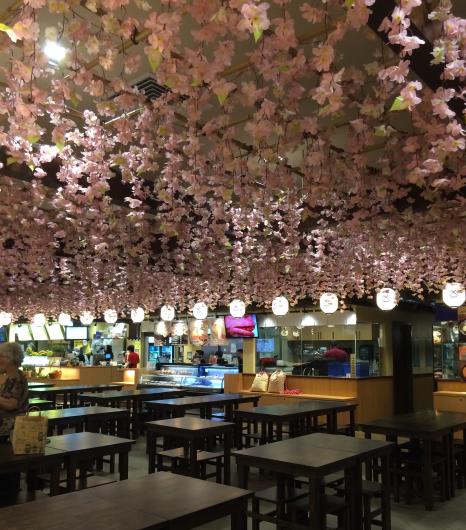 Honolulu's massive Shirokiya department store in the Ala Moana Center—the last bastion of a company formerly omnipresent in its native Japan—just got a revamp and a new name: Shirokiya Japan Village Walk. On June 25, the company reopened in the Ewa Wing of the mall and, the "store" feels now more than ever like you've stepped out of Hawaii and into Japan. Shirokiya's new format, which they're calling a "theme park village," is styled to look and feel like a monzen-machi Japanese town.
Though the layout is certainly unique, the food is what's got all of Honolulu buzzing. The company's food court was already impressive, but now it's truly epic: 32 unique food vendors line the narrow walkways past Japanese artwork and a spirit garden sanctuary. The offerings are as diverse as you'd expect in an entire Japanese town—ramen shops, bentos and curry stands, sushi shacks, a bakery, Wagyu steak spots, pasta joints and even a Japanese-style creperie.
We've identified six not-to-miss stops on your next visit. But, be warned, you may need to return several times to do them all justice!
Gourmet Plaza
OK—it's kind of cheating to list this as one place—the Gourmet Plaza is actually comprised of 14 unique bistros in close proximity—but choosing between Wagyu katsu, delicious hot pots, fresh sashimi, pork dishes is something we'll leave up to you. Come here for Shirokiya's best selection of higher-end Japanese fare.
Takoyaki Yama-chan
Here you can watch skilled chefs fire up their griddles and cook up hot Osaka-style okonomiyaki, a Japanese pancake, and takoyaki, fried savory balls of goodness. Fresh okonomiyaki is produced every fifteen minutes or so, and you'll known when the next batch of takoyaki is ready: the chefs beat a Japanese drum that can be heard throughout the food court.
Marion Crepes
The only Hawaii location of an extremely popular stand hailing from the Harajuku district of Tokyo, Marion Crepes serves the thin French pancakes Japanese-style in a wide selection sweet and savory of flavors. Try shrimp and cheese with pizza sauce for dinner and strawberry and banana chocolate cheesecake cream for dessert.
Musubi Cafe Iyasume
A one-stop-shop for Hawaii's favorite grab and go snack, Musubi Cafe Iyasume serves all kinds of fresh-made musubi including traditional spam, more unusual ume plum (Japanese salt plum) and the unique and filling four-in-one spam, egg, bacon and avocado.
Kulu Kulu
Kulu Kulu is a Japanese-style bake shop offering a huge selection of sweets both elegant and cute. Try their signature green tea tiramisu or red bean- and chocolate-filled mini waffles shaped like Hello Kitty. Also, be sure to look—if not taste—the "Kulu Kulu Zoo," five of their signature items molded into cartoon-esque animals such as bunnies and ducks.
Yataimura Beer Garden
As if sipping a cold brew surrounded by a veritable cornocoupia of ono grinds weren't enough, this stop—in the center of the action—offers an all-day "happy hour" with $1 beers every day. Get your beer, sake, wine and shochu from five different kiosks throughout the food court area.