7 epic adventures for the new year
These new and exciting Hawaii travel experiences will motivate and inspire you all through 2017.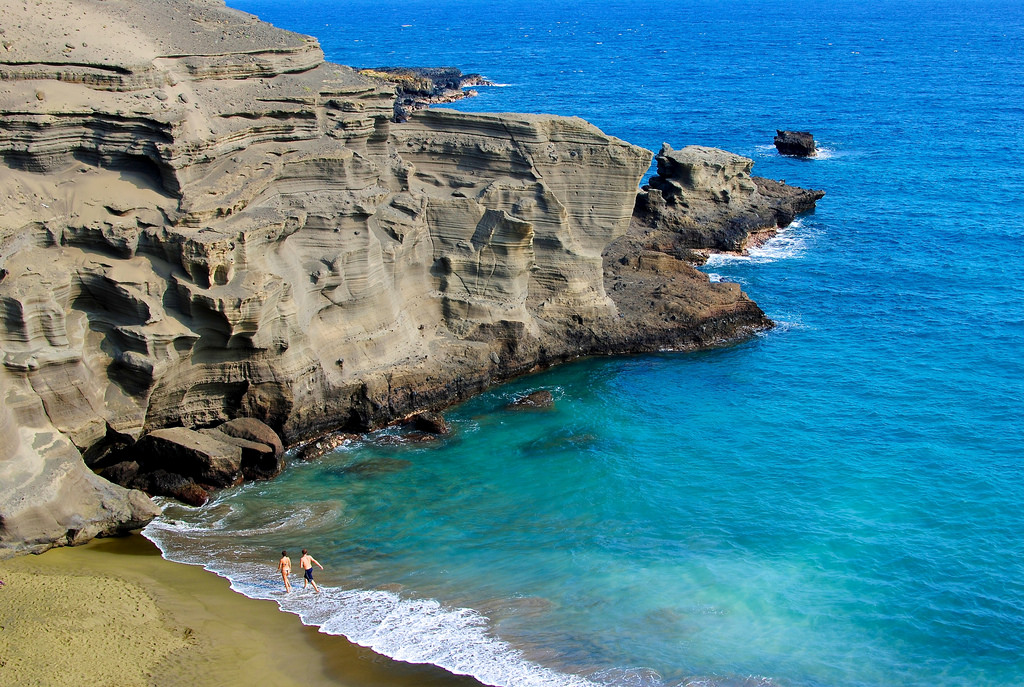 1. Hike and overnight in Waimanu Valley
There's no point in trying to explain the sense of solitude and majesty you feel when enveloped by the lush valley of Waimanu on the Big Island, but we'll try anyway. To get there, you'll need to pack your sense of adventure—along with some durable hiking shoes, a permit and love for a handful of dazzling waterfalls. Learn more about backpacking the Muliwai Trail, the only accessible route to Waimanu Valley.
2. Boat to Lanai from Maui in a unique day trip by sea
Consider devoting eight hours of the day to this one-of-a-kind island-hopping experience. Your boat debarks from Lahaina for Lanai in the morning, includes snorkeling, a barbecue and access to Hulopoe Bay, unique to local sailing company, Trilogy. And, if getting to know Lanai by land is more your thing, there's an opportunity to take a tour of quaint Lanai City with a local. Learn more about this tour, especially is sailing the seas is your thing.
3. Cycle the incredible contrasts of Lanai's landscape
Lanai by bike is exhilarating and educational. This downhill bike tour with Lanai Cycles gives you an awesome lay of the land with a local guide. It's divided into two halves—the east and west side, with a quick pit stop through historic Lanai City in between—and couldn't be more dynamically different from one another with rolling red hills followed by spacious open road backdropped with endless shades of Pacific Ocean blue. Follow along on our day spent cycling the island to learn more about the latest way to explore Lanai.
4. Hike the 11-mile Kalalau Trail on Kauai
If the valley of Kalalau could speak, imagine all the incredible adventures it could tell. Thousands of hikers and backpackers per year descend onto this iconic Kauai coastline along the island's north shore, beckoning with the promise of rugged trails, lush valleys, inspiring waterfalls and one of the most remote beaches at its final destination.
5. Ride mules down the highest sea cliffs in the world on Molokai
Enter Kalaupapa's historic past by way of Molokai's famous mules, a wild adventure that starts bright and early at 8 a.m. On the remote north shore of the island, these mule rides lead visitors through a 17,000-feet-high gateway to the Kalaupapa Peninsula, where more than 8,000 Hawaii citizens were exiled due to leprosy. The tour to Kalaupapa covers 2.9 miles of terrain and 26 switchbacks to reach the Kalaupapa National Historical Park, where a guided three- to four-hour tour of its history, people and dramatic ocean views surrounding scenic Kalawao is included.
6. Day trip the rugged west coast of Maui
There's a stretch of road in West Maui, north of Lahaina and past Kaanapali, that twists and turns around the top of the island from Kapalua to Waihee along a beautiful, rocky coastline. Here, you'll encounter beautiful seascapes on the winding route up to West Maui's north shore. Be sure to stop at lookouts, snorkel and swim, make hairpin turns around mountains and eat fresh, fruit smoothies from charming local food stands—make a day of this untouched portion of the island, where few people venture to or explore. Don't miss these eight must-see sights along its epic coast.
7. Journey to Ka Lae, the southernmost point of the United States
Commonly known as South Point, Hawaii Island's Ka Lae ("the point" in Hawaiian) marks the southernmost point of Hawaii, and by extension, the United States (nope, it's not Key West). In this portion of land, the Kau region, you'll find macadamia nut tree groves, a sacred heiau (Hawaiian place of worship) and staggering sea cliffs. To get here is a grueling adventure that will take up a large part of your day: a 12-mile drive on a narrow road through open ranchland via South Point Road (50 miles if you're venturing from Kailua-Kona) in a famously windswept part of Hawaii Island. Papakolea, the alluring green-sand beach, also attracts explorers here. Getting there requires either a four-wheel-drive vehicle or 3-mile hike to reach it.
---
For 12 more adventures, pick up our Jan/Feb 2017 issue on newsstands now or by calling (800) 788-4230 or (808) 534-7520.