7 last-minute gifts the HAWAII Magazine team wants for the holidays
A list of Hawaii-made items that would fill us with joy and cheer into the new year.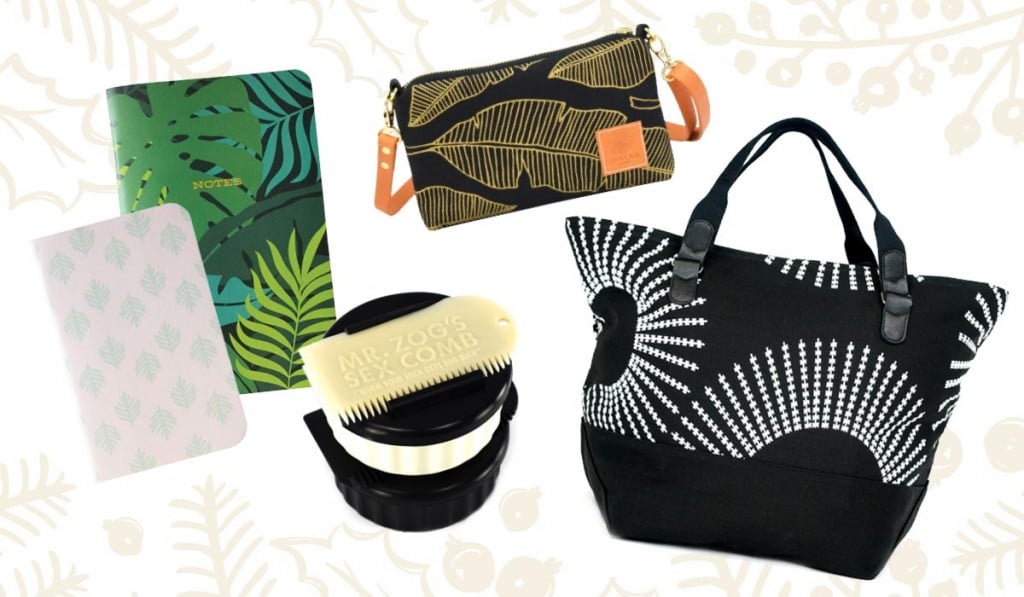 Please, please, please! We've been on our best behavior all year long.
1. Shoreline Tote (Pewa) by Manaola
"I want the Manaola Shoreline Tote. It's a perfect carry-on size for my flights around the Islands, and I love the colors and design." $45, manaolahawaii.com; hulalehua.com.
—Christine Hitt, Editor
2. Sterling silver earrings with green authentic sea glass by Tossed and Found Jewelry
"The earrings are designed using authentic sea glass found on the beaches of Hawaii and the designs are made with the waves of the ocean in mind. This company turns the tossed-in-the-ocean bottles and glass into beautiful, unique sea glass jewelry." $98, tossedfoundjewelry.com.
— Margie Memminger, Classified Account Executive
3. Mini notebooks from Bradley & Lily
"I'm constantly scribbling down stuff, and never go anywhere without a notebook. I love the contemporary island-style stationery from Bradley and Lily, and it's always the right size for whatever bag or purse I'm carrying. Now if only they made Post-its!" $4 mini notebooks, $8 large notebooks, bradleyandlily.com or at Valia Honolulu.
—Tracy Chan, Digital Media Manager
4. Sacks of Aloha by Maui Island Love
"I adore Sacks of Aloha by Maui Island Love—I give so many as gifts, but I have yet to treat myself! They are sturdy 12-ounce canvas tote bags and no two are alike because they repurpose discontinued interior designer sample fabrics as well as stenciled designs of sea creatures and Hawaiiana. The pouches on the outside are the perfect size for a bottle of wine if you are picnicking, but also work for your phone, glasses or car keys if you're using it on a daily basis." $31, mauiislandlove.com.
—Loren Malenchek, Account Executive
5. Jana Lam Mini Zipper Cross Body Bag (any print)
"The prints are fun and the black, gold and natural colors make them versatile enough for day and night." $85, janalam.com.
—Elena Bragg, Art Director
6. Sex Wax container and comb
"Sex Wax makes great containers to keep your wax from melting in your car and becoming one with your seats or trunk. Sold at most surf shops and costing under $10, it's a good gift for any surfer. Pro tip, get them a few bars of Sticky Bumps surf wax to show them that you really care." $7.50, sexwax.com.
—Kevin Allen, Staff Writer
7. Mana Comics' Aumakua Guardian Pack
"Not only does the Aumakua Guardian Pack come with the first two issues of Chris Caravalho's comic series, 'Aumakua: Guardians of Hawaii.' It also comes with a bunch of nerdy, local swag, like collectable buttons, postcards and pinups." $25, manacomics.com.
—Spencer Kealamakia, Associate Editor