7 massive Peahi waves you need to watch to believe
Peʻahi, the world-famous big wave break on Maui's north shore, is not for the faint of heart.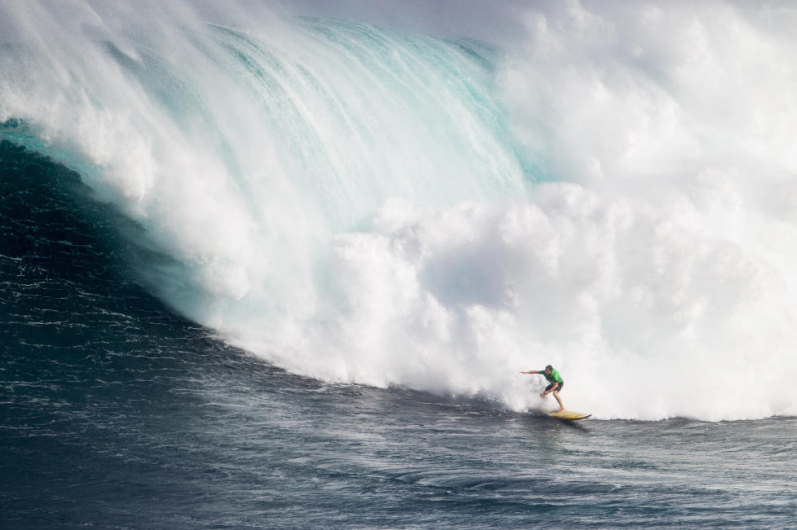 Peʻahi, the world-famous big wave break on Maui's north shore, is not for the faint of heart. In the winter months, Peʻahi's waves can measure anywhere between 40 to 60 feet. For a big wave contest to occur, they must reach a minimum of 35 to 45 feet and yesterday surely exceeded that.
Also known as Jaws, Peʻahi is the name Hawaiians use for the ahupuaʻa (land division) that touches the shore. In Hawaiian, peʻahi also means "to fan, to wave someone over" so there's some pretty cool, coincidental wordplay involved considering how huge its swells are. Surfers and mainstream surf media have been using the place name with more prominence in recent years to draw a stronger connection to and respect for the local culture also.
Part of the Big Wave World Tour, the 2015 Peʻahi Challenge gathered 24 surfers for the historic event where Hawai'i's Billy Kemper not only beat out some of the surf world's elite players to place first in the competition—the Maui boy got to claim the honor in front of his hometown, making the moment even more special.
If you haven't seen Peʻahi in person, its difficult to describe what a wave that gets this massive while still maintaining its shape looks like. These videos highlighting some of them from the World Surf League and the amazing athletes who braved them are the next best thing.
1.
Former Big Wave champ Greg Long scored the first nine-pointer of the day, riding inside an intense barrel that swallowed him up.
2.
Shaun Walsh air dropped into a massive wall, another nine-pointer in Heat 2.
3.
After the initial drop, Ian Walsh couldn't maintain his balance when he tried to pull-in to a giant barrel and paid the price with a heavy wipeout.
4.
Albee Layer tucked into a barrel and came out pounding his chest. All day Layer rode a 8'8" rhino chaser, a relatively smaller board than the rest of the completion who rode boards in the 10'0-10'8" range.
5.
With the 22-25 knot trade winds blowing, the face of the waves at Pe'ahi were bumpier than a toad's back. Koa Rothman found out how challenging the surf was firsthand as he skipped down the face of a wave during a wipeout.
6.
While towing Kai Lenny, a powerful breaking wave throws a jetski patrol member off his vehicle.
7.
Winner Billy Kemper stood tall in the barrel which gave him all the momentum he needed, literally and figuratively, to come out the champ.