7 Must-Try Food Trucks on Maui
From local barbecue to $2 tacos, these food trucks will satisfy any craving.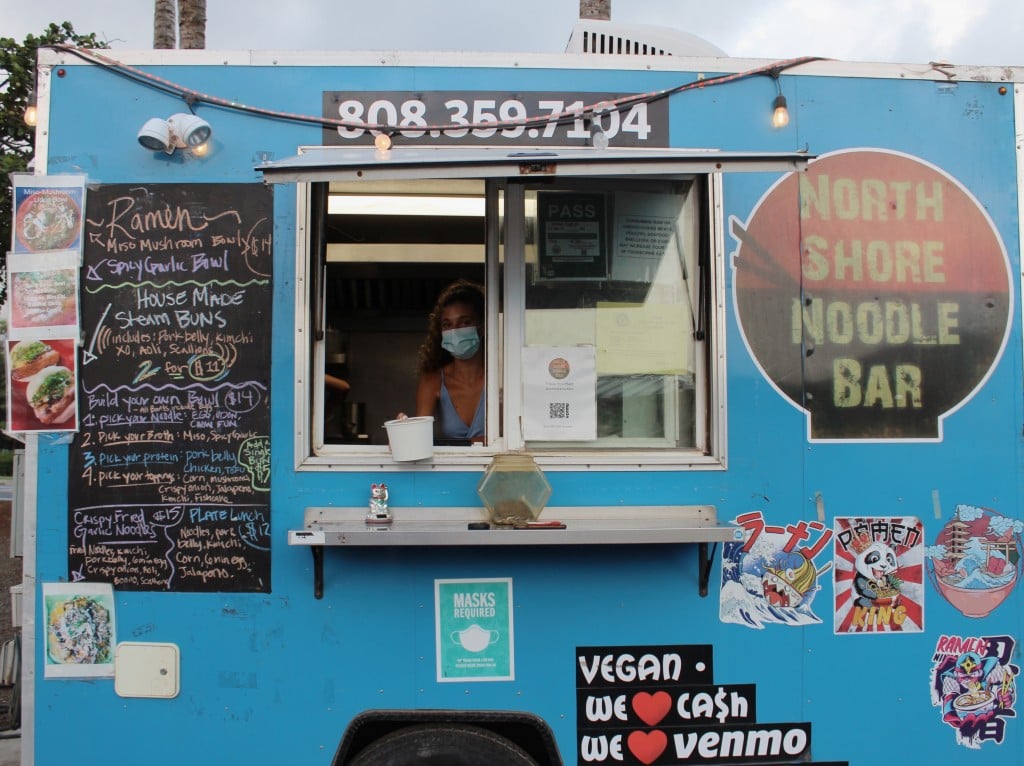 Between local fare and fusion flare, there's no shortage of food trucks that offer an 'ono (delicious) meal at an affordable price on Maui. While some local food trucks rotate around the island, many park in the same location every day, building an ever-growing list of regular customers. You can also find designated lots filled with picnic tables surrounded by a diverse lineup of food trucks. There's an option for every diner at these outdoor food courts. Don't be fooled by the casual setting—food trucks are among the best places to experience Maui's incredible culinary scene. And these seven food trucks are worth the stop.
1. Kinaʻole Grill Food Truck
View this post on Instagram
Just steps from Kamaʻole I Beach Park in Kīhei, Kinaʻole Grill Food Truck offers oceanfront dining at an unbeatable price. Pick up a fresh seafood plate for a picnic on the beach—it's just 100 yards away! Favorites from the truck include grilled mahi mahi with mango salsa and seared ʻahi with a creamy wasabi sauce. 73 Alanui Keʻaliʻi Drive, Kīhei, (808) 280-9048
2. Aloha ʻĀina BBQ
View this post on Instagram
Located at the Peʻahi Farmstand, Aloha ʻĀina BBQ specializes in traditional kiawe barbecue. The Hawaiian mesquite wood leaves a mouthwatering sweet flavor on grilled and smoked meat. For a Hawaiian-style barbecue plate, choose from options like kiawe pork belly, huli-style chicken or local ʻahi limu poke. Every plate comes with cilantro coconut sticky rice, pohole (a native fern) salad and griddled cornbread with guava butter. 2250 Hāna Highway, Haʻikū, (808) 437-7754, alohaainabbq.com
3. Shaka Tacos
View this post on Instagram
Some of the best shrimp and fish tacos on Maui can be found on the North Shore at Shaka Tacos. And stop by on a Tuesday for $2 taco specials. But this food truck isn't just a terrific taco joint. Shaka Tacos is also known for serving massive burritos, so come hungry. The Surf & Turf burrito is a local favorite, loaded with carne asada and ots famous shrimp. 3454 Hāna Highway, Haʻikū, (808) 281-6701
4. Thai Mee Up
View this post on Instagram
As one of the hottest spots for Thai food on the island, Thai Mee Up brings the heat and spice. The eatery is just minutes from the Kahului Airport in the park of food trucks across from Costco. For devoted fans of Thai cuisine, every bite of Thai Mee Up tastes fresh and flavorful in classics like pad Thai, panang curry and an array of rotating specials. 591 Haleakalā Highway, Kahului, (808) 214-3369
5. Mo ʻOno Hawaiʻi
View this post on Instagram
Looking to get your açaí bowl fix on Maui? With their signature blend of açaí and generous sizes, Mo 'Ono Hawai'i is the place to visit for a replenishing and affordable bowl. As a neighbor to Thai Mee Up, the eatery is among the troupe of food trucks across the street from Costco. True to its name, Mo 'Ono is definitely more delicious than the average açaí bowl with their creative toppings. Adding poi and its famous lilikoʻi (passion fruit) butter to your bowl is a must, and it's only an extra 50 cents. 591 Haleakalā Highway, Kahului, (808) 633-0470; 24 Kiopaa St, Kula, (808) 633-7246, moonohawaii.com
6. North Shore Noodle Bar
View this post on Instagram
Influenced by Asian street food, the North Shore Noodle Bar serves satisfying bowls of noodles and bao buns. Find this truck parked down the road from Thai Mee Up and Mo 'Ono in another recently established lot for food trucks. Opt to build your own bowl of ramen by choosing noodles, broth and protein. Finish with spicy and savory garnishes like kimchi, roasted mushroom and fishcake. 520 Keolani Place, Kahului, (808) 359-7104
7. Earth Aloha Eats
View this post on Instagram
With two locations, one alongside the North Shore Noodle Bar and one also in Lahaina, Aloha Earth Eats serves nourishing and mouth-watering plant-based tacos, wraps, salads and burgers. With fresh ingredients and creative spins on classic street food, Earth Aloha Eats impresses even carnivores with their vegan and vegetarian plates. 520 Keolani Place, Kahului, (808) 633-3884; 1221 HI-30, Lahaina, (808) 298-2884