7 Oahu street foods too irresistible to pass up
These exciting mobile dishes and libations have burst onto the scene with a local fusion flare.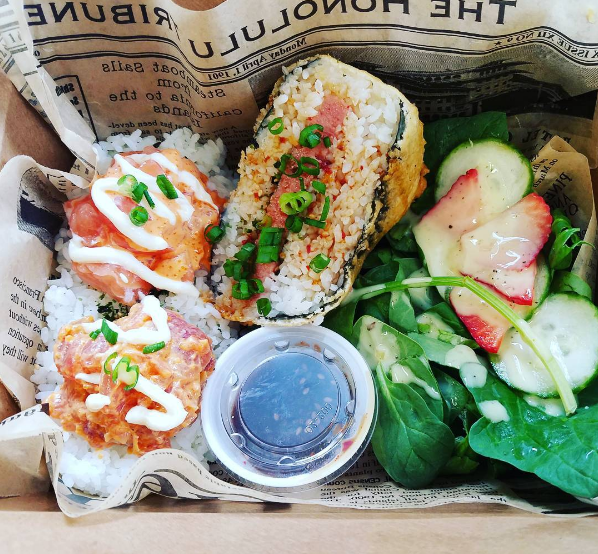 Street food aficionados won't want to miss these fun and tasty dishes with an island flair.
Andagi
With the help of big summer bon dance festivals taking place in the Islands, many Japanese and Okinawan foods have started to become more and more common even outside of festival months. The andagi is a traditional Okinawan deep-fried doughnut. Although they are most popular during the festival, they're available year-round, thanks to Da Andagi Guy who has a stand every Monday, Wednesday and Sunday just outside the entrance of Don Quixote in Waipahu. Even your neighborhood Zippy's bakeries carry them on occassion.
Da Andagi Guy, 94-144 Farrington Hwy., Waipahu; various Zippy's locations.
Huli Huli Chicken
There's no mistaking it when you drive by a salacious-smelling smoky parking lot with someone cooking up fresh huli huli chicken. For a long time, the Hawaiian-style barbeque had been one of Hawaii's favorite fundraising foods, but, in recent years, it has become something just too good to limit.
Mike's Huli Chicken, 47-525 Kamehameha Hwy, Kaneohe; 3111 Castle St., Waikiki, mikeshulichicken.com.
Waffle Dog
KC Waffle Dogs has become popular on the Oahu street food scene and can almost always be found at many local events and festivals. A light batter is used along with a special waffle dog press that leaves you with a soft, fluffy center and crispy, crunchy edges. Depending on your mood, you can dress your dog with typical hot dog condiments, such as mustard, or a waffle's best friend, maple syrup.
KC waffle dogs, kcwaffledog.com.
Poi Mochi
Everything is better when it's deep fried, right? Especially when it's a crunchy and savory combo such as poi and mochi. Traditionally made out of Japanese sticky rice, mochi has a soft chewy texture. When made with poi, it loses most of the chewy aspect but keeps its soft, yet thick, texture.
Best when served piping hot, there's not much done to alter the taste other than the addition of sugar and mochiko flour, but the result is mouth watering. Good thing they sell them by the box.
Aside from Oahu's monthly Eat the Street event, Uncle Lani's Poi Mochi just opened a stand in the brand new Ka Makana Alii shopping mall on the west side of the island.
Uncle Lani's Poi Mochi, 91 Kapolei Pkwy., Kapolei.
Local-style Lemonade
Mason-jar lemonade became popular on Oahu after popping up at farmer's markets. Besides classic lemonade, you'll find flavors such as pineapple, lilikoi (passion fruit) and pitaya (dragon fruit). For an extra 50 cents, add some li hing powder on top to give it a salty-sweet kick.
Wow Wow Hawaiian Lemonade, 43 S. Kamehameha Hwy., Wahiawa; 66-526 Kamehameha Hwy, Haleiwa, wowwowhawaiianlemonade.com.

Deep Fried Musubi
What could you do to make a musubi even better? Deep fry it, of course. That's what Hawaii's Fried Musubi food truck does, using a light batter that crisps the entire outside of the musubi without letting the oil soak into the rice.
Hawaii's Fried Musubi, hifm.strikingly.com.
Garlic Shrimp
Since its first appearance in 1993 on Oahu's North Shore, Giovanni's Shrimp Truck has become the epitome of fresh, side-of-the-road shrimp. Its signature plate contains 12 hot, garlic butter-infused shrimp, two scoops of white rice (with more garlic-butter) and fresh sliced lemon.
Giovanni's Shrimp Truck, 66-472 Kamehameha Hwy, Haleiwa, giovannisshrimptruck.com.