7 of the best ways to experience Oahu's North Shore by land and sea
Put these on your adventure list.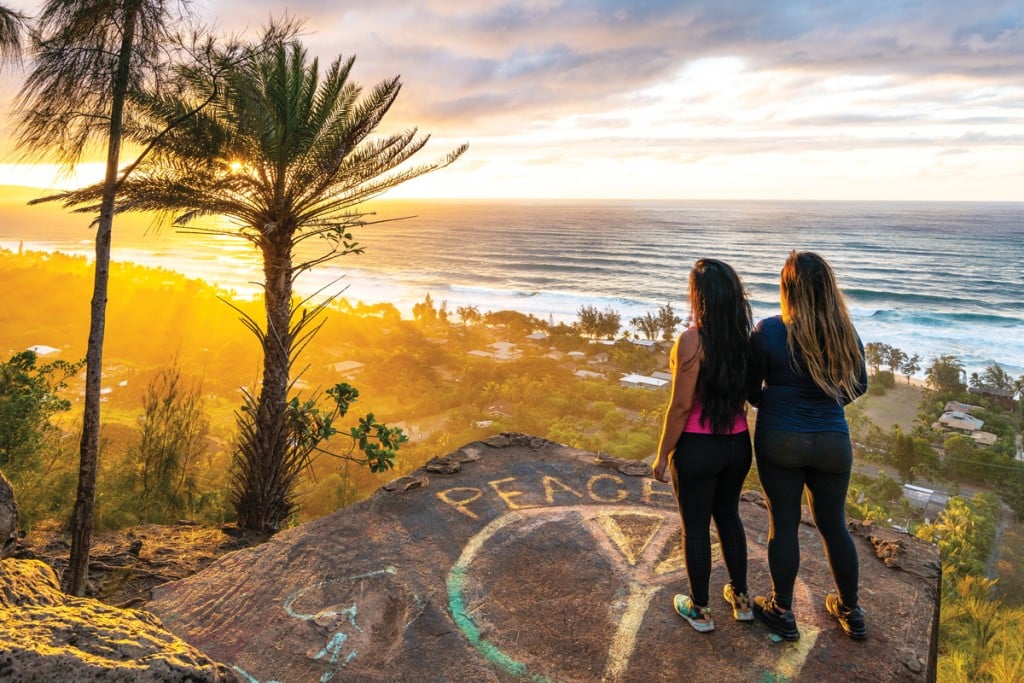 Whether you're an ocean fanatic or an avid hiker, you'll find what you need on the 7-mile miracle. The North Shore of Oahu has got more than enough to cover both ends of the activity spectrum, from surf lessons with locals to weekly farmers markets and heiau hikes.
Fledgling surfers are welcome at the Sunset Suratt Surf Academy, which is owned by Bryan Suratt, known to most as Uncle Bryan. He and his crew teach at a few beginner surf spots around the North Shore, such as Puaena Point, Chun's Beach and Laniakea Beach. All three of these beaches are known for their high turtle populations, so don't be surprised if a few honu (Hawaiian green sea turtles) pop their heads up to say hello. 61-489 Kamehameha Hwy., Haleiwa, surfnorthshore.com.
For snorkelers, Shark's Cove is the place to be on those picture-perfect North Shore days. The cove features shallow tide pools and a bay; on sunny days the underwater views are crystal clear, even without a mask. Here you can find giant neon-colored parrot fish, underwater caves and tunnels, the occasional honu and schools of fish. Pupukea, across the street from the food truck court past the Foodland.
On Saturdays, find fresh produce, handcrafted accessories and unique pieces of art at the weekly Waialua Farmers Market set up in the Waialua Sugar Mill from 8:30 a.m. to 2 p.m., 67-106 Kealohanui St., Waialua, or check out the North Shore Country Market at Sunset Beach Elementary School from 8 a.m. to 2 p.m. 59 Kamehameha Hwy., Haleiwa.
There are a ton of hikes set along the North Shore, however only a few, such as the Ehukai Pillbox Hike, yields a panoramic bird's-eye view of some of Hawaii's best beaches. Starting at Sunset Beach Elementary School, the trail features a steep uphill incline; it eventually levels off, allowing hikers to enjoy a much more leisurely pace, all the while rewarding them with scenic lookouts. The zany graffiti art inside of the pillbox at the top of the hike is also worth checking out. 59-178 Ke Nui Rd., Haleiwa.
Farther down Kamehameha Highway, Gunstock Ranch offers horseback rides of an hour or an hour and a half, taking you through mountainous trails on the ranch's 600-acre property. The ranch also has off-road fully guided UTV tours of historic World War II sites, hidden caves and sections of the farm that were used as sets for "Hawaii Five-0." 56-250 Kamehameha Hwy., Kahuku, gunstockranch.com.
Hidden in the hills of Waimea Valley, the Puu o Mahuka Heiau State Monument is steeped in history. This heiau, or traditional Hawaiian temple, features three stone enclosures and is believed to have been a heiau luakini (sacrificial temple). According to Hawaiian moolelo (legend), this is also the spot where Pele, the volcano goddess, leapt from Oahu to Molokai. Visitors will also see panoramic views of Waimea Bay and much of the Pupukea area. From Kamehameha Highway, take Pupukea Road and turn right onto Puu o Mahuka.
With emerald green waters stretching 3 miles from the coast into Waialua, the Anahulu Stream carries kayakers and stand-up paddleboarders through verdant valleys, under bridges and past luxurious country homes with sea turtles lounging here and there along its banks. If you don't have a kayak or stand-up paddleboard, find a nearby shop, such as Surf N Sea or Tropical Rush, to rent equipment.