8 Foods to Celebrate Lunar New Year in Honolulu
Feb. 1 marks the start of the Chinese New Year, known around the world as Lunar New Year.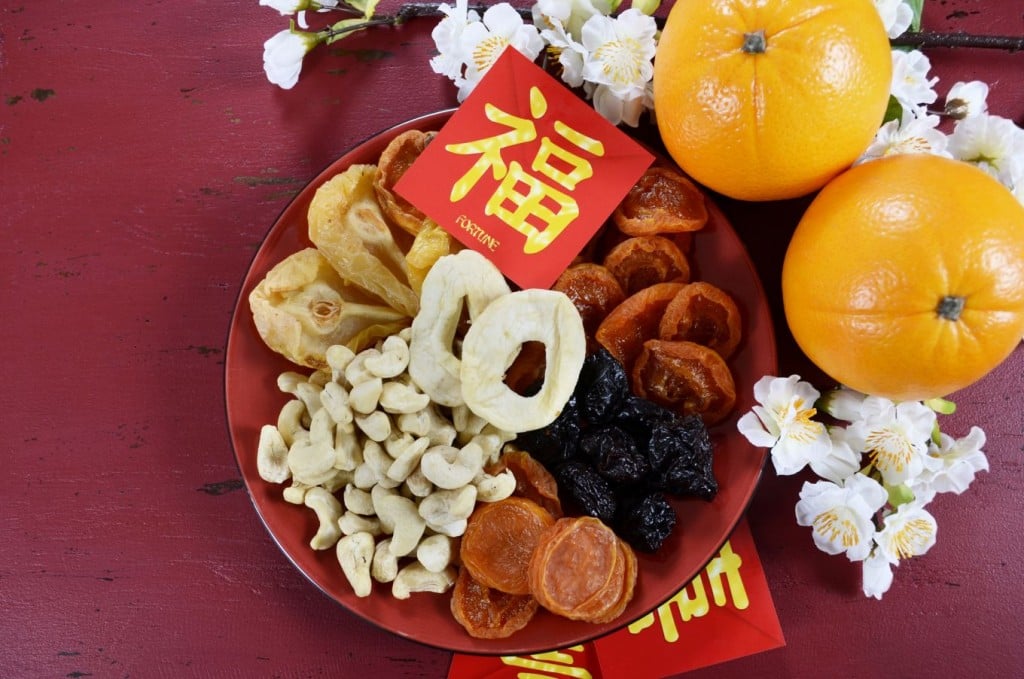 Eight is a lucky number in Chinese culture since it sounds similar to the word for wealth or fortune. Here are eight lucky foods we eat in Hawaiʻi during Chinese New Year.
Noodles
Long noodles symbolize longevity. Jade Dynasty Seafood Restaurant (1450 Ala Moana Blvd., jadedynastyhawaii.com) at Ala Moana Center serves a wide assortment of noodles, from beef chow fun (wide rice noodles) to crispy egg noodles. Looking for something more unconventional? Mian (808 Sheridan St. Unit 105), a cozy, trendy restaurant nestled in the Keʻeaumoku neighborhood, specializes in spicy Sichuan noodles. The rich and hearty Chengdu zajiang noodles with peas will keep you coming back for more.
Dumplings
It's not uncommon for families to prepare and enjoy dumplings, or jiaozi, together. Dumplings aren't only delicious, they're considered lucky for their resemblance to ancient gold and silver ingots. Although meat and vegetables are standard fillings, the har gow, steamed shrimp dumplings, at Tim Ho Wan (Royal Hawaiian Center, 2201 Kalākaua Ave.), a renowned Cantonese dim sum restaurant, are sure to please. You can snag pan-fried dumplings at Happy Days (3553 Waiʻalae Ave., happydayshi.com), a favorite local dim sum spot in Kaimukī.
Jai, or Lo Han Jai
Also known as Buddha's Delight or Monk's Food, jai is a vegetarian dish that mostly consists of dried vegetables in a soy sauce based broth. Each ingredient in jai is associated with a positive value such as wealth, longevity or happiness. The beauty of jai is that it doesn't have a specific recipe. Some varieties may even contain up to 20 ingredients! Popular elements of the dish include bean curd, black mushrooms, water chestnuts, cellophane noodles and lotus root. Located in Downtown Honolulu, Water Drop Vegetarian House (801 Alakea St.) is a popular spot for jai.
Fish
Yu means both "fish" and "prosperity" in Chinese. Get your friends together so you can order a whole fish, which represents unity. Chinese-style preparation of fish commonly involves steaming the fish and seasoning with ginger, green onions and soy sauce. Fook Yuen Chinese Restaurant (1960 Kapiʻolani Blvd., fookyuenseafood.com), located in the McCully Shopping Center, specializes in fish and seafood, and stays open till 3 a.m. Don't worry if you're stuck with leftovers, since it represents prosperity overflowing.
Nian Gao, or Gao
Following a Chinese tradition dating back thousands of years, people in Hawaii love to exchange gao, a sweet rice cake made with brown slab sugar, during the Chinese New Year. Its name sounds similar to the phrase "increasing year-by-year." Gao stays fresh for approximately a week, but there are ways to prolong its shelf life. Stick it in the fridge and pan fry it in butter until it's lightly crispy, or simply freeze it and reheat in the microwave when the gao cravings hit. Our pick? Go to Sun Chong Grocery (127 N Hotel St.) in Chinatown, for fresh gao.
Tangerines
Tangerines and oranges represent good luck and prosperity, which make them a popular gift during New Year's and throughout the rest of the year. Check out the various groceries in Chinatown or make a Saturday morning trip to the farmers market at Kapiʻolani Community College (4303 Diamond Head Road, hfbf.org/farmers-markets) for fresh produce and more.
Candies
What is a better way to kick off the New Year than to wish friends and family a sweet 2020? Choose from an array of dried fruit candies at Sing Cheong Yuan Chinese Bakery (1027 Maunakea St.), with selections such as dried ginger, papaya and coconut. Most of us who grew up in Hawaiʻi recognize the shiny red wrapper of Lucky Candy, a bean-sized strawberry-flavored hard candy passed out at birthday parties, graduations and of course, Chinese New Year. Buy a bag from Bo Wah Trading Co. (1037 Maunakea St.) to share.
Tangyuan
Tangyuan is a dessert consisting of balls of sweet rice cake served in a mixture of boiling water and sweet syrup. It symbolizes family coming together, which is at the heart of all New Year festivities. Frostcity (2570 Beretania St., Suite 105) in Moʻiliʻili serves tangyuan with either a red bean soup or brown sugar ginger soup, perfect on a chilly day.